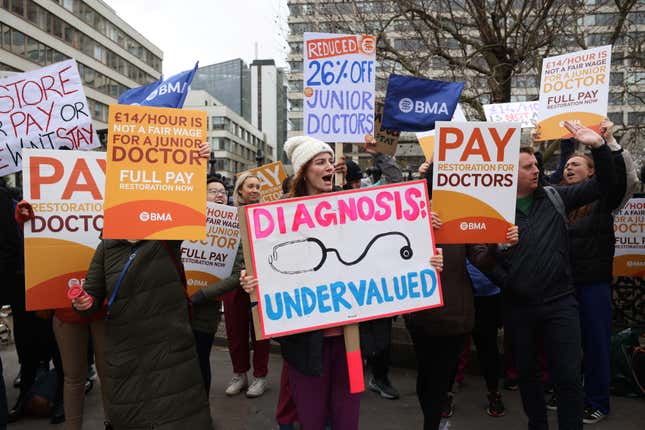 UK Chancellor Jeremy Hunt will announce his spring budget on Wednesday (March 15), delivering a speech amid a week of strikes across Britain's health, education, and transport sectors.

Should you keep investing in Big Tech?
The budget is expected to focus on batting down inflation, expanding the workforce, and jump-starting the UK's sluggish economy.
As Hunt takes the podium, hundreds of thousands of public sector employees will be staging six different strikes across Britain in a week packed with no less than 17 planned labor actions. London Underground drivers, NHS junior doctors, civil servants, and teachers, among others, will be striking on Wednesday to demand higher wages.
The Office for Budget Responsibility (OBR) will also publish its five-year forecast mid-week, providing a measure of the UK economy. There is the possibility the OBR could downgrade its forecast as the country continues to face a cost-of-living crisis and the prospect of a shallow recession—something the Bank of England still projects for 2023.
Hunt will deliver his budget speech against the backdrop of economic uncertainty—a factor that's been part of his job since day one. Hunt kicked off his career as finance chief last year on the heels of Kwasi Kwarteng's disastrous "mini-budget" in September. The chancellor announced a U-turn on most of his predecessor's package in his Autumn Statement, and issued his own plan to raise taxes and cut spending with the aim of shoring up public finances and righting the UK's heeling economic ship.
What is likely to be in the UK budget?
💡 Energy support: The UK currently limits household energy bills to £2,500 ($3,041) per year—a cap that is set to go up on April 1 to £3,000 ($3,649). However, the BBC has reported that the cap is expected to be maintained at the current level for another three months.
📥 Investment zones: On Monday (March 13), Hunt announced the creation of 12 low-tax "investment zones" in England. Each area will receive £80 million ($97 million) in funding over five years to support regional economic development, or in popular government parlance, to assist in "leveling up."
​​👴 Pensions: Hunt is expected to raise the annual tax-free pension allowance from its current level of £40,000 ($48,663) to £60,000 ($72,994). The change is aimed at encouraging workers, especially doctors, to put in more hours and delay retirement in a bid to boost the economy and stem a shrinking workforce that was hit especially hard during the pandemic.
👉 Back to work: In a separate effort to bulk up labor participation, the budget is expected to introduce measures to woo certain populations, including individuals over 50, those who are ill and disabled, and those on benefits, to return to the workplace. Hunt will introduce a significant reform to the welfare system to ensure that claimants can return to work without the fear of losing benefits support.
👨‍👧‍👦 Childcare support: There may also be an announcement regarding an increase in childcare support. Currently, there's a cap of £646 ($785) per month, per child, for those receiving universal credit, but that could go up by several hundred pounds to offset rising costs.
🏢 Corporation tax: The corporation tax rate is scheduled to increase from 19% to 25% in April in a policy change that is expected to draw in an extra £18 billion ($22 billion) per year. It marks a significant reversal for the ruling Conservative party, given it has staunchly supported cutting the rate for well over a decade.
⛽ Fuel duty: The government cut the fuel duty by 5p (61¢) in March, but has committed to raising it again in line with inflation—a move ministers have called unlikely. Many predict that Hunt will freeze the duty at the current level, a policy successive administrations have maintained for 12 years. The move will leave state coffers an estimated £6 billion ($7.3 billion) lighter, but keep motorists happy.
💷 Public sector pay: Earlier this year, the government recommended a sub-inflation pay raise of 3.5% for public sector employees, which is unlikely to end strikes as inflation is projected to fall to just 4% by year's end. Ministers have also discussed one-off payments and backdated pay as options on the table, but Hunt has few easy options.
Related stories
⚽ The World Cup helped the UK narrowly avoid a recession
🍅 High energy prices and Brexit are causing a fresh produce shortage in the UK
🤦‍♂️ On Brexit's third anniversary, the UK has more reasons to regret it than ever