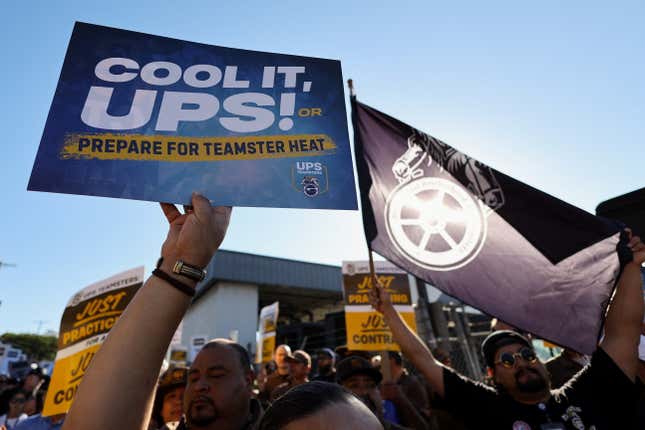 The union representing UPS workers ratified a landmark contract that includes one increasingly vital provision in the workplace: air conditioning. It's a victory for more than just delivery workers. As federal regulations have lagged, and companies have dragged their feet on protecting employees from extreme heat, the UPS win has set a new standard for workplace safety, and provided a bright spot for workers in other industries fighting for the same rights.

Should you keep investing in Big Tech?
UPS Teamsters announced in a press release yesterday (Aug. 22) that its members agreed by an overwhelming 86% vote to pass the next five-year national agreement with the delivery company. Among its several stipulations, including what the union calls the "most lucrative" wage increase in its bargaining history, was the agreement to install an AC unit in every delivery van—a promise UPS previously announced it had committed to in June following negotiations.
Beginning Jan. 1, 2024, UPS has promised to have AC installed in all new small package vehicles. Larger vehicles, sprinter vans, and package cars will have units installed after that date. Each vehicle will also have two fans, heat exhaust shields, and air induction vents retrofitted in the cargo area. A Teamsters spokesperson told Quartz that the deal also includes more access to water and ice machines.
"This is the template for how workers should be paid and protected nationwide, and nonunion companies like Amazon better pay attention," Teamsters said in a statement.
In extreme heat, air conditioning in UPS vans can be a matter of life and death
Securing the commitments took years of campaigning. UPS had long stood by its policy of providing fans in trucks on request, and its training course "Cool Solutions," which Vice reported gave tips like drinking more water when it was hot outside.
"Cool Solutions" didn't solve the fact that workers were sitting in trucks that sometimes clocked temperatures of nearly 150°F (65.6°C). Over 140 UPS workers were hospitalized due to heat exposure from 2015 to 2022, according to records from the Occupational Safety and Health Administration (OSHA) obtained by the Washington Post. Many more reported symptoms of heat stroke on the job.
The past two summers proved deadly amid record heat waves. José Cruz Rodriguez Jr., a 23-year-old UPS worker, died in 2021 due to what his family believes was heat exposure while working. Esteben Chavez, a 24-year-old, died while delivering packages on a hot day in Los Angeles last June.
Only after years of health reports, campaigning, and deadly tragedies did Teamsters arrive at its latest contract victory. It may indicate the tides are turning when it comes to industry standards for heat safety, but also shows pushing forward those changes will not be easy.
Warehouse workers are also demanding protections from extreme heat
Warehouse workers are also seeking more protections against extreme heat, an uphill battle in a business where prioritizing the safety of merchandise over people is often the norm. But similar to UPS workers, warehouse employees are compelled to take action as they face immediate health risks working in hot, indoor spaces.
One group leading the charge is Inland Empire Amazon Workers United (IEAWU). The workers group (it's not formally a union), based at the Amazon KSBD air hub in San Bernardino, California, recently filed a complaint with OSHA in late July citing cases of heat illness. According to IEAWU, Amazon promised to build "shade structures'' for months, but has not followed through. Its track record isn't promising. The ecommerce giant upgraded an AC system in a New Jersey warehouse last August, but only after one worker died on the job.
Regulation at the federal level, which is still playing catch up, leaves workers with little protection. Democrats just introduced a heat-related injuries bill (pdf) on July 27. The White House issued its first-ever heat hazard alert the same day. OSHA guidelines remain non-binding, and the agency has yet to update its indoor temperature standards to reflect the realities of climate change. California introduced a bill to revise its standards in 2016, but OSHA only convened its first hearing on the proposal in May (pdf) this year.
Workers, without legal protections, have been at the forefront of the air conditioning push out of necessity—and will likely increase their calls for action. Juanita Constible, a senior climate and health advocate at the Natural Resources Defense Council, is optimistic that the UPS win is a sign of more to come.
"The new contract is a critical win for the UPS workers who are in harms' way during heat season. It also puts employers on notice that extreme heat is a growing force in employee health, morale, and retention," she said to Quartz via email. "It's likely we'll see a trend toward more and more air conditioning in indoor workplaces."
Related stories
💡 Wet bulb: It's the heat and the humidity
🫠 Record heat waves have come at a cost for US workers and small businesses
🚧 The death of a road worker during Italy's hellish heat wave is a labor rights issue