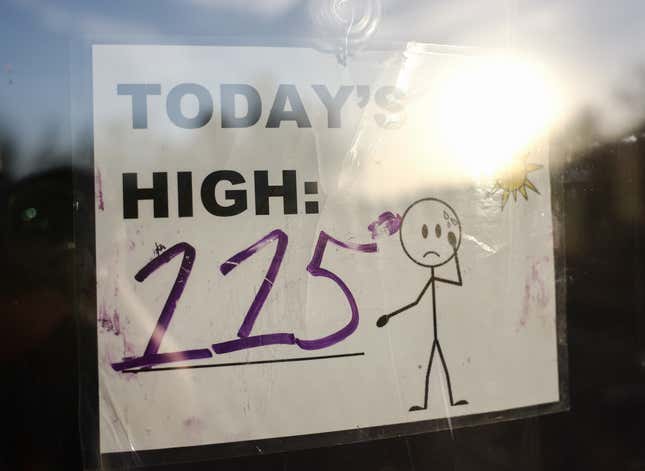 The record heat wave that has blanketed the southern US for over a month has cut into small business working hours and paychecks due to a slowdown in consumption. Triple-digit temperatures made it too hot for many to go outside, let alone work. With consumers sheltering indoors, there has been a marked reduction in spending on Main Street, according to data from Homebase, a US small business payroll company, released on Tuesday (Aug. 1).

3 ways to negotiate your return to the office
A seasonal drop in working hours in July is to be expected, according to Homebase, but there was a noticeable difference in working hours between cities that did and did not experience prolonged exposure to extreme heat last month. New Orleans, a city trapped within the heat dome, saw a 5.7% drop in hours worked at small businesses compared to June. Meanwhile, Boston, which marked just two days of above 90°F (32°C) temperatures in July, saw a 7.8% increase in hours worked compared to the month prior.
Homebase's dataset for July 2023 encompassed over 100,000 businesses and 2 million hourly workers in the US.
US president Joe Biden announced last weeks the steps government agencies would take to protect workers and the public from extreme heat, including tougher enforcement of worker protections, and increased investment in national weather reporting and climate resilience measures.
Heat-hit cities like New Orleans, Memphis, and Nashville saw a reduction in working hours


Summer entertainment, like Barbenheimer, increased local consumption
Beauty and wellness, food and drink, and retail businesses were the hardest hit by July's weather, Homebase found. While entertainment and hospitality saw increases in working hours, the growth was lower than in 2022 and 2019, according to the report.
Still, an increase in entertainment demand, driven by attractions like the Barbenheimer double movie billing and concerts by stars such as Beyoncé and Taylor Swift, helped to drive spending at small businesses and likely gave hourly wages a boost.
Related stories
✊ The death of a road worker during Italy's hellish heat wave is a labor rights issue
⚠️ The largest US power grid is on emergency alert because of a heat wave