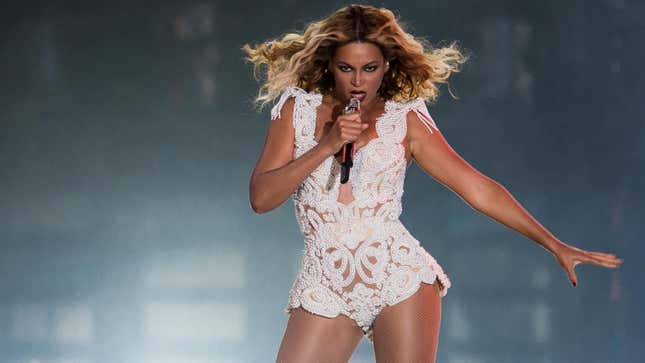 Queen Bey's concert in Sweden's capital apparently put its economy in a tizzy.

At 9.7%, Sweden's May inflation dropped below double-digits for the first time in six months. But it was still higher than predicted by both a Bloomberg survey and Sweden's central bank, Riksbank.
"Beyoncé's start of her world tour in Sweden seems to have coloured May inflation, how much is uncertain," Michael Grahn, chief economist for Sweden at Danske Bank, tweeted yesterday (June 14). But it's of course not all to do with ticket sales. Rather, it's got to do with the boost the hospitality sector got.
Beyoncé performed in Stockholm twice on May 10 and May 11 and the BeyHive—the collective name for the singer's fans, and also the name of a tier of tickets on the tour—flocked to both shows. Fans came from all over the world, taking advantage of the weak Swedish currency and cheaper ticket prices compared to other countries. Some Americans perturbed by booking site Ticketmaster's exorbitant prices found it more viable to fly abroad and catch the show.
Beyoncé fans flocked to Swedish hotels and restaurants
Grahn assessed that the concert days probably accounted for 0.2 of the 0.3 percentage points added to inflation by hotels and restaurant prices.
Glenn Nielsen, an economist at Swedbank, agreed that Beyoncé's concerts led to high demand and increased cost pressures, pushing hotels to raise their prices.
Statistics Sweden didn't explicitly name Beyoncé but the federal agency said yesterday (June 14) that while food and energy prices continued to decline, prices increased for "a broad set of goods and services," including hotel and restaurant visits.
Visit Stockholm, the official tourism promotion agency that's fully owned by the City of Stockholm, was more direct, chalking up high levels of tourism and almost full hotel occupancy to the "Beyoncé effect." In an email to The Washington Post last month, it said visitors from the US, Germany, and Britain accounted for the largest number of bookings in the city.
Beyoncé's Renaissance World Tour, by the digits
7: The number of world tours Beyoncé has done, including the Renaissance World Tour
Tens of thousands: Fans that flocked to Stockholm in the middle of May to catch the two concerts that kicked off Beyoncé's first solo tour in seven years
57: Number of shows in Beyoncé's 2023 world tour
$428 million to $2.4 billion: How much Beyoncé could earn from the tour, depending on the average ticket price per venue, according to Forbes contributor Peter Cohan's estimates
46,000: Capacity of the Friends Arena in Stockholm, where Beyoncé performed. Both nights were sold out.
Almost £10,000 ($12,668): Cost of one hotel room in the Cardiff, Wales, where Beyoncé performed on May 17
Person of interest: Bruce Springsteen
An economist told the Financial Times that Sweden could experience a similar inflation bump when Bruce Springsteen plays three nights of concerts in Gothenburg June. The 73-year-old singer-songwriter has a special connection to the country—it was the first European concert Springsteen played on his first world tour back in 1975.
Related stories
🏆 Beyoncé set a new record for the most Grammy wins ever
🎉 Beyoncé and Taylor Swift are poised to knock out the record holder for highest-grossing tour of all time
💰 The Cure forced Ticketmaster to refund fans a portion of "unduly high" fees