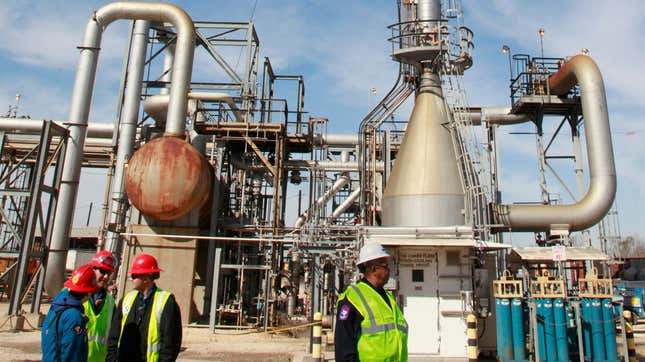 Gas prices in the US have shot up this week, and the heatwave that's plaguing large parts of the country has something to do with it. Refinery outages become more frequent as the temperatures touch triple-digit Fahrenheit, crimping production at oil refineries in the US. Texas, where most US refineries are located, is facing its most extreme summer.

Why a tightening of credit conditions could lead to a weak economy
With decreased refinery output and July gasoline inventories at their lowest levels since 2015, gas prices are expected to rise significantly across the country, according to Patrick De Haan, head of petroleum analysis for GasBuddy.
"Some of their sensitive equipment has been stripped offline," De Haan told CBSNews. "We've seen brief power outages that, unlike your home when your router can just reset and five minutes later, you're back online—refineries are a little bit more delicate when it comes to getting this equipment back online."
One small number: Big jump in gas prices
4 cents: How much the cost of a gallon of regular gasoline increased by overnight on July 24, the biggest one-day move since June 6, 2022, according to Omair Sharif, founder of Inflation Insights, quoted by Bloomberg. Parts of Midwest and Florida, the overnight spike was outsize at between 8 and 10 cents.
What about OPEC+?
Literal heat is only one pressure point on US gas prices, which tend to increase in the summer because of increased demand from holidaymakers who drive to their destinations. There's also the metaphorical heat the US is facing from the world's largest oil producers.
In April, oil prices spiked when OPEC+ announced it will cut oil output by about 1.16 million barrels per day (bpd) in a surprise move. Analysts' estimates for how the cut would impact US gas prices ranged from an extra 5 cents to 30 cents per gallon, as ABC reported at the time. Since then, even as oil production cuts have continued, oil prices have not spiked again, and have actually lost the April gains.
Saudi Arabia, the de facto leader of the oil cartel, extended its 1 million bpd cuts through August. The kingdom is likely to continue it through September, 15 out of 22 analysts surveyed by Bloomberg believe.
Earlier this month, Russia, said it would continue its half a million bpd oil production cut into August.
Charted: US gas prices jumped on OPEC+ cuts in April
Company of interest: Exxon
A couple days, Exxon shut a gasoline unit at one of the largest US refineries, where a gasoline-making catalytic cracker is in need of repair—a task that could take weeks. Fears that the halt at Exxon's Baton Rouge, Louisiana, refinery could last for much of the rest of the summer driving season sent gas futures prices soaring.
One more things: Oil refineries must prepare for hurricane season
As summer draws to a close, gasoline prices remain precarious. As hurricane season approaches its most intense period, it could adversely affects production, import delivery and refinery operations, and also potentially take pipelines offline for a period of time.
"As hurricane season kicks into gear, the Texas oil and natural gas industry is taking proactive measures to ensure the safety of operations and minimize disruptions," TXOGA (Texas Oil and Gas Association) said in a statement on X (formerly Twitter) on July 5.
The organization, whose members are responsible for over 90% of Texas's oil output, has created "Hurricane Ride Out Teams" as part of those measures. The teams are made up of employees who voluntarily offer to ride out the storm within the facilities to guarantee an ongoing supply.
Related stories
🛢️ OPEC+ announced a surprise cut to oil output that renewed inflation concerns
🌞 Europe's latest energy security tactic: hoarding Chinese solar panels