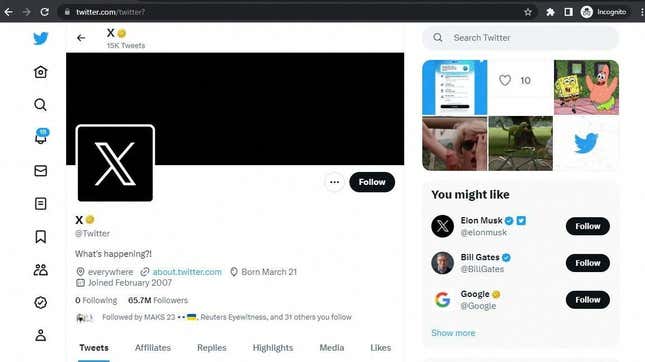 Elon Musk is launching a dramatic rebranding exercise for Twitter, the social media platform he bought less than a year ago and that ceased to exist as a company in April, when it merged with a newly created shell firm X Corp. in April.
What inspired Elon Musk's design for Tesla's Cybertruck?
Yesterday (July 23), Musk changed his profile picture to a black X, indicating that would soon become the app's logo. "And soon we shall bid adieu to the twitter brand and, gradually, all the birds," his follow-up tweet said. In a Twitter Spaces session called "No one talk until we summon Elon Musk," he sat silently for almost an hour before unmuting and saying: "We're cutting the Twitter logo from the building with blowtorches."
The logo rollout is now underway, with browser versions of Twitter displaying the X logo on Monday (July 24). The brand overhaul included the website X.com redirecting to Twitter.com, a black X logo appearing next to the profile name of Twitter's accounts and employees like Musk and CEO Linda Yaccarino, and the X logo being projected onto the company's headquarters. Yaccarino tweeted enthusiastically that the X rebrand that puts Twitter on the super app path.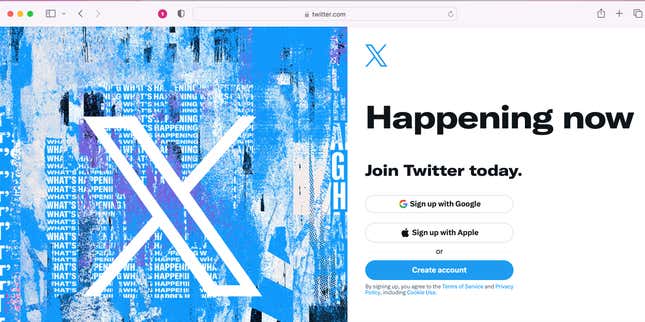 Quotable: Linda Yaccarino explains what X is
"X is the future state of unlimited interactivity—centered in audio, video, messaging, payments/banking—creating a global marketplace for ideas, goods, services, and opportunities. Powered by AI, X will connect us all in ways we're just beginning to imagine [...] There's absolutely no limit to this transformation. X will be the platform that can deliver, well….everything."—Twitter CEO Linda Yaccarino 
What does Twitter co-founder Jack Dorsey think about Twitter becoming X?
The rebrand predictably sparked heated commentary on the platform. One Twitter user called the change a downgrade. Another argued Musk was sacrificing the brand value that comes with everyone knowing what it means to "tweet" something. Other users pondered the existentialist question of whether a tweet is still a tweet if the blue bird is no more.
Twitter co-founder and former CEO Jack Dorsey, who has largely been empathetic about the challenges Musk faces as Twitter owner, doesn't think the rebrand is "essential," but saw its logic. "You can make an argument for reconsideration being the best path forward," he tweeted. "The Twitter brand carries a lot of baggage. But all that matters is the utility it provides, not the name."
He then offered words of advice to the platform's users: "Keep calm and just x through it."
A brief history of Musk and X.com
The world's richest man owned the domain name back in 2000, when he ran online financial services company X.com merged with Confinity, which at the time operated a little-known money transfer service called PayPal. In 2001, the whole company was renamed PayPal.
Musk, whose obsession with the letter X extended to his rocket company SpaceX's name and company products such as Tesla Model X, bought the X.com domain back from Paypal in 2017.
Fun fact: Where X's interim logo comes from
Musk took the X logo from Twitter user Sawyer Merritt, who said it was originally designed by engineer Alex Tourville for Merritt's now-discontinued podcast. Musk favored the logo's "minimalist art deco" style but said it may be tweaked.
A non-exhaustive list of changes Musk is making to Twitter
A name and logo change won't fix Twitter's struggling ad revenue. Musk has introduced other changes to try and turn the company's fortunes around by making a Twitter Blue subscription more palatable since:
📩 Unverified accounts can't send unlimited direct messages 
👀 Unverified accounts can see a limited number of tweets
💼 Verified organizations can use a LinkedIn-like hiring feature
Related stories
✖️ The letter X: Marks the spot
🧵 Threads feels just like Twitter—and not always in a good way