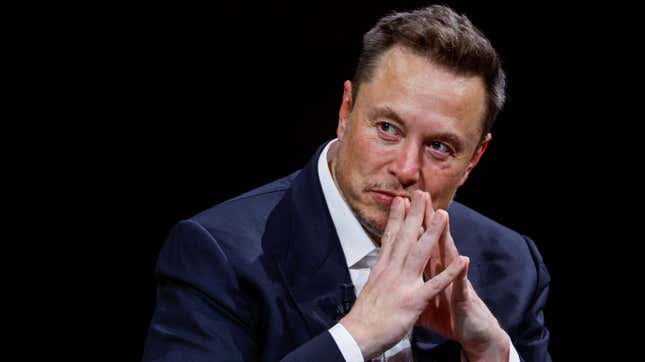 Just over a month into Linda Yaccarino's stint as Twitter's CEO, Elon Musk is already undermining her role publicly. Musk tweeted on Saturday (July 1) that he was temporarily setting a daily "view limit" for Twitter users, purportedly to "address extreme levels of data scraping and system manipulation." The move seems counterintuitive for corporate accounts—advertisers that marketing pro Yaccarino is tasked with attracting to the chaotic platform—who're trying to get the most views out of social media platforms.
What inspired Elon Musk's design for Tesla's Cybertruck?
The former NBCUniversal advertising chief had just started mending relations with advertisers after Musk's takeover led to an exodus. But the new audience restrictions will reduce their incentive to come onboard, hitting Twitter's advertising revenue.
That the statement about the changes came from Musk—who held on to a chief technology officer title at Twitter after hiring Yaccarino—shows that the power transition isn't at all smooth. Yaccarino, who once called herself a "fan of provocative leadership", has yet to publicly comment on the change.
Quotable: Advertisers will trust Twitter less
"The advertiser trust deficit that Linda Yaccarino needs to reverse just got even bigger. And it cannot be reversed based on her industry credibility alone." —Mike Proulx, research director at Forrester, quoted in Reuters on July 3.
Person of interest: Linda Yaccarino
When Yaccarino began in her new position as Twitter's chief on June 5, advertisers were enthused but still skeptical. She was put in charge of business operations, but Musk still held the reigns for the product and the platform, which would limit her freedom when it comes to decision-making.
Still, Yaccarino has already done some damage control. Twitter, notorious for unpaid bills under Musk, resumed payments to Google Cloud thanks to Yaccarino's negotiations with Google Cloud CEO Thomas Kurian, Bloomberg reported last month. The two leaders are also holding broader talks about advertising partnerships and how Google can use Twitter's API.
Going forward, she has big plans for Twitter 2.0's ads business, according to a recent report in the Financial Times. They include launching full-screen, sound-on video ads in the feed; bringing on high-profile celebrities, political figures and content creators that brands could etch sponsorship and brand deals with; and making commerce easier on the platform by building a digital wallet.
Here's hoping Musk doesn't get in the way of her plans.
Twitter account view limits, by the digits
6000: Posts verified accounts can read each day, according to Musk's initial announcement. Then he said that "soon" it'll increase to 8,000. Hours later, he raised it to 10,000. These limits are for tweets people click on—not ones that simply appear on the scrollable timeline.
600: Posts unverified accounts can read each day. Musk said it'll increase to 800, and then 1,000.
300: Posts new unverified accounts can read each day. Musk said it'll increase to 400, and then 500.
Company of interest: BlueSky
Bluesky, a decentralized Twitter-like social network build by several former Twitter employees after Musk's mass layoffs, had to halt its invite-code-only signups because it was flooded after Twitter set tweet viewing limits.
Rabbit hole: Twitter's limits target AI companies
Days before the view limit, Musk also announced a "temporary emergency measure" which was not allowing users who weren't logged in to read any posts or see any profiles at all. It's a big departure from 2015, when Twitter was even looking for ways to show ads to users who didn't sign up or sign in.
The recent curbs are a bid to thwart attempts to pull and sweep data from large social platforms, largely by AI companies like ChatGPT, whose language models have been "trained illegally using Twitter data," Musk alleges.
Meanwhile, Musk purchased roughly 10,000 GPUs, typically used for large language models for Twitter, sources told Insider.
One more thing: Twitter's bills and fines keep mounting
Twitter owes landlords in San Francisco and London rent, ex-employees and ex-execs are seeking damages for unpaid severance payouts and expenses they incurred in connection with several legal proceedings tied to the company respectively, music licensing firms filed a $250 million copyright lawsuit infringement, and a former PR firm sued over outstanding invoices worth over $830,000.
Recently, two other costs have been added to this growing list.
🇮🇳 Twitter has to pay a $61,000 fine in India, a July 2022 lawsuit against the Indian government over orders to block certain accounts and tweets failed. Last week, the Karnataka High Court dismissed Twitter's case and imposed a fine of $61,000 on the company for not complying with the contested orders for over a year.
🇦🇺 A Sydney, Australia-based project management firm, Facilitate Corp, filed a $665,000 lawsuit against Twitter in a California court over alleged non-payment of bills for work done in four countries on June 29.
Related stories
🧾 Elon Musk is starting to face the consequences of not paying Twitter's bills
🎤 Twitter is facing a copyright infringement bill worth $250 million
✍️ What Twitter's new CEO was really saying in her memo to staff