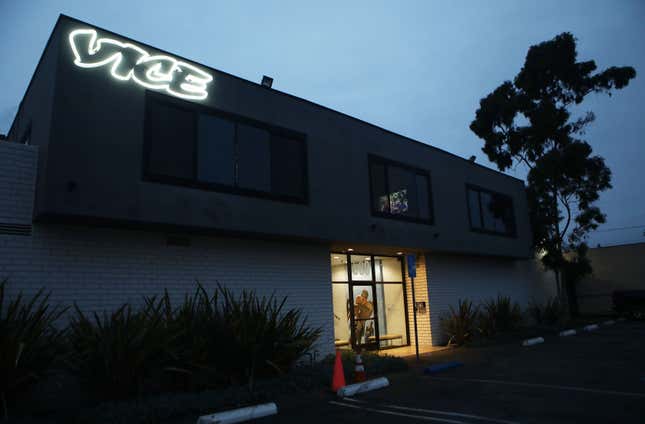 A group of asset managers is poised to take over Vice Media, once a brash disruptor of the digital space but now a much-shrunken company.

3 considerations before your company takes a stance
The embattled media group filed for bankruptcy today (May 15), so as to launch the process of selling itself to outside bidders, it announced in a press statement. Vice clarified that "substantially all" of its international entities, as well as the Vice TV joint venture with A&E, "are not part of the Chapter 11 filing."
Vice, an American-Canadian company, was valued at $5.7 billion in 2017, and has received funding over the years from lenders including Fortress Investment Group, Monroe Capital, and Soros Fund Management. These companies have now bid $225 million to take over Vice's assets and liabilities. According to the bankruptcy court filing, these lie in the range of $500 million to $1 billion.
The offer comes in the form of a credit bid, which allows the lenders to pay for the assets in the form of secured debt instead of cash. Additionally, the companies have approved funds of $20 million to keep the business up and running throughout the bankruptcy process, which would be followed by a 45-day sale process.

But the closure of this deal is subject to bids that other parties may make. In the interim, Vice said in its release, it will continue to publish content.

According to a recent report in the Financial Times, Fortress Investment Group is itself in the midst of a sale process. Its owner SoftBank is reportedly seeking to sell the asset manager to Mubadala, the Abu Dhabi-based sovereign wealth fund.
Why did Vice Media fail?

Launched in the mid-1990s as an iteration of a fringe magazine called Voice of Montreal, Vice currently operates in more than 30 countries. Its unconventional style of reporting and its focus on fringe movements and communities attracted a young audience that made the brand popular among advertisers.
Despite its lofty past valuation and backing from companies like TPG and Disney, Vice struggled to create a financially sound business, resorting to several rounds of layoffs in recent years. Late last month, the company laid off more than 100 employees as it closed Vice News Tonight, its TV news program, and folded Vice World News into Vice News.
That development came just a couple of months after Vice had secured $30 million in debt financing from Fortress to help pay off its outstanding bills. Nina Dubuc, Vice's CEO, left at the end of that month after five years in her post.