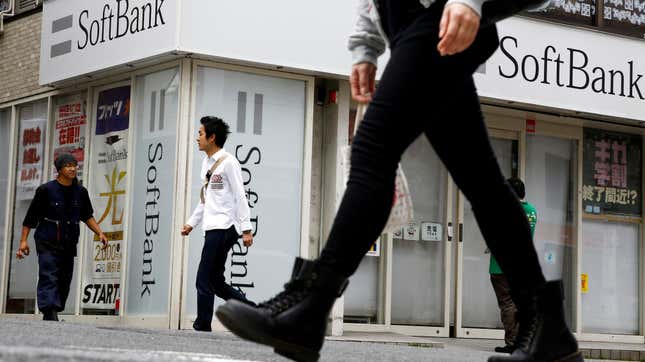 SoftBank has recorded yet another yearly loss, with its flagship Vision Fund posting a record loss, but it could have been worse.

3 considerations before your company takes a stance
At 70 billion yen ($7.18 billion), SoftBank's net loss for the year that ended March 31 was far lower than the 1.7 trillion yen ($12.6 billion) loss in the same period a year ago. The Masayoshi Son-led Japanese investing giant leaned on capital raised from the sale of a chunk of shares in Alibaba earlier this year to help cushion the blow from loss-making investment at its Vision Fund arm.
Alibaba is planning to split into six business units and put some up for IPOs—and therefore, lucrative exits for investors—but SoftBank wasn't prepared to wait. The Alibaba stake sale has industry watchers split: Some experts say it's a calculated decision to exit a 20-year-old investment, while others say not waiting it out a little longer reeks of financial desperation. Either way, it's helped SoftBank's balance sheet, for now.
Quotable: SoftBank is taking it slow
"Last year, unless something unusual happened, we would rather have passed on opportunities. But this year, if we're comfortable, after checking every aspect, we want to take steps, one by one." —Softbank chief financial officer Yoshimitsu Goto in an earnings call, quoted by Bloomberg, signaling a cautious reopening following a year of "total defense."
SoftBank's earnings, by the digits
$35.46 billion: How much money SoftBank raised through prepaid forward contracts using Alibaba shares.
$4.1 billion: Further funding raised through Alibaba forward contracts for the period after April 1, 2023.
$32 billion: Vision Fund's yearly loss
5: Consecutive quarters of Vision Fund's investment losses
25: New Vision Fund deals struck by SoftBank over the past year, lower than previous years.
Company of interest: Arm
At the end of April, British chip design firm Arm ditched London's public market and announced "that it has confidentially submitted a draft registration statement on Form F-1 to the US Securities and Exchange Commission." It plans to list on the New York-based Nasdaq stock exchange later this year, with the goal of raising between $8 billion and $10 billion.
Why does this matter for SoftBank? A robust public debut could help SoftBank offset its Vision Fund losses. After all, SoftBank Group owns 75% of Arm, and the rest is owned by its Vision Fund. In November, Son said he's been "in love with Arm" and he plans to"devote" himself to growing the UK-based chip firm for the next few years. And SoftBank plans to retain majority ownership through the IPO process.
Another company of interest: Fortress Investment Group
According to the Financial Times, SoftBank is in late-stage talks to sell asset manager Fortress Investment Group, which it acquired for $3.3 billion in 2017, to Abu Dhabi-based sovereign wealth fund Mubadala for $3 billion. The end goal is the same as it is with the Alibaba stake sell down and Arm IPO: pay down debt.

Related stories
🦄️ Softbank is shrinking its Alibaba stake down to single digits
🚶 Masayoshi Son is departing the board of Alibaba, SoftBank's most successful investment
🤲 How the massive scale of SoftBank's Vision Fund helps—and hurts—its investments