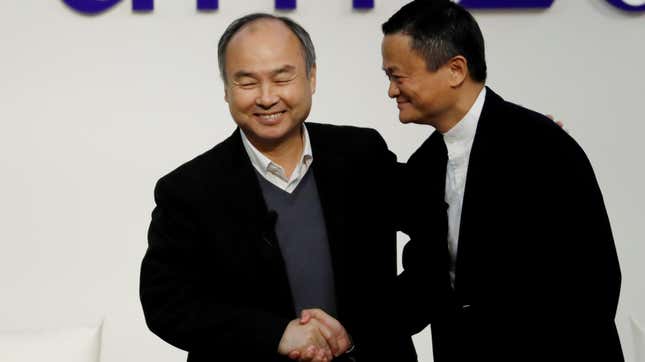 Softbank's stake in Alibaba is shrinking down to single digits.

The Japanese investing giant has sold more than $7 billion worth of Alibaba shares this year, the Financial Times reported yesterday (Apr. 12), citing an analysis of regulatory filings sent by post to the US Securities and Exchange Commission (SEC). This comes after Softbank's record $29 billion selldown in Alibaba stock over 2022.
3 considerations before your company takes a stance
Alibaba shares, which had recently soared on the news of the tech giant's plan to split its business into six units, plunged more than 5% on the news, but then recovered most of their losses over the course of the day (Apr. 13).
Softbank told the FT that the company would provide details of the sale when it reports quarterly results in May.
In mid-2022, SoftBank chief Masayoshi Son said his company is going into "defense mode," after it suffered a record $23 billion loss in the April-June quarter. Uncertain market conditions and struggling tech investments were both to blame.
Geopolitical tensions likely weighed heavily on this decision, too. Once a cheerleader of China's burgeoning tech scene, Son also turned less optimistic as relations between Beijing and Washington soured. The Chinese authorities' crackdown on tech firms like Alibaba only worsened those concerns.
Softbank's Alibaba investment, by the digits
5.2%: How much Alibaba's stock tumbled after the Financial Times report came out
$20 million: The amount Son and Softbank spent on buying almost all of its Alibaba stake two decades ago, in 2000—a year after Ma founded the company. For a long-time, it was considered one of the most lucrative deals ever etched
$5 billion: Pre-tax loss reported by Softbank's Vision Fund in the quarter ended Dec. 31, 2019—the fourth straight quarterly loss for the unit focused on tech bets
34%: Softbank's peak stake in Alibaba after the Chinese internet company's 2014 US IPO. The value of Softbank's stake in Alibaba was $60 billion at the time
25%: Softbank's stake in Alibaba in December 2019, which was valued at over $100 billion
3.8%: Softbank's stake in Alibaba in April 2023
80%: How much the value of Alibaba's shares has fallen since peaking in October 2020
Quotable: Softbank's faith in Alibaba
"We would like to make Alibaba the next Yahoo in the world." —Masayoshi Son during the 2000 investment.
A brief recent timeline of Alibaba and Softbank
June 2020: After 15 years on Alibaba's board, Son steps down. Ma also leaves Softbank's board after 13 years. "We will remain friends for the rest of our lives," a teary Son said at the time.
October 2020: During an event in Shanghai, Ma criticizes China's regulatory system for "stifling innovation" and chides the country's banks for harboring a "pawnshop" mentality.
November 2020: Beijing stops Ma's Alibaba fintech-spinoff Ant's $37 billion IPO two days before its due to start trading.
November 2020: Ma goes missing. The flamboyant billionaire entrepreneur won't be seen in public for at least three months.
January 2021: Ma addresses 100 village teachers via video, making his first public appearance in months. For the next two years, Ma jet sets around Spain, Japan, the US, Israel, Thailand, Australia, Hong Kong, and more.
July 2022: Alibaba is one of 100 Chinese companies added to the SEC's delisting watchlist
December 2022: The delisting risk is averted as the US gains complete access to inspect and investigate registered public accounting firms headquartered in mainland China and Hong Kong.
March 2023: A day after the teacher-turned-entrepreneur is spotted mingling with students and teachers at Yungu School in Hangzhou, Alibaba announces it is splitting its business into six units and assuming a holding company structure à la Google parent Alphabet to help the businesses "become more agile, enhance decision-making, and enable faster responses to market changes," according to letter to employees from CEO Daniel Zhang.
Is Softbank's exit good news for Alibaba?
At first glance, a long-time backer retreating in the middle of a massive corporate overhaul—Alibaba is splitting its business into six with the intention of taking some public and selling off others—appears concerning.
What's reassuring is that Softbank's move hasn't come out of the blue. "They (SoftBank) have been clear that ... they need to monetise profitable holdings," Jon Withaar, head of Asia special situations at Pictet Asset Management, told Reuters. "Perhaps some expected that they may slow the pace of their selling in (Alibaba) now that their Arm IPO is moving closer to completion, but ultimately everything they are doing is within the scope of what they have told the market." (Arm is a British chip designer SoftBank bought in 2016 for $32 million.)
Related stories
🚶 Masayoshi Son is departing the board of Alibaba, SoftBank's most successful investment
🤲 How the massive scale of SoftBank's Vision Fund helps—and hurts—its investments
🦄️ The "SoftBank of China" has invested in more unicorns than SoftBank