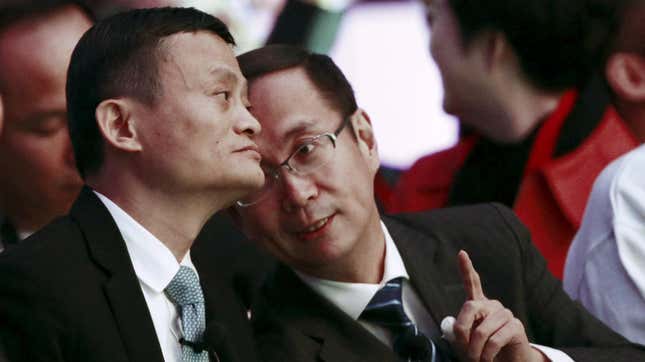 Alibaba is prepared to let go of some of the business units created in the break up of its empire.
The group's chief financial officer Toby Xu said the $220 billion Chinese internet giant would "continue to evaluate the strategic importance of these companies" and "decide whether or not to continue to retain control" on a conference call with investors today (Mar. 30).
Splitting the 24-year-old business is likely music to the ears of anti-monopoly, pro-data protection Chinese authorities that have been cracking down on the country's internet firms over the last two years. Each business is poised to get its own CEO and board, and its own timeline to fundraise and go public. Also, any reputational damage to one division will likely not affect the other.
Quotable: Alibaba CEO on the group's future
"Alibaba will be more of the nature of an asset and capital operator than a business operator, in relation to the business group companies."—Alibaba Group CEO Daniel Zhang on the Mar. 30 conference call with investors.
A brief timeline of Alibaba's major corporate shakeup
Mar. 27: Founder Jack Ma is spotted in China after a year abroad.
Mar. 28: Alibaba announces it is splitting its business into six units and assuming a holding company structure à la Google parent Alphabet to help the businesses "become more agile, enhance decision-making, and enable faster responses to market changes," according to letter to employees from CEO Daniel Zhang. The new structure will likely aid in gaining tax efficiencies, mitigating risks, or preparing for sale or succession. And it aligns with China's anti-monopoly vision for the tech sector.
One big number: Alibaba's stock wipeout
$344 billion: Alibaba's market cap wipeout—the world's largest—in the year after the founder's blistering October 2020 speech criticizing China's banking system.
Charted: Alibaba's stock is surging
Are Alibaba's moves proof that China's "tech crackdown" is over?
Jack Ma's resurfacing and Alibaba's revamp could give the impression that China is becoming more friendly to big tech than it has recently.
That's the signal policymakers have been trying to send. At the Central Economic Work Conference in December, government leaders pledged support for big tech so it can grow larger, hire more, and expand internationally as headwinds to economic growth mount. But while the government seems to be hinting at easing regulations, there's no doubt that its involvement in corporate affairs will continue. As Trivium China senior analyst Tom Nunlist points out, the so-called tech crackdown "was not a monolithic event."
When regulators say the crackdown is "basically complete," what experts hear is "normalized supervision."
"Investigations are concluding, but they have caused a permanent shift in behavior and expectations," Martin Chorzempa, senior fellow at Peterson Institute for International Economics, explained, citing the example of another Ma-founded business: Ant Group. The fintech giant had to sell off 50% of its lending business to state companies to dilute its control and raise capital, as well as cutting its ties to Alibaba, which meant Ma relinquished control of the company.
The state's grip on tech companies is not getting looser. Government entities are increasing their so-called "golden shares" in private firms like Tencent and Alibaba, giving the state "direct influence over firms, for example with seats on boards of directors and control over content strategy," said Chorzempa. That's a U-turn from 2015, when such shares were a means of reducing government intervention, allowing "the state to relinquish its majority shareholding."
What will likely change in 2023 is that firms won't be blindsided by unexpected fines or uninformed probes. Beijing seems to be leaning towards taking a more deliberate approach to policy-making and policing.

Related stories
✂️Alibaba is splitting its empire into six business divisions
🫥 Jack Ma made a rare appearance in China