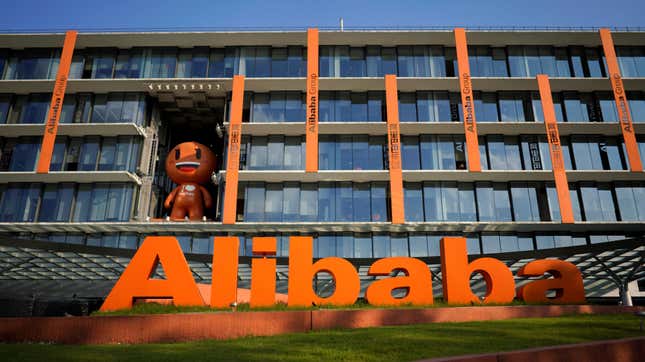 On the heels of founder Jack Ma being spotted in China after a year abroad, Alibaba had a major announcement to make.

Should you keep investing in Big Tech?
The Chinese tech giant is splitting its business into six units and assuming a holding company structure. Alibaba CEO Daniel Zhang will continue to lead the company, but will devolve operational decision-making, including hiring and firing, research, profit and losses, to the leaders of each business unit, South China Morning Post reported. This will help the businesses "become more agile, enhance decision-making, and enable faster responses to market changes," Zhang wrote in a letter to employees cited by the publication.
The move is "designed to unlock shareholder value and foster market competitiveness," Alibaba said in a statement today (Mar. 28). It's poised to help the company in more ways than one: For one, it aligns with China's anti-monopoly vision for the tech sector. In addition, it shows Alibaba's various business prongs are bullish on tapping investors and public markets.
Quotable: Why Alibaba is separating its businesses
"At 24 years of age, Alibaba is welcoming a new opportunity for growth. The market is the best litmus test, and each business group and company can pursue independent fundraising and IPOs when they are ready." —CEO Daniel Zhang
A brief overview of Alibaba's six new divisions and who will lead them
☁️ Cloud Intelligence Group: The cloud and artificial intelligence activities business will be led by Alibaba group CEO Daniel Zhang, who has been Alibaba's CEO since 2019. He'll don two hats.
🍲 Local Services Group: Yu Yongfu, who took over as the newly appointed CEO of Alibaba's Local Life department in November 2021, will oversee Alibaba's food delivery service Ele.me as well as its mapping.
📦 Global Digital Commerce Group: Jiang Fan will serve as CEO for the unit, which includes Alibaba's international e-commerce businesses including cross-border retail platform AliExpress and Southeast Asian e-commerce platform Lazada, which he has already been overseeing.
🏬 Taobao Tmall Commerce Group: The company's online shopping platforms, including Taobao and Tmall, will be overseen by longtime executive Trudy Dai.
🚚 Cainiao Smart Logistics: Wan Lin will continue as CEO of the business focused on Alibaba's smart logistics service.
🎥 Digital Media and Entertainment Group: Fan Luyuan will be CEO of the unit that includes Alibaba's streaming and movie business.
Alibaba's business, by the digits
$220 billion: Size of Alibaba Group Holding, the largest e-commerce company in China
6%: How much Alibaba's shares popped in pre-market trading in New York
20.2 billion yuan ($2.9 billion): Revenue of Alibaba's cloud computing business, its fastest-growing unit with the biggest potential, equivalent to a 3% growth in the three months ending in December. Alibaba runs China's largest cloud-computing business
70%: Share of Alibaba's 170 billion yuan ($24.7 billion) third-quarter revenue, which came from the world's largest e-commerce platforms, comprising mostly Taobao and Tmall Marketplace
Company of interest: Alphabet
While a shift to a holding company structure is rare for major Chinese tech companies that keep most operations under one roof—think Tencent and ByteDance—elsewhere in the world, it's not so uncommon. Many players do it to gain tax efficiencies, mitigate risks, or prepare for sale or succession.
The biggest example, perhaps, is the creation of Alphabet in October 2015. Alphabet is a "collection of companies" that includes Google (the biggest business), innovation lab X (formerly Google X), VC arms Google Ventures and Capital G management company (Formerly Google Capital), and more.
Related stories
🫥 Jack Ma made a rare appearance in China
🙅 There's no place for a Jack Ma in today's China