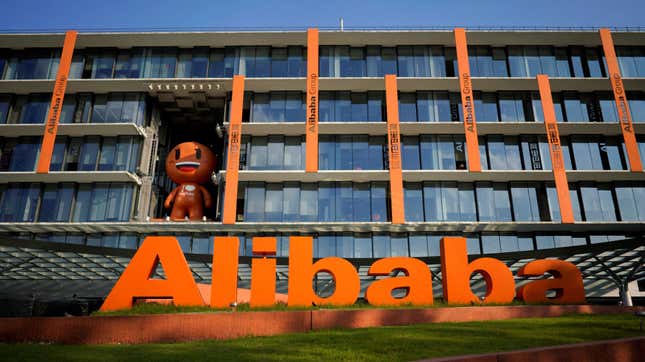 Three months after rejigging its corporate structure—splitting into six—Alibaba is rejigging its top brass.

Why a tightening of credit conditions could lead to a weak economy
Daniel Zhang, who has been the Chinese conglomerate's chief for eight long years, is being replaced. Eddie Wu, now chairman of Alibaba's online shopping arms Taobao and Tmall, will take over as chief executive.
Zhang, who became chairman in 2019, will no longer hold that post on the board either. Alibaba's executive vice chairman Joseph Tsai will take over as chairman.
Both appointments will take effect on September 10, 2023, the company announced in a press release today (June 20).
Zhang is being redeployed to Alibaba's cloud business
For all the shuffling, Zhang, who joined Alibaba way back in 2007, isn't leaving, but got new responsibilities.
Zhang will "continue to lead Alibaba Cloud Intelligence Group as its Chairman and Chief Executive Officer," the company said. This role was already assigned to him during the March business split decision.
"This is the right time for me to make a transition, given the importance of Alibaba Cloud Intelligence Group as it progresses towards a full spin-off," said Zhang in a statement.
In an internal memo seen by the Washington Post, Zhang said it would be "inappropriate" from a corporate governance perspective for him to continue as the overall boss while the cloud unit gears up for its initial public offering. The IPO could happen anytime within the next year.
People of interest: Eddie Wu and Joseph Tsai
Eddie Wu
A 1996 graduate from the College of Information Engineering of Zhejiang University of Technolog, Wu is one of Alibaba's co-founders who came to the company from co-founder Jack Ma's previous venture, China Pages.
Wu has jumped across several roles across the company: technology director at the inception to chief technology officer of Alipay in 2004 to director of Alibaba's monetization platform Alimama in 2005 to chief technology officer of Taobao in 2008 to the head of Alibaba Group's search, advertising and mobile business, in 2011. Later, he served as director and chairman of Alibaba Health, too.
Joseph Tsai
Credited as another co-founder, Tsai has been with the company since its founding year, too. He played a key role in helping secure early investments from Goldman Sachs and SoftBank, and stewarded the company's 2014 IPO in New York.
Alibaba after Jack Ma
Jack Ma was the flamboyant face of Alibaba for years. But in 2020, he delivered a controversial speech, calling out China's state-owned banks and regulators for, among other things, their "pawnshop mentality." He quickly disappeared from the public eye, only to resurface quietly three months later.
China is no country for an outspoken Ma. And the fact that Zhang was in-charge during the debacle marked a black spot on his tenure, too. The changing of guards is perhaps the need of the hour—and the replacement seems to be the right fit.
"Eddie [Wu] is more quiet and analytical. He is not an extroverted personality like Jack Ma," an anonymous source told the Financial Times. "But with Alibaba turning into a holding company of these businesses, you need someone who can think strategically about how they fit together rather than someone who is leading from the front."
Quotable: Jack Ma's closest aides are Alibaba's top brass
"The good thing is that the new CEO and chairman are all co-founders of the company and are the closest to Jack Ma. That means Ma remains the spiritual leader of Alibaba. I don't think the management change signals a big strategy change."—Kenny Wen, head of investment strategy at KGI Asia Ltd, quoted by Bloomberg on June 20
Alibaba's new CEO to-do list
🏆 The e-commerce leader is bleeding market share in the face of stiff competition from the likes of ByteDance's Duoyin and PinDuoDuo
💰 The macroeconomic uncertainties in China are compounding as recovery from covid-19 has been slow, and the US-Sino tensions are rising. Washington's efforts to restrict China's access to critical technologies is a mounting problem.
🪓 Beijing's blistering crackdown on tech hit Alibaba especially hard after Ma openly criticised the regime's shortfalls. Regulators levied a record $2.8 billion fine over antitrust concerns, and Alibaba's sister company Ant Group's blockbuster IPO was cancelled mere days before going live. The crackdown has eased since, but Alibaba has to stay in authorities' good books to continue business as usual.
Alibaba, by the digits
$238 billion: Alibaba's market cap as of June 20

1%: How much Alibaba shares were down in afternoon trading in Hong Kong on June 20
2.5%: How much the Hang Seng Tech index tracking Alibaba and its peers in the Chinese tech sector was down on June 20
11 times: How much Alibaba's annual sales have risen during Zhang's tenure
3 times: How much the group's profits have increased during Zhang's tenure
Flat: How much Alibaba's shares have changed during Zhang's tenure
$30 billion: How much some analysts value Alibaba's cloud business at
1,000: Workers the cloud unit is expected to shed—around 7% of the total—before the IPO
Related stories
❓Alibaba is splitting its empire into six business divisions
🫥 Alibaba announced its answer to ChatGPT as Xi calls for greater state control of AI