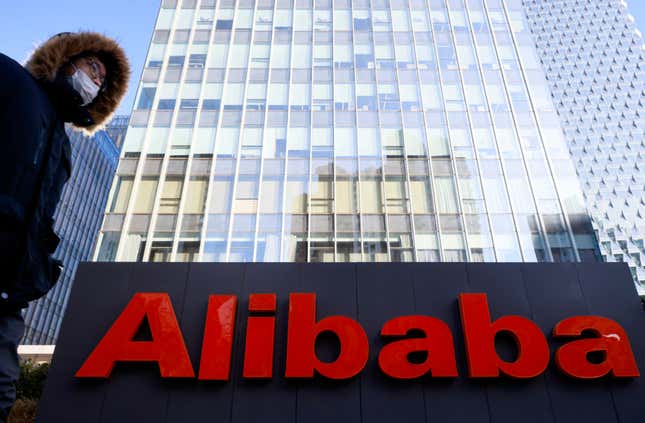 Alibaba, the Chinese e-commerce giant, officially launched its new artificial intelligence (AI) chatbot, integrating the technology into its suite of apps, including its flagship messaging app DingTalk
Alibaba first announced the chatbot on April 11, describing it as a tool that will increase efficiency across its diverse range of cloud-based workflow programs.
"We are witnessing a new paradigm of AI development where cloud and AI models play an essential role," said Jingren Zhou, CTO of Alibaba Cloud Intelligence, in a prepared statement. "We hope to facilitate businesses from all industries with their intelligence transformation and, ultimately, help boost their business productivity, expand their expertise and capabilities while unlocking more exciting opportunities through innovations."
This marks the first time the large language model (LLM) will be available to the public, taking the form of a digital assistant that can analyze files and generate text summaries of video and audio files. It joins a crowded field of tech companies looking to compete with the mega-popular ChatGPT bot developed by OpenAI.
According to a CNBC report, Alibaba plans to continually introduce more features for the chatbot throughout the year, including real-time English-to-Chinese translation of multimedia content and a Google Chrome extension.
Quotable: Alibaba CEO
"We are at a technological watershed moment driven by generative AI and cloud computing, and businesses across all sectors have started to embrace intelligence transformation to stay ahead of the game." —Daniel Zhang, Chairman and CEO of Alibaba Group and CEO of Alibaba Cloud Intelligence, in a press release.
China wants more state involvement in AI development
Chinese leader Xi Jinping called for more control over artificial intelligence in a meeting of the National Security Commission on Wednesday (May 31), along with other Communist Party officials.
According to the Xinhua News Agency, the meeting discussed the need for "dedicated efforts to safeguard political security and improve the security governance of internet data and artificial intelligence," among other national security risks.
The meeting comes after Chinese authorities restricted access to ChatGPT last month and introduced a law requiring that all AI products be assessed for national security threats before being released to the Chinese market.
ChatGPT competitors: a brief list
Bard: Google's entry into the chatbot wars had a disastrous start, giving an incorrect response in an initial ad that led to Alphabet losing $100 billion in market value.
CodeWhisperer: Amazon's LLM AI isn't meant for idle chitchat, rather it's a free-to-use tool meant to help write lines of code.
Ernie: Baidu, the Chinese search engine company, plans to incorporate its recently launched chatbot Ernie into a larger AI ecosystem.
Tencent: The major Chinese media and technology company has said it plans to launch a ChatGPT-like AI system for its WeChat app in the coming months.
Bing Chat: While not really a competitor (Bing Chat uses OpenAI's software), Microsoft's subscription-supported chatbot boasts a connection to the world wide web, enabling it to answer more up-to-date questions than ChatGPT.
Related stories
Before lawmakers regulate AI, they must define it—and that isn't easy
Alibaba is splitting its empire into six business divisions
OpenAI's Sam Altman threatened to leave the countries of the EU if he doesn't like their ChatGPT regulation