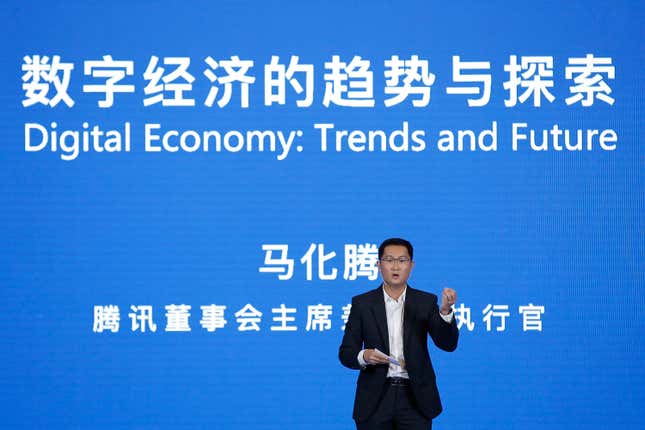 Chinese video game and social media giant Tencent has long been thought to be developing a competitor to ChatGPT, the popular artificial-intelligence chatbot, for its WeChat app. While the company's latest update to investors didn't address these rumors directly, it's clear more AI is in Tencent's future.
"We are investing in our AI capabilities and cloud infrastructure to embrace the opportunities brought by foundation models, and expect AI to be a growth multiplier that enables us to better serve our users, customers, and society at large," Tencent chairman and CEO Ma Huateng said in a May 17 press release about the company's first-quarter results.
The report was more notable for other reasons, namely the 11% increase in revenue versus the same quarter of 2022, which far outpaced the 0.5% growth in revenue year over year in the prior quarter (pdf).
The company credited the end of China's zero-covid policy for the uptick in revenue, specifically citing an increase in domestic video game sales. "During the first quarter of 2023, we achieved solid revenue growth as our payment volumes benefitted from, and facilitated, domestic consumption recovery, our games revenue improved, and our advertising revenue sustained rapid growth," Ma said.
Tencent's online ad revenue was up 17% in the first quarter, reaching 21 billion yuan ($3.6 billion).

The report also singled out Tencent's flagship title Honor of Kings, a mega-popular online multiplayer game, for record-high gross sales, as well as increased revenues from the Dungeon & Fighter franchise and the mobile offering CrossFire.

Tencent stock rebounds on China's pandemic reopening

Related stories:
💸 HSBC shareholders will vote on an activist investor's proposal to split off the bank's Asian business
💰Activist investor Carl Icahn is Hindenburg Research's latest short-selling target