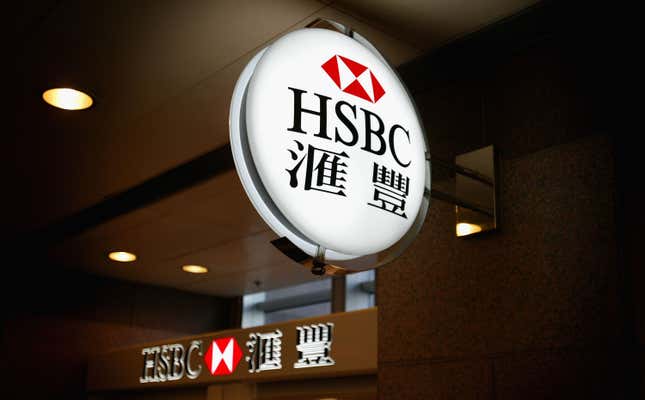 HSBC shareholders are set to vote on the first step toward a proposed restructuring of the bank—including a potential spin-off of the lender's Asia business—at an annual general meeting on Friday (May 5) in the United Kingdom.
A growing contingent of shareholders, according to activist investor Ken Lui, have advocated for a split from the bank's business in Asia. Lui says that this restructuring would unlock value, increase the bank's dividends, and add more than 40% to the share price.

Specifically, the investors will vote on Resolution 17, which would implement "a quarterly strategy review of structural reforms aimed at the bank's Asia business, which would include its spinoff and strategic reorganization and restructuring."
Some of HSBC's investors agree
HSBC's largest investor, Ping An Insurance, has aligned itself with Lui, publicly supporting the resolution. The insurance company—which owns about 8% of HSBC—has said it is in favor of restructuring the bank's Asia operations, which are considered the most profitable part of the bank.
"It is necessary for HSBC to push for structural reform to fundamentally address HSBC's underlying market competitiveness issues, improve performance, enhance value, and accelerate growth opportunities in Asia," a spokesperson for Ping An said in a press release.
Noel Quinn, HSBC's CEO, told Bloomberg TV that the bank's financial results demonstrate that restructuring isn't needed.
"We have said all along that we believed the fastest and safest way to get increased valuation, increased profit, increased dividends, is by focusing on the current strategy," Quinn said on Tuesday (May 2).
Lui has also proposed another resolution that would penalize the bank if it failed to restore its dividend to pre-covid levels. HSBC has advised shareholders to vote against both resolutions.
Quotable:
"I will spend the rest of my life coming after you, [HSBC]."
— Ken Lui, in an interview with Nikkei Asia, after claiming that he holds over 100 million Hong Kong dollars ($12.7 million) in shares of the bank.
HSBC had a good first quarter thanks to SVB's failure
Despite the looming vote, the bank was able to reassure shareholders with a Q1 earnings report, released on Tuesday (May 2), that beat analyst forecasts and allowed the bank to pay its first quarterly dividend in three years.
According to the report, the bank tripled its profits to $12.9 billion, a massive increase over the $4.2 billion reported last quarter.
The increase in profit was tied to HSBC's rescue of Silicon Valley Bank's UK holdings, which increased the bank's bottom line by approximately $1.5 billion. The deal cost the bank just £1 ($1.26).
Related stories
💰Activist investor Carl Icahn is Hindenburg Research's latest short-selling target
💸 Texas blacklisted HSBC over the bank's refusal to fund new oil and gas projects
🇨🇳 Paraguay's presidential election is a referendum on China's dollar diplomacy in Latin America