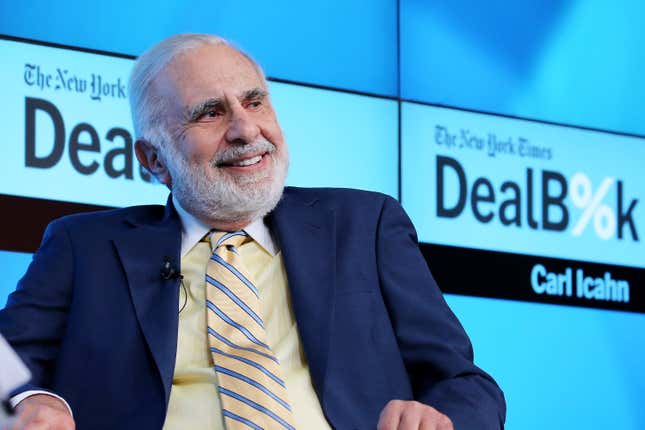 Shares of Icahn Enterprises lost more than a fifth of their value after Hindenburg Research announced that the holding company—founded by legendary activist investor Carl Icahn—was the target of its latest short sell in a sprawling report. The decline marked the firm's largest intraday drop since 2010.

The report, published by Hindenburg founder Nathan Anderson, claims that Icahn Enterprises is overpriced and has inflated the value of some of its assets by 75% or more. Icahn and his son, Brett, own roughly 85% of the company.
"We think Icahn, a legend of Wall Street, has made a classic mistake of taking on too much leverage in the face of sustained losses: a combination that rarely ends well," the report says.
Hindenburg also criticizes Icahn Enterprise's business practices, accusing the company of using money from new investors to pay out dividends to old ones, adding that "such Ponzi-like economic structures are sustainable only to the extent that new money is willing to risk being the last one 'holding the bag.'"
Icahn addressed the report in a statement provided to CNBC.
"We stand by our public disclosures and we believe that IEP's performance will speak for itself over the long term as it always has," he said. "We continue to believe that activism is the best paradigm for investing and my activist investments over the last 25 years have well proved this out."
Icahn has made billions of dollars as an activist investor, buying large stakes in publicly traded companies—such as Dell, Herbalife Nutrition, and Illumina—in order to force changes that will drive the stock up. His firm owns a diverse range of businesses, including food packaging plants, a railroad manufacturer, and an aftermarket auto parts subsidiary.
Icahn Enterprises (IEP) was down 20% at the close of trading in New York on Tuesday (May 2).

What are some of Hindenburg's recent targets?
Hindenburg, an activist investment and research firm, creates profit by shorting publicly traded companies before publishing damaging research about them, hoping to move the market.
That approach has largely worked. On average, companies targeted by Hindenburg fell roughly 15% the day after a negative report was published, and were down 26% after six months, according to research by Bloomberg News. Here are a few examples.
Nikola Corp: Hindenburg accused the upstart automaker of fraud, saying it advertised technology that doesn't exist, in a 2020 report. Those accusations led to a 90% decline in Nikola's stock price and the resignation of its founder, Trevor Milton.

Adani Group: Hindenburg announced its short-sell position in Adani in January, accusing the Indian conglomerate of stock manipulation and accounting fraud. Its charges wiped out $120 billion of the company's market value.
Block: Hindenburg Research announced that Block—a fintech company founded by former Twitter CEO Jack Dorsey—was its latest target in March. The firm claims that Block has committed widespread fraud in its performance metrics, along with a litany of other irregularities.
Related stories
Jack Dorsey's fintech company Block is being accused of facilitating criminal activity
Who is behind Hindenburg, the research firm targeting the Adani group?
Adani's Hindenburg crisis grows deeper after its canceled share sale