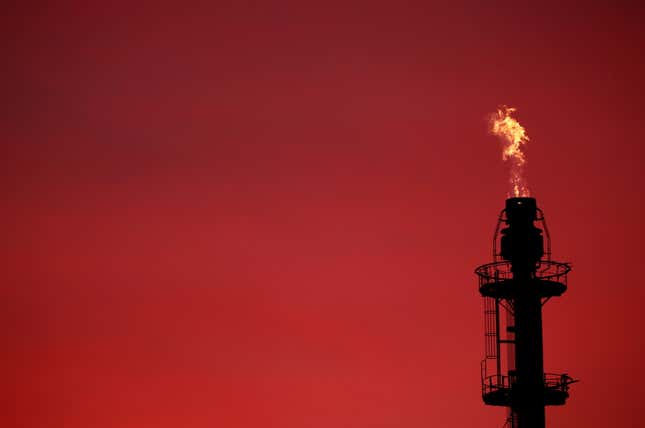 The IPCC report released on Monday (March 20) has an idea for shaving off as much as 10% of the world's greenhouse gas emissions (GHG) by 2030: end fossil fuel subsidies once and for all.
A tenth of greenhouse gas emissions is a large slice and would go a long way in preventing global temperatures from rising above 1.5 degrees Celsius (2.7 degrees Fahrenheit), the threshold above which the catastrophic impacts of climate change will become increasingly difficult to manage. The overall cut in emissions required to achieve that goal is 45%.

The emissions attributable to subsidies surpass those of the world's most polluting industries: aviation produces 2%, agriculture 8.5%, and the steel industry 7%. It's a bigger share than any single country in the world except China.
Subsidies come in two forms: production subsidies like tax breaks or debt assistance that are given to fossil fuel companies to increase oil, gas and coal production; and consumer subsidies, which lower the cost of fossil fuels for the wider population. Some of the countries with the most subsidized fossil fuel industries, like those in the Middle East, are also the highest polluters per capita. Canada (pdf), which ranks high in its support of oil and gas exploration, refining and production, is likewise among the top CO2 emitters per capita. Cutting such subsidies would decrease both the demand and supply of fossil fuels, and thus planet-warming emissions as well.
The Glasgow Climate Pact of 2021 also emphasized that removing fossil fuel subsidies was essential to staying below 1.5C, echoing calls from the Organization of Economic Cooperation and Development (OECD), the International Energy Agency (IEA), and a wide range of research and academic institutions.
And yet: the world is not moving in that direction.
Fossil fuel subsidies skyrocketed in 2022
According to the International Energy Agency (IEA), fossil fuel subsidies surged in 2022 to an all-time high of $1 trillion, doubling the subsidies from the previous year, and five times that of 2020.
This swift increase was driven by the price volatility and energy crisis caused by Russia's war in Ukraine. European and other advanced economies spent about $500 billion to try to reduce consumer energy bills. The IEA has warned that not all of these expenditures are necessarily factored into their 2022 data on fossil fuel subsidies, as consumers paid rates close to the market value. Unless there's a gap between the retail price and the market price, the IEA does not count it as a subsidy, regardless of what governments paid out. As a result, the total subsidies in 2022 could be even higher if those expenditures are factored in.

The IEA also warned that the subsidies were often not targeted to benefit the poor, who are hit hardest by high energy bills. The increase in subsidies in 2022, according to the IEA, fed into the same dynamics as previous years. Subsidies benefited richer segments of the population, even as they diminished incentives to use energy efficiently or switch away from fossil fuels.
Aside from subsidies directed towards consumers, the IEA tracked considerable government spending for producers—on recapitalization, debt suspension, and support for energy companies or carbon-intensive industries. Peru extended $1 billion to its state-owned oil company Petroperú. Several EU countries, including France, Italy and the Netherlands, announced plans to restart coal plants, and Germany extended credit lines to Uniper, a gas importer. Other long-standing subsidies include the Indian government's support of the coal industry (pdf), Saudi Arabia's investments (pdf) in state-owned Saudi Aramco, as well subsidies for the Canadian, US and European oil industries.
One way that countries are trying to ignore subsidies is by deleting mentions of it in climate change-related documents. During Saudi Arabia's G20 presidency in 2020, it requested that all mentions of subsidies be removed (pdf) from briefings and policy proposals, according to the International Institute of Sustainable Development. And after the release of the IPCC report this week, the climate journalist Ajit Naranjan pointed out on Twitter that China, Saudi Arabia, Iran, and Egypt—some of the world's top subsidizers—called for mentions of "subsidies" to be deleted from discussions of how to reduce consumption-based emissions.