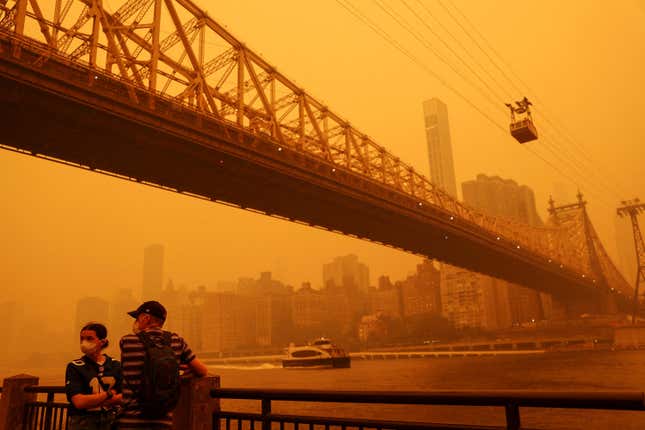 This week, the Northeastern US woke up on top of the world in a ranking it would rather not take part in: the air quality index (AQI).
Should you keep investing in Big Tech?
The AQI breakdown goes like so: 0 to 50, good; 5 to 100, moderate; 101 to 150, unhealthy for sensitive groups; 151 to 200, unhealthy; 201 to 300; very unhealthy; and above 300, hazardous.
On Wednesday (June 7), the AQI reached as high as 374 in Manhattan and 420 in eastern Pennsylvania, a consequence of the smoke blowing south from Quebec's wildfires. In Ottawa, the AQI surpassed 500 this week, though it is now returning to normal as the smoke drifts south.
At these levels, everyone exposed to outside air is considered likely to experience watery eyes and strained breathing, as well as a range of more serious health effects, with the elderly and infants most affected.
AQI values are rarely of concern to people in this part of the world, while people living in India and China are surely familiar with them. In Delhi, the AQI is currently 357—not an especially unusual number for the city, and one many of those living there know to mean hazardous.
How is the AQI measured?
The AQI is calculated by monitoring the amounts of five major pollutants in a cubic meter of air: carbon monoxide, nitrogen dioxide, sulfur dioxide, ground-level ozone, and particulate matter under 10 microns in width.

The rates of these five air pollutants are then divided by the health-based national ambient air quality standard and multiplied by 100, adding up to a fraction of 500. The different pollutants are measured over different time periods; for example, the ground-level ozone covers eight hours, while particle pollution is measured over a 24-hour timeframe.

All cities in the US with a population of over 350,000 are required to report the daily AQI.

Wildfires equal particle pollution
While wildfire smoke is made up of a number of pollutants–including carbon monoxide and aromatic hydrocarbons (the compound that makes up petroleum)—the main concern is particulate matter.
Particulate matter is a general term for any type of solid or liquid droplets suspended in the air, and can be so small that they are only visible under an electron microscope. They are made up of a number of inorganic compounds and acids, including ammonium nitrate and sodium chloride, as well as organic materials like soot, metals, soil, and dust.
At ten microns, these compounds are small enough to enter the lungs. At two and a half, they can enter the bloodstream, causing complications in the lungs and the heart, as well as other health effects.
Related stories
Canadian wildfire smoke has given New York the worst air quality of any major city
For millions of Americans, the wildfires made climate change real