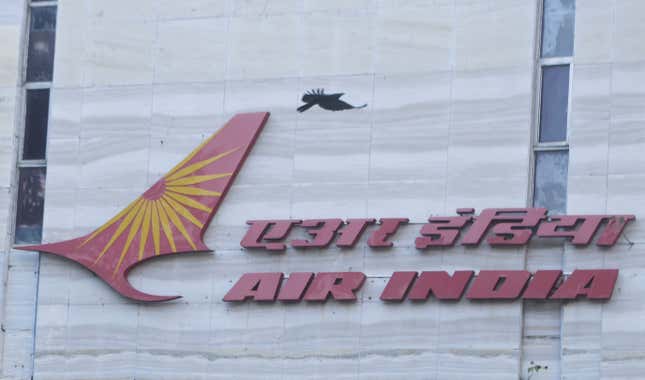 Air India's agreement to acquire 470 planes from Airbus and Boeing, the largest deal in aviation history, will help the airline modernize its fleet, expand its network, and boost it in its ambition to become "a world-class proposition."

Why a tightening of credit conditions could lead to a weak economy
Air India, recently privatized and now owned by the Tata group, will induct 210 Airbus A320/321 Neo planes, 190 Boeing 737 MAX single-aisle aircraft, 40 Airbus A350s, 20 Boeing 787s, and 10 Boeing 777-9s into its fleet.
The deal,worth $85 billion, signals that Air India will focus on building an airline network that goes farther, faster, and longer in terms of global operations, said Mark Martin, the founder and CEO of the Dubai-based aviation consulting firm Martin Consulting.
"Air India's induction of the Airbus A350 aircraft will help the airline operate with improved efficiency and reliability, dovetailed with 35% lower operating cost and over 28% less carbon emissions," Martin told Quartz.

Why did Air India buy so many new planes?

The aircraft deal, in the making for more than a year, was finalized in London, just a few miles from Buckingham Palace, a Reuters report said, citing sources familiar with the dealmaking process.
When all parties reached an agreement just before Christmas, the terms of the deal had something for everyone.

In particular, among the manufacturers, Boeing will hope to enlarge its presence in India's single-aisle jet market. Until now, Airbus has dominated that sector of Indian aviation; IndiGo, the largest domestic airline by passengers as well as fleet size, relies solely on Airbus planes.
The 470-plane deal will also help the Tata group take on Middle Eastern carriers, which have become the go-to choice for flyers on international long-haul routes, Martin suggested. None of the major Middle Eastern airlines—Abu Dhabi's Etihad, Dubai's Emirates, or Qatar Airways—belong to Star Alliance, the loose group of 26 airlines, of which Air India is a member.
Adding muscle to the Air India fleet, therefore, "also falls in line with a Star Alliance strategy of offering global connectivity right from India, bypassing and surpassing other regional hubs such as Dubai, Abu Dhabi, Doha, and Bahrain," Martin said.
The deal is also at the heart of Air India's five-year plan to transform itself into a world-class airline. Announcing the plan last year, the airline last year said it will add new local and global routes to its network. If that succeeds, Air India could turn Indian cities into hubs for long-haul flights, much as Turkish Airlines has done for Istanbul or Qatar Airways for Doha.

How will Air India become a world-class airline?

Air India's purchase has gotten the world talking. In particular, the leaders of the US, France, and the UK—the home countries of Boeing, Airbus, and the jet engine manufacturer Rolls Royce—welcomed the commercial benefits of the deal for their industries.

Back home, though, Air India still has to slough off a poor reputation—one handed from its years of government ownership, although it hasn't improved in the year since the Tatas bought the airline.
Last November, most prominently, an inebriated man urinated on a 70-year-old fellow passenger in the business class cabin of an Air India flight. The incident was shocking not just in itself but also for the airline's poor handling of the fallout. (India's aviation regulator called the staff's response "devoid of empathy.") It exemplified the lack of trust that passengers have come to develop over the decades with Air India, thanks to delayed flights, poor customer service, and safety issues.
The Tata takeover hasn't fixed the operational issues either. In December, Air India's non-stop flight from Bengaluru to San Francisco suffered a delay of over 13 hours. Over the winter, many Air India flights were delayed or canceled.
"For years, customers both international and domestic have complained about poorly maintained cabins, broken seats, and lack of hygiene," a former Air India steward, requesting anonymity, told Quartz. "While the new fleet might provide a cleaner experience, until the basics are fixed, it will be hard to believe that Air India can really stand with at par with its global peers."