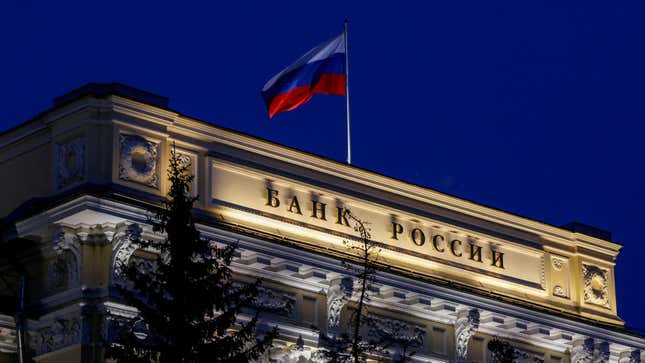 Russia's economy is weak, and the West has used that as an opportunity to diminish the Russian war machine through tougher sanctions. But president Vladimir Putin is trying to develop a Hail Mary option, according to analysts Ananya Kumar and Charles Lichfield with the Atlantic Council think tank: a central bank digital currency (CBDC).

Should you keep investing in Big Tech?
Such a digital currency is being piloted with the country's central bank and 13 commercial banks, and Russian citizens will be able to use a digital ruble in 30 retail shops. Russian citizens and businesses will be able to use the digital ruble more broadly in 2025, according to Russia's central bank.
Broadly, CBDCs have become very popular with authoritarian regimes because they allow for increased financial surveillance, and they have the potential to offer an alternative to the dollar under the guise of financial innovation.
How crypto is aiding Russia's economy
Crypto has helped Russia's economy survive in other ways too. Bitcoin mining has taken off in the country, with only one mining company (BitRiver) having been hit by US sanctions. While crypto trading and payments are still illegal in Russia, the central bank is working on a bill to experiment with crypto being used in import-export deals.
Anatoly Aksakov, head of the Russian parliamentary committee on financial markets, said in July of this year that the digital ruble would be exchangeable with any other foreign CBDCs and pointed to the digital yuan as a good example. The Russian central bank official in charge of the digital ruble project said that the currency could be used in cross border transactions and replace the SWIFT messaging system (a network that enables financial transfers worldwide; Russia was kicked out of SWIFT after it invaded Ukraine).
It's unlikely that the digital ruble will attract global demand, noted the Atlantic Council's Kumar and Lichfield. First, whether the ruble is digital or not, it will still be subject to exchange rates. Second, digitizing the ruble doesn't make Russia a more attractive economy to invest in from the perspective of other governments and financial institutions. Financial markets like law-abiding, stable countries, which is why the US currency has fared so well.
It's more likely that Russia will instead take advantage of the digital yuan, which has already successfully been used in cross-border transactions. Russia has flocked to the yuan as China continues to do business with Russia, which has been lucrative for Chinese businesspeople. Still, even with a boost from Russia, the yuan's strength in global markets is tiny. Its share of global payments passed 3% for just the second time ever in July.