Last month, London mayor Sadiq Khan, joined by a trio of Google executives, broke ground on the site of Google's new campus in the city's King's Cross district. Referring to Google's hefty investment in the city as Brexit looms, Khan called the new project, which will create the office space for up to 7,000 employees, "another clear sign that London is open and remains entrepreneurial."
The building may prove to symbolize much more than that, however.
The property has been dubbed a "landscraper," a building as long and as horizontal as skyscrapers are tall and vertical, and it could represent a shift in the very shape of the places where people work.
Google's London flagship will be 1,082 feet long, which is 66 feet longer than The Shard, London's tallest building, is high. The new building is comparable to the iconic Empire State building (1,250 feet) in New York.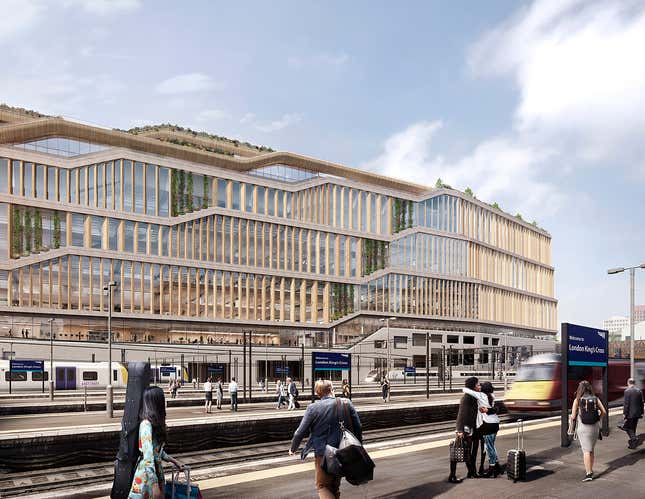 Amy Webb, an American futurist and author of The Signals Are Talking: Why Today's Fringe is Tomorrow's Mainstream, forecasts more landscrapers in our future. She believes they may soon become more common if not in London then in other places where there's plenty of land for buildings to stretch out in yawning open spaces, including the US Midwest. Writing in WTF Housing, a quarterly publication from business research firm Ipsos (note: their WTF stands for "What the Future"), she says that accessible heights would also make it easier for drones to "buzz overhead, delivering goods and performing services."
Future employees might move around landscrapers on elevators that zoom back and forth laterally, not only up and down, she notes. That technology already exists in Germany, where ThyssenKrupp has recently sold the first elevator that can move up, down, sideways and diagonally—controlled by magnetic levitation—to a residential building in Berlin.
Webb, who is also the founder of the Future Today Institute, suggests that climate change also could move more people into the US Midwest to live and work. "Although climate change can be a politicized topic, it's hard to dispute that extreme weather events are happening more regularly, and parts of the coasts are eroding," she says.
Many experts have argued that cities actually need more skyscrapers, linking the height of downtown buildings to more affordable real estate and economic prosperity. That said, districts that offer more street-level interaction among low-rise buildings have also been found to be more innovative. Indeed, who wants to reside or work in a building where it takes 30 minutes to go up and down just to make a deli run?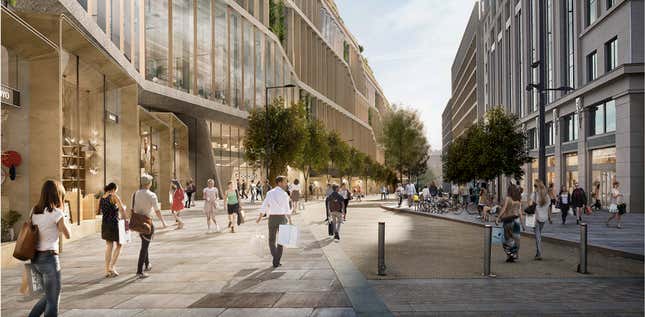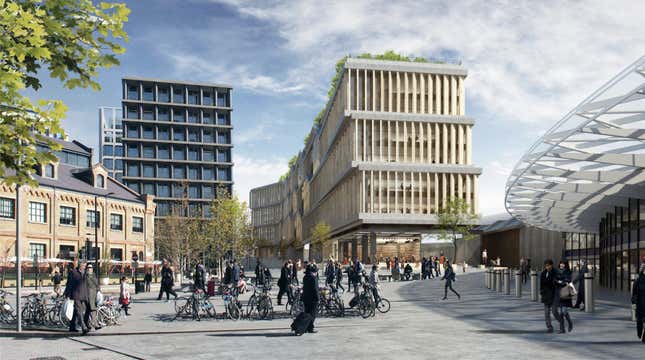 Landscrapers would arguably offer a more comfortable workspace than skyscrapers, too. Spending one's day in a structure that's constantly swaying as skyscrapers do, even if the movement is barely perceptible, has been found to bring on a form of motion sickness called Sopite syndrome, which can cause anxiety, depression, and sleepiness, in some people. (There's a reason we feel better when we're literally more "grounded.")
Trendsetter or not, Google's long, multi-tiered building promises to be a stunner, with a rooftop garden and running trail, indoor basketball courts, and a swimming pool. Its estimated price tag: £1 billion (US $1.3 billion.)