Cricket balls, cricket rules, cricket players—all feature prominently in Microsoft CEO Satya Nadella's recent book Hit Refresh. The CEO had once dreamed of becoming a professional player, and concedes that he was good enough to play for his public school in cricket-crazy Hyderabad in his native India. "I was an off-spin bowler, which in baseball would be the equivalent to a pitcher with a sharp breaking curveball," he explains.
Nadella even recalls that he was playing with a Kookaburra cricket ball in his Microsoft office, as he usually does when he's on the phone, when he was told that he'd been selected to lead the firm nearly four years ago.
Now, Microsoft is preparing to build a proper cricket oval at its US headquarters in Redmond, Washington. Plans for a new field, which will be one of only a few to exist west of the Mississippi, were recently confirmed in a LinkedIn post by Greg Shaw, a director at Microsoft's office of the CEO, who also happens to be a cricket fan and cricket blogger.
"This may be the first proper, recreational cricket ground ever designed and built as part of a major corporate or community project in the United States," he writes.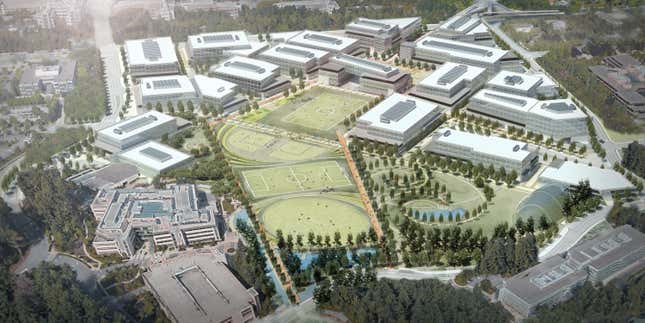 The oval, he continues, will "reflect the growing influence of employees from the cricket-mad nations of India, Pakistan, Sri Lanka, Australia, Bangladesh, West Indies, South Africa and England."
Apparently, the push to build the pitch—part of a planned massive multiyear overhaul of the 500-acre campus—originated with employees. According to Shaw, cricket-playing staffers asked for the field, but so did soccer and baseball players who pleaded with Microsoft's Bill Lee, director of real estate and the project's manager, to give the cricket players their own spot so they'd stop sneaking their wickets onto baseball and soccer fields.
But one suspects that the pitch to build the oval wasn't a hard sell to the company's leader.
In his public engagements, Nadella often turns to cricket—not American sports like baseball or football— for metaphors that illustrate his leadership style with poetic allusions. In his book, one of his many literary references centers on cricket and his personal philosophy that the company must keep revisiting its original mission to stay centered as it finds its way forward:
In his novel Netherland, Joseph O'Neill describes the beauty of the game, its eleven players converging in unison toward the batsman and then returning again and again to their starting point, 'a repetition or pulmonary rhythm, as if the field breathed through its luminous visitors.' I think of that metaphor of the cricket team now as a CEO when reflecting on the culture we need in order to be successful.
Given the famously passionate nature of cricket fans, who are estimated to number 2.5 billion globally, it's easy to foresee how what may become the premier cricket oval in America could become a solid recruiting and retention tool for Microsoft.
In a year when anti-immigration sentiments in the United States have tarnished the "American dream," this nod to what is still a little-understood, minority sport in the US is also heartening in its symbolism.