When Sean McVay was hired to coach the Los Angeles Rams in January, he was just 30, making him the youngest head coach in the NFL's 97-year history.
The team's gamble has paid off: In McVay's first season, the Rams more than doubled their win total from 2016, and the team is in the playoffs for the first time since 2004. McVay is among the favorites to be named coach of the year.
The Rams' faith in McVay stemmed from his impressive record as an assistant coach of the Washington Redskins and his mentorship of quarterback Kirk Cousins. And it also came in part from his pedigree: McVay is a coaching descendent of Bill Walsh, the legendary coach of the San Francisco 49ers.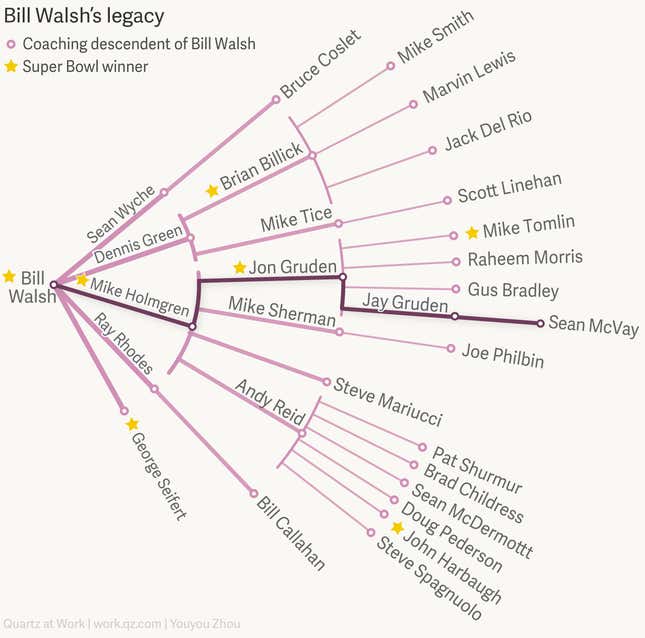 Walsh, who died in 2007, coached the Niners from 1979 to 1988, winning three Super Bowls. A tactical innovator, Walsh popularized the West Coast offense, a system of short, precise passes. His real legacy is his philosophy on how teams should be organized and led. Walsh's influence has been spread by a diaspora of coaches, starting with his assistants and expanding, like a family tree, over multiple generations.
At least 29 head coaches, including eight current ones, were mentored by Walsh's assistants, their assistants, or their assistants' assistants. The number can vary, depending on how much credit for a coach's development is assigned to Walsh and his proteges, and how much to other mentors.
Walsh forged great teams by understanding his players were individuals, making sure they were prepared, and holding them to high standards, said Dartmouth business professor Sydney Finkelstein, who uses Walsh as an example in his book Superbosses: How Exceptional Leaders Master the Flow of Talent.
Among Walsh's insights were the importance of developing talent across the entire team—particularly the bottom 25%, because they would be expected to step in for injured stars—and making sure all his deputies felt they could voice opinions, so no detail was overlooked, Finkelstein says.
Particular details of any guru's teachings may be diluted with time, yet the guiding principles of those teachings can remain intact over generations. Walsh's continued influence on the NFL is not unlike that of Sam Walton's at Walmart, where his maxims are on posters in stores and executives cite his wisdom like scripture.
"There's a huge impact of a company founder on an organization, long after the founder has gone," Finkelstein said. "The principles inculcate the culture."
Walsh's influence is clearly present in McVay, whose grandfather John McVay was a 49ers executive in the 1980s who worked with Walsh. Sean grew up steeped in Walsh's philosophies, staying up at night as a boy to read Walsh's book, The Score Takes Care of Itself: My Philosophy of Leadership, and he quoted Walsh when he interviewed with the Rams.
McVay's link to Walsh's coaching lineage started with his first NFL job under Jon Gruden, who hired him as an assistant coach for the Tampa Bay Buccaneers in 2008. Gruden began his NFL career in 1990 as an assistant to Mike Holmgren, first with the 49ers, then with the Green Bay Packers, where Holmgren became head coach. And Holmgren was a 49ers assistant under Walsh starting in 1986.
Though McVay only worked under Gruden for one year, he matured as a coach under Gruden's younger brother Jay, head coach of the Redskins, who is also a member of Walsh's coaching lineage via his brother's mentorship.
Already, McVay is passing Walsh's principles to future generations of NFL leaders. Cousins, the Washington quarterback who flowered under McVay's tutelage, says he, too, has started reading The Score Takes Care of Itself.