Silicon Valley may claim it celebrates failure, but elsewhere, it's shunned like the plague. In most professions, belonging to a successful organization can accelerate future earnings and advancement. Job applications pour into companies like Goldman Sachs and McKinsey & Co. in part because job seekers know having those employers on their resume will benefit them over the course of their career.
It's also why employees are eager to escape failing institutions.
In a newly published study, researchers examined how individuals can attempt to disassociate themselves from struggling organizations—and they did it by examining the Twitter connections of professional basketball players.
Researchers Jeremy Koster of the University of Cincinnati and Brandy Aven of Carnegie Mellon looked at the Twitter connections of 330 NBA players on May 28, 2015, and mapped how the best players interacted with their teammates. While all-stars on winning teams were happy to connect to their less-talented teammates, stars on losing teams avoided those connections.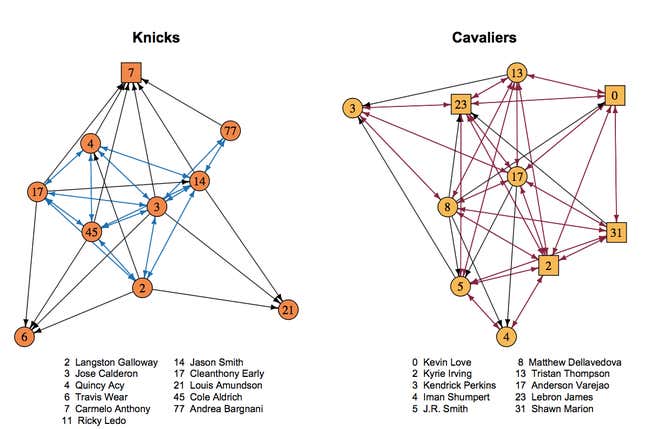 The 2014-15 Cleveland Cavaliers, for example, were on their way to the NBA finals—and the Twitter accounts of the team's players reflected the team's unity and cohesion. Every player followed at least one teammate; the biggest star, LeBron James, followed seven.
The Twitter accounts of that year's New York Knicks team told a very different story. The Knicks were also led by a perennial all-star, Carmelo Anthony, but he didn't follow any of his teammates on Twitter (although six followed him). An analysis of their interactions showed they made only 41% of all the possible connections, compared to 68% among the Cavaliers. The Knicks' lack of connection was reflected on the court in their 17-65 record, the worst in their 71-year history.
More than other team sports, the fortunes of an NBA team can be dictated by the performance of individual players. Rightly or wrongly, elite players are frequently credited or blamed for their team's success or failure. Declining to follow teammates on social media may be "a strategic attempt to escape an association with the teams' poor performance and the broader consequences that ensue from declines in status," Koster and Aven write.
Curiously, less-talented teammates still followed elite players, and each other, when on losing teams. The authors speculate that these players' reputations may be less affected by their team's results, and the social pressure to follow one another may have overcome their aversion to making connections.
While Koster and Aven warn against drawing too many parallels between the rarified world of the NBA and other organizations, it's easy to see this dynamic play out in the realm of business. At a successful organization, star performers are more likely to get a beer with colleagues after work, while at a failing company they may ditch coworkers in favor of networking events.
Of course, any team—be it in the NBA or in business—is boosted by the involvement of its best performer. When stars distance themselves from unsuccessful organizations, the team's failure can become a self-fulfilling prophecy.