In the liner notes of Freak Out!, the 1966 debut album of Frank Zappa's Mothers of Invention, Zappa included a list of 179 influences on the band's music. They ranged from the well known, like Elvis Presley, to the personal, like "Uncle Ed," to the deeply obscure, like Sabicas, a Spanish flamenco guitarist.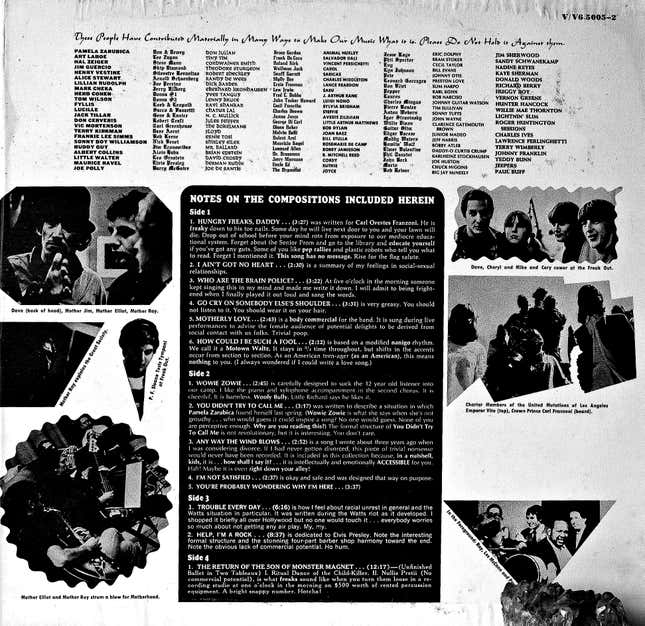 The list might be read as a road map for the next 30 years of Zappa's famously eclectic career, with and without the Mothers. (It is also the subject of Frank Zappa: The Freak-Out List, a 2010 documentary now available on Amazon Prime.) Zappa's influences point the way through his discursions into jazz, classical music, blues, and rock before his death from cancer in 1993.
There's also reason to believe that Zappa and his bandmates were stoking their own creativity with the list. Committing to writing a list of influences and inspirations can help us clarify our pasts and show us potential paths for the future.
SYPartners, a consulting firm that works with blue chip companies seeking inspiration, asks executives who change roles to write down their influences, says Jessica Orkin, the firm's president.
"It's about being intentional about what we are exposing ourselves to," Orkin says. "By putting it down, you see patterns and repetitions, and the gaps."
A list that's rich in one area but devoid in others might suggest a course correction, to introduce more diverse sources of inspiration, she says. "Thinking about what we're taking in, and not taking in, can jumpstart new ideas."
Orkin says that in her own life, she keeps track of the books she reads, to note the influence they have on her thinking and decisions. "Looking back over the years, I can see how different periods in my life have been shaped by what I am taking in. It helps me decide, what do I want to lean into more? What might I want to challenge with new perspectives?"
There is also a humility in listing our influences. It's an acknowledgement that not all of our ideas are our own, and that we owe a debt to those who came before us. For artists and other creative people, particularly young ones still establishing a distinct identity, conceding they have influences isn't always easy, says Michael Hendrix, a musician and graphic designer who is a partner at IDEO, a design studio.
"We are are constantly being influenced and inspired by others, and acknowledging it is freeing," Hendrix says. "Each of us stands on the shoulders of giants that came before—and it's OK. In fact, it's just the way it works. Human progress is just that… progress. One step after another, learning from each other, building on one another's ideas."
A fountain of creative energy, Zappa released more than 60 albums—writing novelty tracks like "Valley Girl" and formal orchestral compositions—and embraced other musicians with a surprising fervor. For his 15th birthday, he asked his parents for a long-distance phone call to his hero, avant-garde classical composer Edgard Varèse, and recorded covers of everyone from Maurice Ravel to Sting.
Zappa intended the Freak Out list to be both a tribute (it reads: "These people have contributed materially in many ways to make our music what it is. Please do not hold it against them"), and as a crib sheet of sorts. "That whole Freak Out! album is to be as accessible as possible to the people who wanted to take the time to make it accessible. That list of names in there, if anybody were to research it, it would probably help them a great deal," Zappa said in a 1967 interview.
But by paying homage early in his career to the vast array of artists who inspired him, Zappa also freed himself from the illusion that his work emerged tabula rasa. With it, he gave himself permission to spend a career exploring their influences.