Alessandro Michele has been immensely successful as the creative director of Gucci, turning a languishing brand into a kooky, idiosyncratic, and impressively hot label with supercharged sales.
But when he took over the role in 2015, Michele wasn't the obvious choice to lead design at one of the world's largest high-end fashion labels and the star of luxury conglomerate Kering. Though he already held a senior position at Gucci, overseeing its vital accessories line, he was a relative unknown to the wider world, and still had to convince executives at Gucci and at parent company Kering that he was the right person for the in-demand job.
He did it with a mood board, which didn't even have any images of clothes on it.
Kering's chairman and CEO, François-Henri Pinault, relays the story in a recent interview with Business of Fashion (paywall), also elucidating how he thought about reviving a company with a heritage that was no longer fully serving it. At the time, Gucci was in strong need of a refresh, and Pinault had recently put in a new CEO, Marco Bizzarri. They agreed they didn't want a big-name designer in fashion, even though Pinault was getting messages of interest from a lot of people. They needed something, and someone, entirely new.
Bizzarri was then meeting with the teams at Gucci to introduce himself, and Michele said he would like to be considered for the job. "François-Henri, I saw a guy, he is like an extra-terrestrial. Can you see him?" Pinault describes Bizzarri saying after his meeting with Michele. Pinault recounts what followed:
I said, "Tell him to bring something to show me because I need to see things." He came to see me in London with a mood board that had everything except clothes. He didn't talk about accessories or clothes. He was talking about his impressions; what he likes; the type of heart he likes [sic]; what makes him very emotional when he does things. And he told me about his understanding of Gucci. What was amazing with him—and this is where we built our way of recruiting designers—was his deep knowledge and understanding of the brand combined with a very strong, personal creative universe.
Samples of that universe can be seen on Michele's Instagram page.
A mood board without any clothing samples is an odd way of applying for a job that involves designing clothes. But Michele's focus on what he and Gucci stood for beyond garments clearly appealed to Pinault.
The brand by then had a long history. It was founded in 1921 as a leather goods company. It was the mid-1990s when designer Tom Ford established it as a modern fashion powerhouse (paywall) with his seductive, sleek, outrageously sexy vision. Michele's predecessor, Frida Giannini, largely followed down that path, but the clothes had ceased to feel fresh and exciting. Michele's magpie approach was artsy, nerdy, and altogether different, and has turned Gucci again into an industry leader.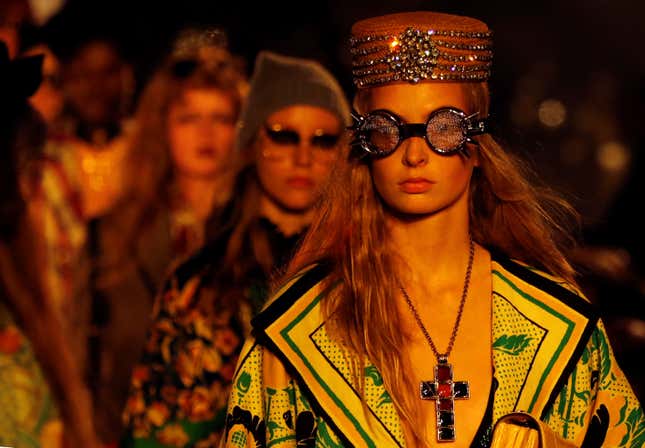 "I discovered through that experience that the formula that is overrated is the 'DNA' of the brand," Pinault explains in the interview, saying people imprison themselves by trying to reproduce that DNA. "The brand is symbols, icons—it's never a style." That's exactly what Michele showed him on that mood board.