Since Alessandro Michele took over as Gucci's creative director in 2015, the brand has been on an unstoppable winning streak. The designer breathed a strange new life into the label that has turned it into the hottest thing in fashion (paywall), and sales have followed. When Kering, its parent company, reported earnings on Feb. 13, Gucci's outstanding success was the focal point. The brand grew more than 40% last year, topping €6.2 billion ($7.6 billion) and overtaking the luxury powerhouse Hermès in size.
How did Michele and Gucci follow this astounding performance on their first runway outing of 2018? By sending models down the catwalk carrying their own heads.
On a set with an operating table sitting ominously in the middle, models walked out in Michele's signature style: tweedy, embroidered, and print-heavy nerd-chic. This is the look—communicated by a magpie maximalist who mashes up references to medieval literature, American baseball, and Asian architecture—that has shoppers rushing to Gucci stores with wallets open. (The logo of the New York Yankees appeared on several pieces in the collection, possibly a reference to the brand's partnership with New York designer Dapper Dan.)
The showstoppers, though, were two models carrying replicas of their own unsmiling heads.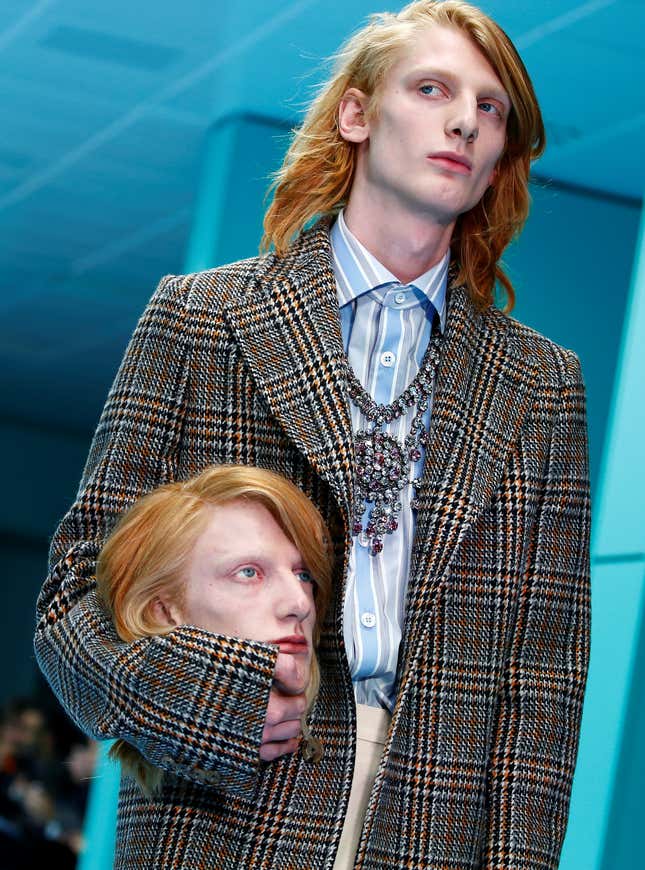 What Michele meant to communicate with this styling isn't so easy to parse. A known lover of Renaissance art, the two-headed models may have been referring to depictions of Christian saints carrying their own severed heads. The academic Donna Haraway's 1984 essay, "Cyborg Manifesto," which examines the relationship between humans—especially women—and machines evidently played a role. The brand quoted a line of Haraway's on the "dualism and dichotomy of identity," suggesting the dual heads referred to that split in the self.
There were other unusual accessories, such as a baby dragon, inspired according to Gucci, by "the real story of an author who staged finding a baby dragon in his garage in Oxfordshire, England." Another model sported a third eye in the middle of her forehead, while a variety of masks covered the faces of other models.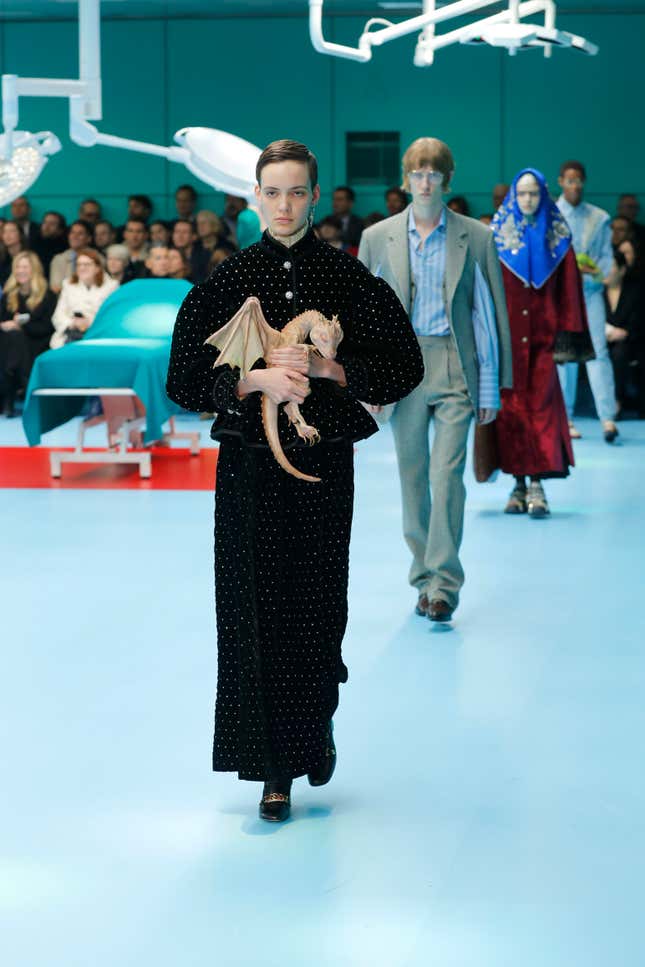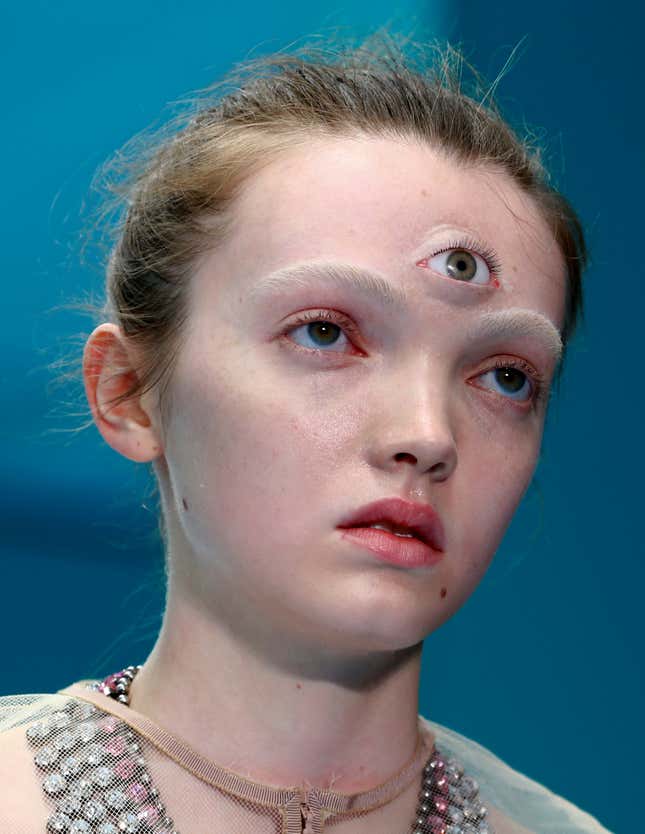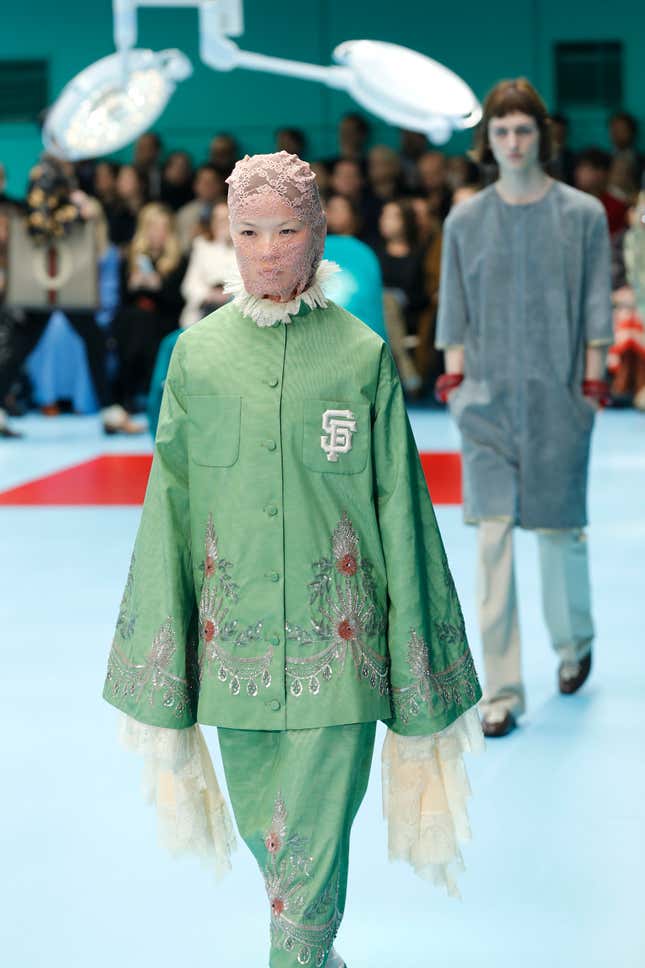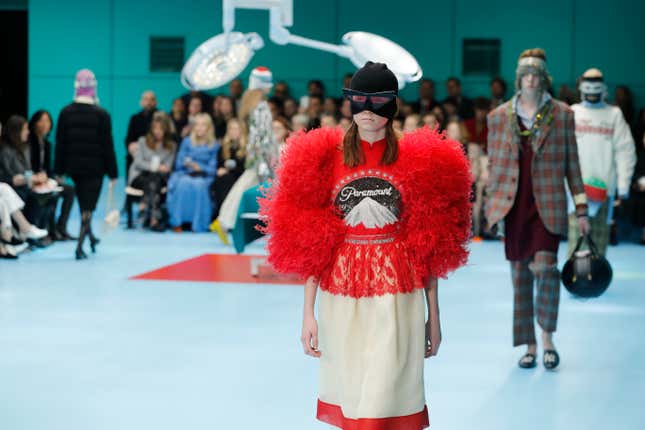 As weird as Gucci is, it has been an undeniable hit. The brand is especially popular with millennials, who seem to have grown tired of the same standard beautiful clothes that have paraded down runways for years and are seeking brands with a unique point of view. That is one thing Gucci and Michele can certainly deliver.