Dapper Dan's Boutique, which opened on 125th Street in Harlem, New York, in 1982, built its reputation by doing with fashion what hip-hop was doing with music at the time. Its founder, Daniel Day, started cutting and splicing logo-splattered luxury goods from labels such as Gucci and Louis Vuitton, the way rappers from the era sampled from others' songs, to create fresh, inventive new styles.
Day made custom jackets, suits, and more for a local clientele that included hip-hop's original royalty, among them Eric B. and Rakim, KRS-One, LL Cool J, and the members of Run DMC. It was the start of hip-hop's own rising fashion empire, as filmmaker Sacha Jenkins chronicled in his recent documentary Fresh Dressed.
But while hip-hop's power in fashion grew, Dapper Dan's Boutique didn't survive. A 1988 brawl in the shop between boxers Mike Tyson and Mitch Green generated headlines, drawing the broader fashion world's attention to a store, and a design process, that had previously flown under the radar. Shortly after, the luxury labels, which had never wanted to supply Dapper Dan with their goods, began to take legal action. They effectively litigated Dapper Dan's out of existence (paywall), forcing it to close in 1992.
This backstory is what makes Dapper Dan's new business partner such a surprise. Gucci is helping to relaunch Dapper Dan's as a by-appointment studio for custom pieces, the New York Times reports (paywall). Gucci will "power" the new boutique, which is to open by year's end, supplying materials for the clothes, and it will collaborate with Dapper Dan on a capsule collection to be sold in its stores around the world. Day is also starring as the face of Gucci's new men's-tailoring ad campaign, shot around Dapper Dan's home of Harlem.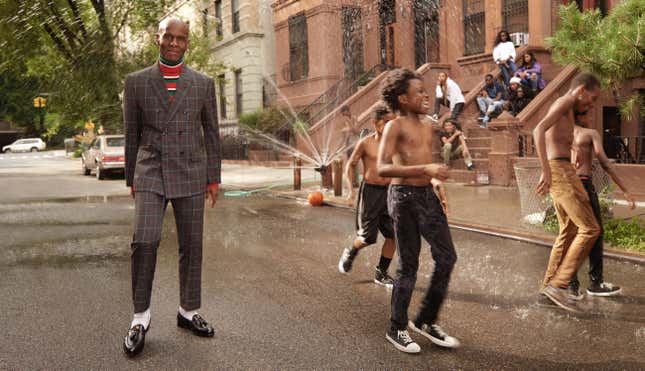 The turn of events is the product of a more recent twist in Dapper Dan's story. In May, Gucci was widely criticized for showing a look in its cruise collection that was a near-exact replica of a Dapper Dan design worn by Brooklyn Olympian Diane Dixon in 1989. The main difference was that Dapper Dan's original used Louis Vuitton's interlocking logo for its puffed sleeves, while Gucci substituted its own.
The resulting outcry prompted a response from Gucci, which cast it as an homage (paywall) by creative director Alessandro Michele, rather than a knockoff. In a statement, Gucci said the collection, which was based on a "new Renaissance" theme that referenced different periods of creative rebirth, "also saw a continuation of Alessandro Michele's exploration of faux-real culture with a series of pieces playing on the Gucci logo and monogram, including a puff-sleeved bomber jacket from the 1980s in an homage to the work of the renowned Harlem tailor Daniel 'Dapper Dan' Day and in celebration of the culture of that era in Harlem."
Afterward, Gucci got in contact with Day directly, and brought Gucci's whole design team to Harlem. Day confirmed the meeting in a June profile (paywall) by the New York Times, though he wouldn't say what the outcome was. Now, however, the outcome is clear.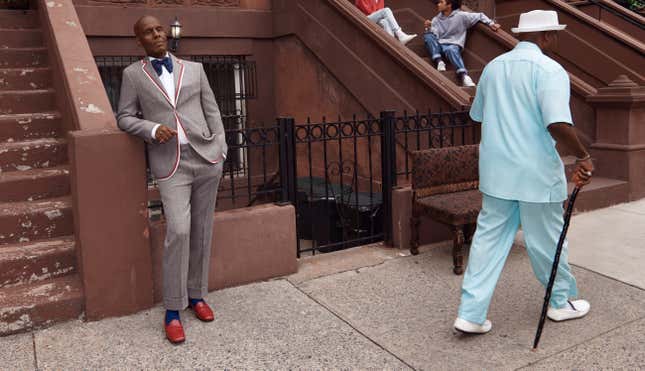 Gucci wouldn't provide any additional details on the collaboration, such as what other assistance it is offering Dapper Dan in its relaunch. We've reached out to Day for a comment and will update this story with any reply.
The partnership offers up some symbolism about the role of hip-hop and creators such as Day in the fashion industry today. Once, they were outsiders. Now, they're leaders.