Emmanuel Guisset had an idea.
A serial entrepreneur and travel enthusiast, Guisset wanted to build a haven for digital nomads like himself to escape from the city. He had a dream of opening up a co-working space on the beach, but rather than put a down payment on some real estate, he decided to test it out first.
He took some photos of a beachfront villa and posted them on Airbnb, advertising what would later become "The Surf Office," a co-working space about an hour south of San Francisco. When people showed interest in his faux post, he knew he was onto something, so he invested in some property.
Little did he know that three years later, his side project would go on to become Outsite, a bonafide business that offers remote co-working and co-living spaces in 17 cities around the world. It's like WeWork with bedrooms upstairs.
Outsite is the amalgamation of three hot workplace trends: co-working, in which workers from different companies inhabit the same office space; co-living, the trend of adults living in dorm-style apartments with shared common spaces; and remote work, the trend of employees working from anywhere with an internet connection.
As an Outsite member, you get access to all of the company's locations from Lisbon to Los Angeles, the promise of a community made up of like-minded professionals, and some added benefits through partnerships with healthcare providers and car-rental companies like Turo. It's $200 per year to join the network, and then members pay per stay ($500 to $800 per week in places like Austin or $300 to $400 in places like Bali).
But does the world really need another company that makes it easier for digital nomads to hop around the world from one wifi-enabled space to the next?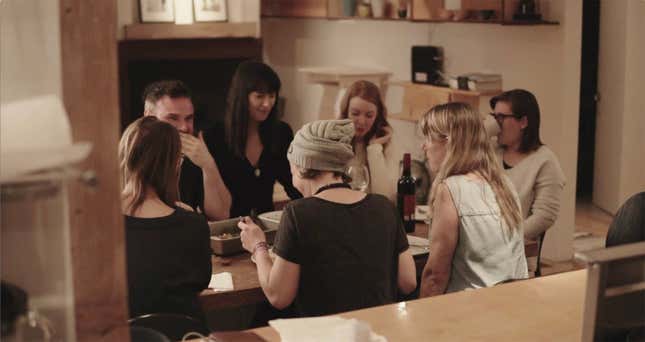 Regardless of whether people need it, it's clear that people want it. Outsite has more than 500 members, and the demand for flexible living/working arrangements is only set to increase.
Consider the latest housing trends. Homeownership among American millennials between the ages of 25 and 34 was 37% in 2015, according to the Urban Institute. That figure is about 8 percentage points below the rate for Gen Xers and baby boomers when they were in that age bracket. It's not just that people are waiting longer to buy homes—homeownership rates among Americans ages 35–44 have declined, too.
Meanwhile, remote work and co-working are both at unprecedented levels of popularity. There are roughly 1.2 million members of co-working spaces globally, a number that is set to grow to 3.8 million by 2020 and 5.1 million by 2022, according to Emergent Research. A recent survey from IWG, the Swiss company that owns Regus, Spaces, and other workplace real-estate concepts, found that more than two-thirds of business professionals around the world work away from their office at least once every week.
When "digital nomads" became a thing, they were mostly young programmers and designers, heading to places like Chiang Mai or Bali to work remotely. Now, Guisset says the tides have turned. The average age of an Outsite member is 34, and the workers are no longer just tech folks. "We're starting to have more CPAs and lawyers; it's not just programmers," says Guisset. "Ultimately, I think companies will understand that it's better for people's lives to work remotely. It will improve the environment. It will improve employee happiness."
Services like Outsite are betting that tomorrow's remote workers will be looking for more than just reliable wifi connections.
"For me, the digital nomads were the tip of the iceberg," says Guisset.  "More people are getting to travel and work… and for those that want community, it's so much better than Airbnb."