Earlier this year, 40 University of Chicago students, faculty, and administrative staff gathered at the business school for an unusual leadership workshop. Instead of a lecture or small-group exercises, management professor Harry Davis got everyone on their feet and formed a choir.
"One of my motivations is to get people to try new things," says Davis, who helms a leadership center at the university's Booth School of Business.
A onetime member of the Dartmouth glee club, Davis often incorporates the humanities in his curricula to get business-minded students to expand their perspectives. "As we look at the performing arts, there's an enormous amount of value that can be taken in terms of experimentation and being open to other worlds that may contain useful raw material that could apply to our own world," he says.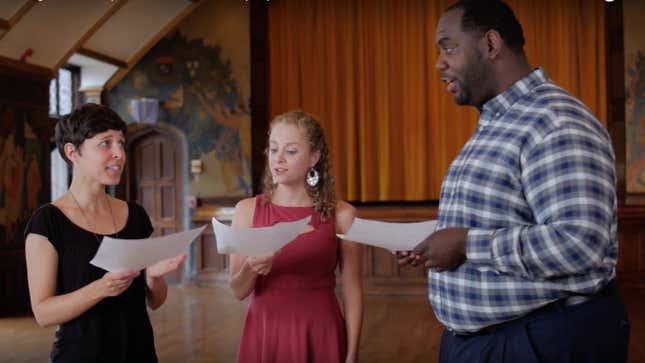 Most participants had very little singing experience, aside from the occasional karaoke night. But the goal, says Davis, wasn't to groom professional singers. Rather, he wanted the group to use singing as a learning experience. "For better or worse, the world has become more specialized," reflects Davis. "We need specialization, but we need breadth as well."
There are similar arguments for using drawing as a tool for learning. As design historian D.B. Dowd at Washington University in St. Louis outlines in his book Stick Figures: Drawing as a Human Practice, putting pen to paper isn't so much about performance as it is process.
What kind of pep talk did Davis give to those who were horrified at the idea of singing in public? "Things happen earlier in life when we're told we can't carry a tune, but in fact, many of us can sing," he says. "Sometimes we are actually prisoners of many stories that we carry around with us."
Leadership lessons from choir practice
Singing in a choir, it turns out, yields endless lessons (and metaphors) for managers. It's about vulnerability, agility, trust, coaching, teamwork, failure, and generosity. But perhaps the most vital aspect is in regard to listening.
"We teach music to be better people and how to listen to each other," explains Mollie Stone, a choirmaster and lecturer at the University of Chicago's music department, who helped Davis shape the workshop.
In a chorus, it's not about overpowering another voice, but adjusting one's tune to create a harmony, says Patty Cuyler, co-director of Village Harmony, an organization that convenes community choirs around Chicago and also helped facilitate the U of C class. "It's the sum of the parts and the individuals don't count as much as what you do to make everyone sound good," she explained. "If that's not a great model for working in a business, I don't know what is."
Stone purposely chose an eclectic repertoire, starting with a melodious Zulu ode. Learning a song in another language teaches one to pay closer attention to cultural nuance—how words are enunciated or how the tongue rolls to make a particular sound, explains Stone. "What's so magical about learning how to learn the music of another culture is that it takes the attention away from yourself," she says. "You're busy listening to such intricate details."
After three hours of rehearsing, the group performed together in front of an audience and earned their applause.
Singing in the office
The idea of singing in a business setting isn't unique to the Booth School. In fact, many Danish companies, like the media startup Zetland, start their day by singing a traditional folk song. The Danes believe that group singing fosters a sense of camaraderie and common identity among employees. Denmark's tourism website even extolls  the benefits of corporate sing-alongs:
To sing is not a relic of primary schools, community buildings or churches. Singing is actually relevant and good, because it is healthy: When people sing, they breath deeper and slower. The deep, slow and calm breathing provides more oxygen to the brain and affects cardiac activity positively. Additionally, participants will begin to breathe in a similar pace and their hearts will begin to beat concurrently. Singing connects people socially and creates an invisible link – making participants move from an "I-perspective" to an "us-perspective."
I recently experienced this fine Danish tradition at TechFest in Copenhagen. At the beginning of a challenging workshop, the facilitator invited everyone to pull out their phones and look up the lyrics to Bob Dylan's folk song Blowing in the Wind.  It seemed like a strange way to kick off an international gathering, but my finely developed New York cynicism was no match for the beautiful chorus of human voices.
UC Booth doesn't plan on holding another choral workshop anytime soon, but it's dedicated to mining connections between the performing arts and leadership. In 2015, the school invited professional ballet dancers to teach students about dealing with failure, and next year, a theater scholar will be embedded in the program.
Davis champions the idea of forming office choral groups to more business settings.
"We spend a lot time teaching people become better leaders, but we do nothing to make them better followers," says Davis in a short video about the workshop. "Becoming a follower is absolutely necessary…So much that's written about leadership is about the soloist, but we were all equal in this experience."