In a recent Accenture survey, 72% of CEOs said citizen trust is critical to their competitiveness during the next five years. Earning that trust means executives must recognize and address the profound changes happening both inside and outside their office walls, from the pandemic's lasting effects to calls for racial and social justice. 
Workplace diversification is a critical part of this trust-building response: As businesses change from within, they're better prepared to effect change in their wider communities and industries. While representation matters at every level, it's especially important at the top. In 2020, Accenture pledged to double the company's Black and Latinx managing directors within five years. As North America CEO Jimmy Etheredge explains, "When people see someone they can relate to and identify with, it opens up new possibilities. If you can see it, you can be it."
Based on real-world advice from Etheredge and the six DEI leaders below, here are five steps toward diversifying your company's highest ranks.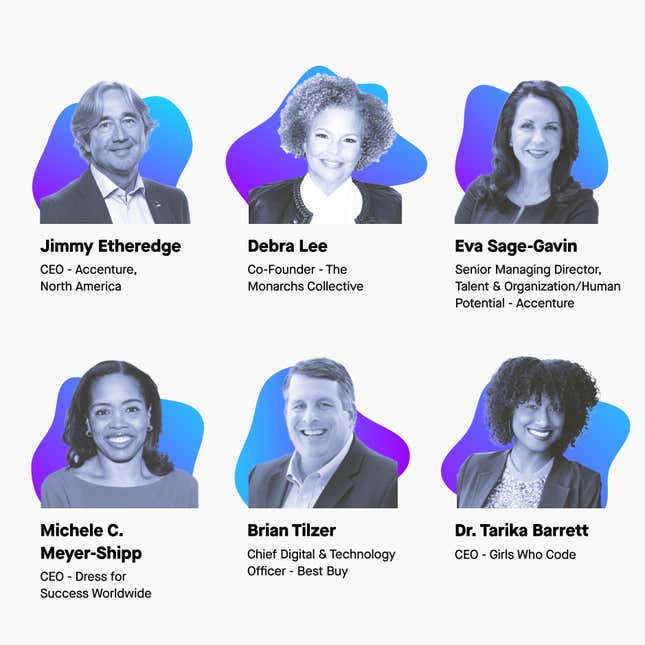 Step One
Get the board on board

The era of ceremonial board membership is over. Today's boards play an essential role in workforce strategy, and the more hands-on they are, the better. Accenture's Modern Board 2020 survey found that 83% of "highly involved" boards review diversity, equity, and inclusion (DEI) metrics frequently, while only 3% of "low involved" boards do. When it comes to developing diverse leadership, board engagement functions as oversight, holding executives and managers accountable for putting values into practice.
Of course, many boards suffer from their own lack of diversity. While this has started to change—especially in terms of gender representation—there's still a long way to go: A Morgan Stanley study found that in 2020 the average American corporate board was 84% white. The solution involves looking beyond traditional networks—historically exclusionary and biased—and proactively seeking out diverse directors. 
Former BET CEO Debra Lee co-founded The Monarchs Collective to help organizations do just that. "Companies have been talking about diversifying their boards for a long time and claim they can't find competitive board candidates and women of color," she said in a 2021 interview. "[They] are just fishing in the wrong pond or dealing with search firms that don't have a pipeline to these executives."
Step Two
Know what your stakeholders value

There's a growing body of research that shows just how much diversity matters to different groups. For example, a 2019 Accenture retail study found that 42% of minority shoppers would switch to a brand that proved its commitment to diversity and inclusion. Similarly, a 2020 Accenture report on employee expectations revealed that transparency on DEI metrics influences their on-the-job satisfaction.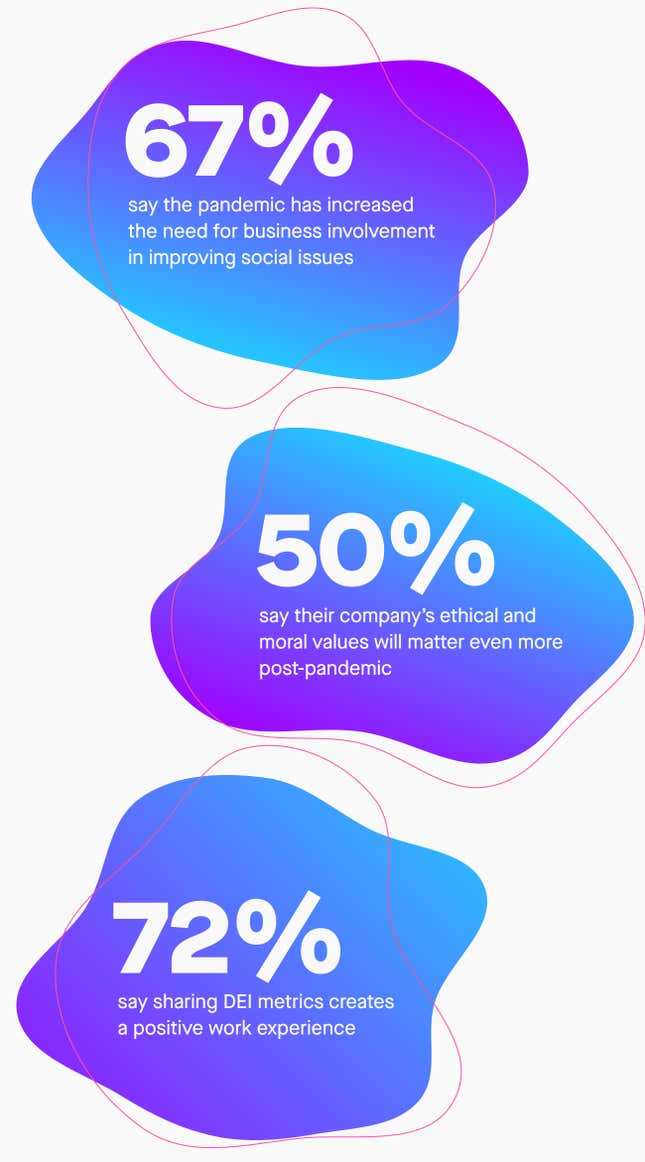 Source: Care to Do Better survey, Accenture, 2020
But the only way to know for sure what matters to your specific stakeholders is to ask, whether it's soliciting confidential feedback from customers via online polls or face-to-face focus groups or reaching out internally via employee resource group leads and wider company discussions. 
"Employees, customers, and investors all have an interest in leadership inclusion, diversity and equity, and understanding the perspectives of all stakeholders means being willing to listen, especially when it's hard to hear, and sparking conversation even when finding the right words is difficult," says Eva Sage-Gavin, Senior Managing Director, Talent & Organization/Human Potential, Accenture. "Being comfortable with being uncomfortable is central to progress, because these difficult words spark conversations that inspire action to create a movement."
Step Three
Cultivate emerging leaders

Leadership pipelines form the foundation of any organization's future, and for many young people growing into leadership roles, workplace diversity is as mandatory as free coffee and high-speed wifi. The numbers back this up.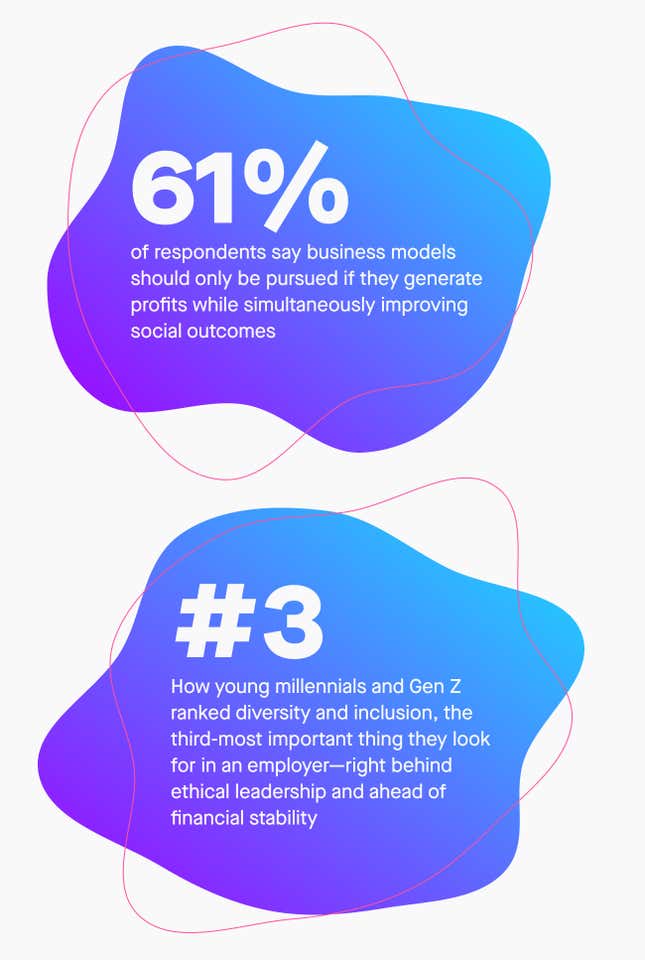 Sources: World Economic Forum's Young Global Leaders and Global Shapers survey, Accenture, 2020, and 2021 Gallup report 
But diversifying the leadership pipeline doesn't happen by accident; it requires thoughtful strategy. As part of its goal to broaden its ranks, Best Buy partnered with Accenture to bring 1,000 new people into its digital and technology team, at least 30% of whom will be Black, Latinx, Indigenous, and women.

This recruiting effort is bolstered by tech investments in fast-growing areas like health and membership programs, so business opportunities expand along with headcount. "Our primary goal is to create the best possible experience for our customers and our employees who serve them," says Brian Tilzer, Best Buy's chief digital and technology officer. To that end, Accenture is also providing learning resources to develop the big-box retailer's emerging talent, including courses in analytics, automation, and leadership.
Step Four
Empower action, not just representation

Bringing a diverse mix of leaders into the room is a starting point, not the end game. 
Giving leaders the support they need to act on their own terms puts a human face on diversity initiatives. It's also how on-the-ground change happens—professional expertise, personal experience, plus the confidence to influence is a powerful combination.
Case in point: Tricia Barlow. As a young woman getting started in tech, Barlow was struck by the industry's extreme imbalance. "I majored in computer information systems, and more than 90% of my classmates were men," she says. When she began working as a programmer, she was often frustrated to be one of the only women on the job.
Years later, Barlow now holds a senior role as an Accenture Technology Innovation Strategy Lead, but she's serving as more than a success story. Barlow spearheads Accenture's partnership with Girls Who Code, a nonprofit dedicated to closing the gender gap in tech. This partnership has reached over 6,000 girls through events, immersion programs, clubs, and an alumnae network that keeps GWC participants connected with each other and with professional mentors. So far, more than 60 Girls Who Code grads have launched their own careers at Accenture.
It's this opportunity to make a direct impact on other women's lives—and to transform the engineering field itself—that "really gets me excited," Barlow says.
"At Girls Who Code, we always say that you can't be what you can't see," adds Dr. Tarika Barrett, CEO of Girls who Code. "That's why it's so important for young women and other marginalized groups in tech to see leadership that reflects their background and values."
Barrett continues, "Diverse leadership can serve as role models for those who have been told, time and time again, that there's no place for them in the tech industry and can pave the way for an entire pipeline of diverse talent to enter the workforce and thrive."
Step Five
Inspire with intention

The key, says Dress for Success Worldwide CEO Michele C. Meyer-Shipp, is that "Leaders have to be vocal and speak up around these topics. Silence suggests that we don't care."
Meyer-Shipp explains in a recent Change Conversations podcast that in creating inclusive environments, "it's incredibly important that organizations ask their people what they need to feel engaged and included because we don't know what we don't know about one another's experience. Leaders at the top are not experiencing the day to day of the line employee." 
As the former chief people and culture officer of Major League Baseball, and the first person to hold that position, she recommends engaging employees in several different formats to learn what is needed, "I am a fan, a huge fan, of employee engagement surveys in many different formats, focus groups, things of that nature, because your employees will see things and experience things that you may not appreciate."


Listen now to leaders transforming business for a more inclusive future and subscribe to
.