The world is holding businesses to a higher standard. From investors and employees to customers and shareholders, each cohort expects organizations to deliver value responsibly and sustainably. Want proof? 
According to Accenture's Care to do Better report, 78% of employees worldwide believe organizations should be responsible for nurturing their employees' financial, mental, and practical well-being. A second Accenture whitepaper revealed that 74% of global consumers believe that ethical corporate practices and values are an important reason to choose a brand.
Together these metrics make it clear: Organizations must "handle with care" and define how they embed care into their customer offerings and internal processes, including their hiring practices.
Though it's been widely reported that a record 4.5M people left the US workforce in November 2021, a recent study from Accenture/Harvard Business School revealed a lesser-known trend: Large groups of unemployed and underemployed people who are eager to work are being kept outside of the talent pool. That leaves us with too many companies that don't reflect the communities they serve. 
But for organizations looking to close the skills gap, advance their diversity, and drive innovation, there are new opportunities and no shortage of great people—if they change the way they view and broaden their employee pipeline.
Using advice from five pioneers of talent diversity, here are five strategies to carefully build a company that looks more like the communities where your people live and work.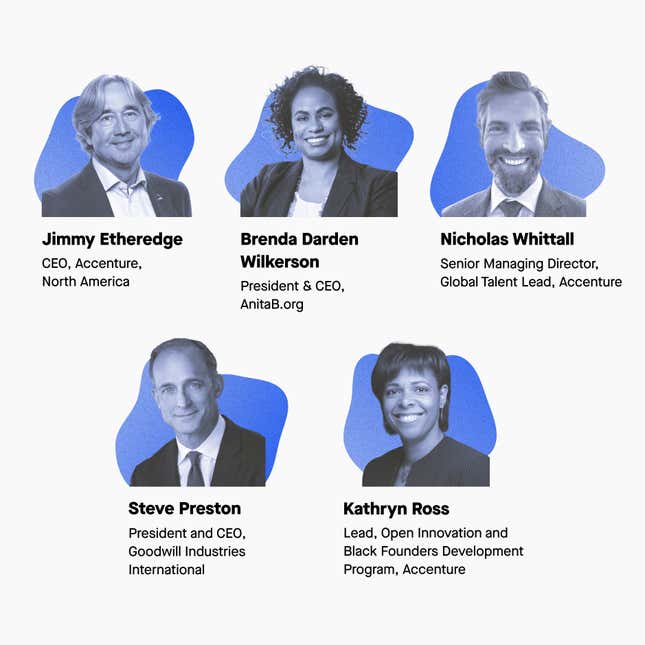 Set and meet diversity goals
All leaders need a strategy to advance inclusion and diversity, including the specific tools to bring change into their organizations. Focusing on gender, ethnicity and race, LGBTQ+, persons with disabilities and cross-cultural diversity, among others, Accenture's Inclusion & Diversity consulting practice has outlined a number of strategies to expand the mosaic of your workforce and to leverage this diversity toward business growth:
Deploy an inclusion and diversity perception study to measure how your organization is regarded by people inside and out. 
Identify inclusion and diversity gaps, barriers to equality, and their impact on employee and customer experiences.
Codify inclusion and diversity strategies to help drive business growth.
Develop personalized learning initiatives to equip employees to address inclusion and diversity.

Arrange leadership coaching so that managers understand the steps required to alter mindsets, attitudes, and outcomes.
When we consider the influence of inclusion and diversity goals on employee experience, company image and perception, and bottom line, diverse organizations are stronger organizations.
Align with stakeholder values
More and more companies are setting goals around diversity and environmental, social, and governance (ESG) goals, but stakeholders are often uncertain of when, how, or even if, these objectives will be met.

A 2022 collaboration between Accenture and the World Economic Forum found that corporate leadership teams are overconfident about their organizations' sustainability performance, while only 49% of employees believe senior leaders "walk the talk" on sustainability "often" or "always." That figure falls to 40% of consumers and 38% of local community citizens. 
Adding to the complication, there's a prevailing assumption that such goals work against the success of the business: 58% of executives surveyed in that 2022 study believe operating more sustainably involves a trade-off with growth. 
When forced to choose, executives show a clear preference for more traditional concerns and rank sustainability as fifth in a list of top business priorities.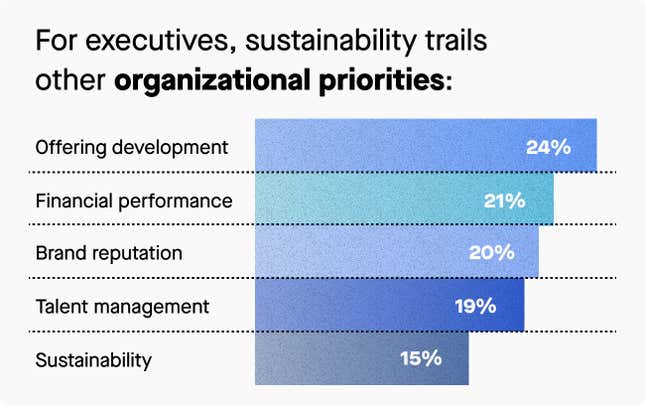 But companies don't have to operate at a trust deficit if they build a culture of inclusion around their goals. Sustainable organizations inspire their people and partners to deliver lasting financial performance, equitable impact, and societal value that earns and retains the trust of all stakeholders.
This same study shared what it means to have what is termed 'sustainability DNA', including cultural tenets around mission, empathy, innovation, and stakeholder inclusion, are more likely to deliver a lasting positive impact on society and the environment, in addition to higher financial value. In an index ranking the strength of a company's environmental, social and governance impact, Accenture found that the EBITDA margin of top quartile companies on the index was 21% higher compared with the bottom quartile. Their sustainability performance was also 21% higher.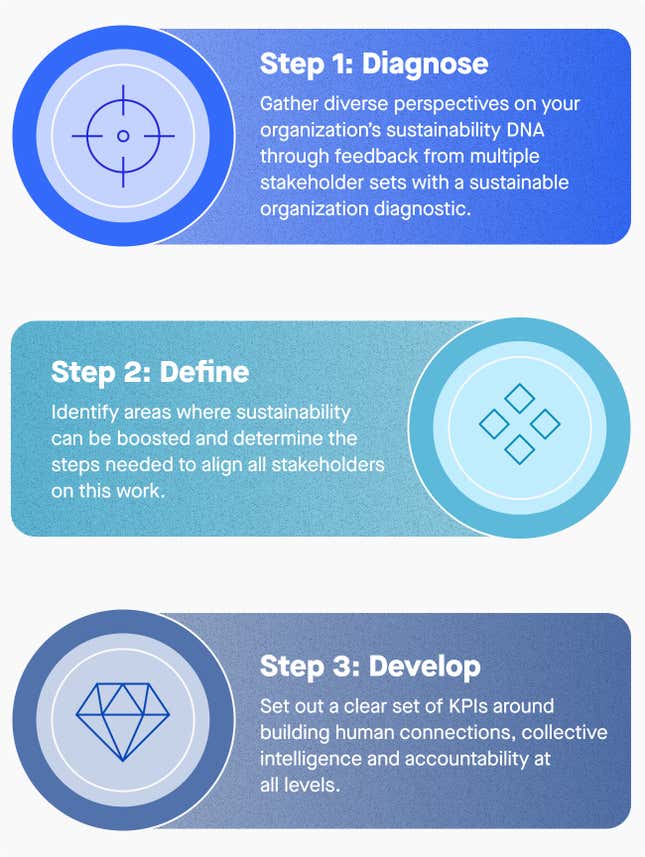 Find
untapped talent
According to a 2021 study by Accenture and Harvard Business School, there are currently 27 million workers in the US who are ready to work, but who are ignored as a viable candidate by automated recruitment software. Many of these workers come from underrepresented populations. For example, a veteran could be screened out because they would need to relocate, or a parent could be omitted due to a gap in their employment history, or a person could be automatically ignored for a prison record.
"Many … hiring practices have screened people out that could be great employees, and have actually, in many ways, reduced the possibility of building a diverse labor force," says Steve Preston, president and CEO of Goodwill Industries International. In 2021 Accenture and Goodwill teamed up to develop a VR-based coaching tool and mock interview experience called Project Overcome. It was designed to support people impacted by the criminal justice system looking to transition into the workforce.

According to the US Department of Justice, more than 650,000 individuals are released from prison each year, and approximately two-thirds are rearrested within three years. This 10-city pilot wants to change that.

"People impacted by the justice system often experience inequities over the course of their lives coupled with limited work experience and little to no financial resources, stable housing or support systems. This program offers the possibility for the trajectory of their lives to change and allows them to reestablish themselves as contributing members to their communities."
Accenture and Harvard Business School's research also found that candidates can be invisible in the talent pool because they're missing a listed qualification requirement or because they're currently unemployed, for reasons as wide-ranging as health issues and care responsibilities. Others are filtered out because they're already employed part-time but would jump at the chance of joining a company full-time. "The best example of that is many employers just sticking on a job requirement that says you need a college degree. Employers use that as a gating mechanism," says Preston. 
"To bring us into the type of society where we can maintain our competitive edge—where we can solve problems for all populations—means that all populations need to be at that table, adds Brenda Darden Wilkerson, President & CEO of AnitaB.org, a mentorship, networking, and skills platform for women and non-binary technologists.
Considering these workers in your candidate search has clear benefits: Companies hiring untapped workers were 36% less likely to face talent and skills shortages and 35% less likely to face challenges meeting diversity quotas, reveals the Accenture/HBS study.
Accenture's Apprenticeship Program  gives people access to digital economy jobs, further advancing the company's equitable approach to hiring, focusing on skills, experience and potential. Accenture Apprentices receive paid training as they prepare for roles in areas including application development, cybersecurity, data engineering, cloud and platform engineering. These roles are among the nearly half of Accenture entry-level positions in the US that are open to individuals who do not have a four-year college degree.
Since establishing the program in 2016, Accenture has partnered with community colleges, tech academies, and nonprofits such as NPower and YearUp to hire people into its Apprenticeship Program, 80% of whom have joined the company without a four-year college degree. Through this learn-and-earn model, Accenture has set the goal of filling 20% of its entry-level roles in fiscal year from the program.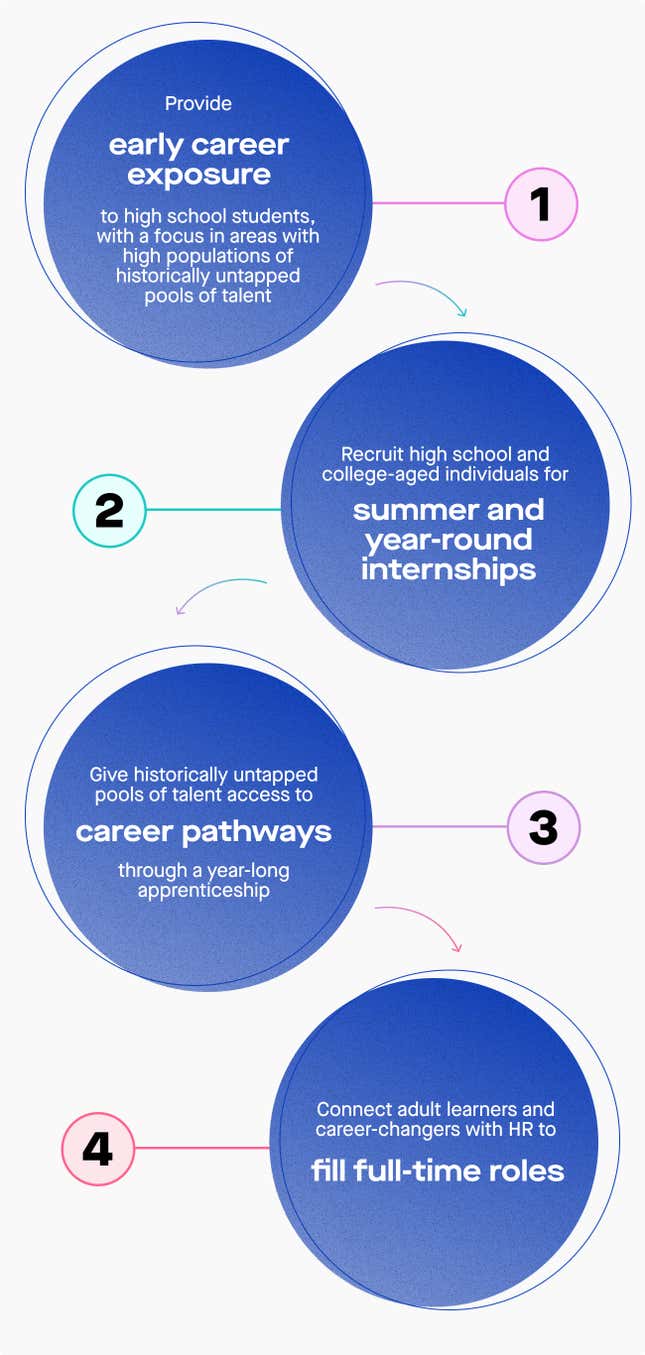 "A person's educational credentials are not the only indicators of success," attests Jimmy Etheredge, Accenture's North America CEO.
To hire new kinds of workers for your team, prioritize potential, broadening search criteria to include talent that is unemployed or working part-time and selecting six to eight must-have hard and soft skills instead of setting strict requirements for each position.
Invest in unbiased upskilling
A World Economic Forum report estimates that by 2025, 85 million jobs may be displaced by machines globally, but 97 million new roles may emerge due to a new dynamic between people and technology. Keeping people employed by guiding them to new opportunities can ensure the business runs sustainably, while actively supporting communities with an influx of well-paying jobs.
That can be accomplished in a few ways, whether leveraging the expertise of like-minded organizations or the power of new technologies.
Accenture, with WEF, Unilever and a large retailer, recently led a Future Skills Pilot to figure out smarter ways of preparing people for new career paths and creating more sustainable opportunities for workers across industries.
In collaboration with SkyHive, a Canadian startup that uses quantum labor analysis to assess labor market supply and demand, Accenture used AI to identify the capabilities needed for different positions and then show which skills workers would need to build to take those roles on. Upskilling pathways then prepared people for their new jobs, showing everyone how viable and cost-efficient those transitions could be. 
"AI eliminates human bias in terms of who's truly capable of doing which job," says Nicholas Whittall, Senior Managing Director and Global Talent Lead at Accenture.
The team learned that people can be upskilled for new roles in different functions within just six months and that most workers develop skills that allow for easy transitions between companies and industries. For example, a worker might move from a factory-floor role at an automaker to a green energy job installing residential solar panels. Although the industries are different, those two positions share similar skill requirements.
As Accenture emphasizes in our Inclusion Diversity Consulting service, companies who think about upskilling as a competitive advantage and business imperative can operate more efficiently than those who view it as a nice-to-have—especially given the recruiting costs saved by retaining workers.
Support next-gen CEOs
Building diverse workforces requires bolstering not only employees, but entrepreneurs who will build the corporations of tomorrow. That means advancing founders with a range of backgrounds and from systemically underrepresented communities.

Accenture's Black Founders Development Program is designed to help Black entrepreneurs grow their technology businesses through more direct access to venture capital, corporate mentorship, and strategic connections to Accenture's collective Rolodex. By building localized networks of Black founders, VCs, and influencers, and challenging orthodoxies in VC by conducting and publishing data-driven research, the program is working to enable the next generation of innovation while creating wealth for those who previously did not have a seat at the table.

"Black founders talk to each other, but not necessarily to the VCs.  I want to be someone they can call," says Kathryn Ross, Lead, Open Innovation and Black Founders Development program at Accenture.
This outreach to, and advancement of, promising but underrepresented talent is critical not only to new startups, but also for C-suite succession within long-tenured corporations, which can be the most resistant to change. Diversifying the talent pipeline requires synchronized efforts at both the employee base and the boardroom to create the right environment for next-gen CEOs to emerge from that pool.
Tune in to leaders transforming business for a more inclusive future and subscribe to Change Conversations.