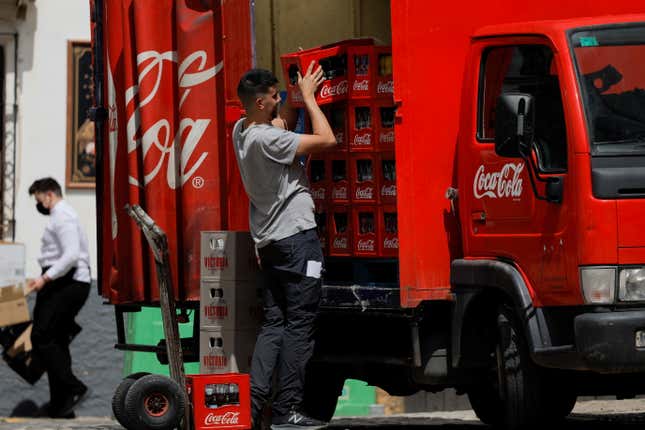 Workers at a major Coca-Cola distributor are on the picket line.

Teamsters Local 830 announced on April 16 that its members unanimously voted to strike against Liberty Coca-Cola Beverages, citing demands for better pay, healthcare, and retirement benefits.
Marcus Samuelsson on the New York City restaurant scene
The franchise, located in North Philadelphia, is Coca-Cola's biggest bottler and distributor in the region. Some 400 union members, including drivers, warehouse, and production workers, as well as sales and marketing staff, are employed at the plant.
According to a Teamsters manager, the union engaged in about 18 rounds of bargaining with Liberty—to no avail. Members "overwhelmingly" rejected signing a new contract that was called "insulting" in a union statement. Union members' previous contract expired on April 15.
"We presented a contract for our 400 members that offers the highest wage increases in Coca-Cola/Teamster Local 830's history, along with a generous health and welfare benefits package," Liberty Coca-Cola said in a statement.
But union leadership disputes the "generous" nature of Liberty's offer. "It's not what you need to stay up in today's inflationary times," said Daniel H. Grace, Teamsters Local 830 secretary-treasurer, in an interview with NBC10 Philadelphia.
The union hopes to return to the negotiating table with Liberty as early as April 18, according to a Teamsters Local 830 spokesperson.
Quotable
"Compensation is a huge sticking point, as is their unwillingness to budge on a fair benefits package for our members. Liberty Coca-Cola knows that our Local 830 members are the driving force behind their operations and success, yet they think they can treat us like second-class citizens. We won't stand for it." –A statement from Daniel H. Grace, Teamsters 830 secretary-treasurer
Union leadership didn't support the proposed contract, despite Liberty's claims
Liberty said in its statement that Grace "endorsed" the proposed contract rejected by union members. But the claim is "utterly disingenuous and misleading," Grace responded in an email to Quartz.
"The document they referenced in their statement was a simple acknowledgement that I agreed to take the proposal to my membership for a vote," he added. "They knew that to be the case. It was absolutely not an acceptance of their offer."
How long will the Liberty Coca-Cola strike last?
The union plans to strike until the contract dispute is settled. The last time Local 830 went on strike in Philadelphia was in 2004, for two weeks.
Liberty said it has a "contingency plan" in place to continue its operations, which include the distribution of not just Coca-Cola but also products like Dasani, Dr. Pepper, and Sprite to thousands of retailers across New York, New Jersey, and Pennsylvania.
Labor action at other Coca-Cola franchises
Workers at other Coca-Cola plants both in the US and overseas have also fought with management in recent years over pay and benefits.
In December 2021, members of Teamsters Local 773 went on strike at a Coca-Cola plant in Bethlehem, Pennsylvania, in order to maintain their pensions. They picketed for almost six weeks before reaching a contractual agreement.
Last summer, workers in Yorkshire, England, threatened to go on strike over a pay offer from their employer, Coca-Cola Europacific Partners, stating it amounted to a wage cut despite the franchise's £1.6 billion ($1.98 billion) in profit for 2021.
Related stories
🎭 Hollywood has two weeks to reach a union deal if it wants to avoid a writers' strike
🩺 UK doctors are striking over being paid $17.40 an hour
☕ Starbucks fired the employee who ignited unionization at the company