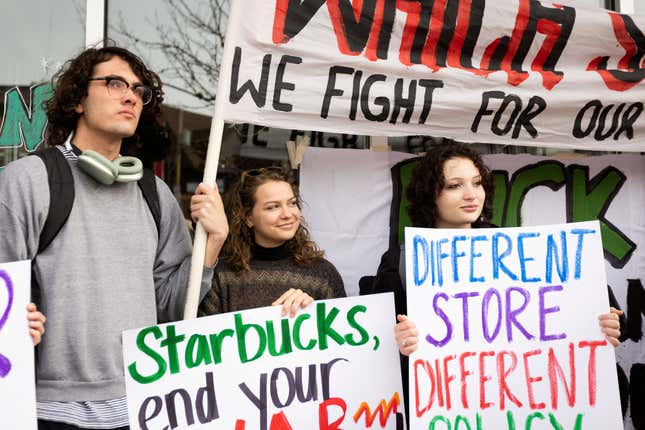 Starbucks fired a prominent union leader just days after former CEO Howard Schultz was grilled by Congress on union-busting activity at the company.
Marcus Samuelsson on the New York City restaurant scene
On March 31, Starbucks reportedly fired three employees at a store in Buffalo, New York, including Alexis "Lexi" Rizzo, a shift supervisor of seven years. Rizzo, an organizer at the Genesee Street store—one of the first two Starbucks shops in the US to unionize—is credited with igniting a nationwide labor movement at the Seattle-based coffee chain.
In an email to Quartz, a Starbucks spokesperson cited repeated tardiness as grounds for firing Rizzo, whom they said had accrued a "progressive disciplinary track." Rizzo, who began working at Starbucks at age 17, stated that she has arrived minutes late to work a few times, according to CNN.
The Buffalo firing spree happened just two days after Schultz faced questions from the Senate labor committee, headed by senator Bernie Sanders, about numerous instances of unfair labor practices over the past 18 months. During the hearing, Schultz denied any wrongdoing.
"I don't think it's a coincidence that two days after Howard Schultz had his ego bruised the way that he did that he started lashing out at Buffalo," Rizzo said in a CNBC interview.
The National Labor Relations Board (NLRB) has found Starbucks guilty of excluding unionized employees from receiving pay raises, tips, and benefits, as well as refusing to engage in contract negotiations with unionized stores. In March, an NLRB judge ruled that the company violated labor laws hundreds of times in Buffalo, ordering the reinstatement of seven unfairly fired employees.
Quotable: Retaliation by Starbucks?
"To me, this is payback, and it's vindictive and retaliatory, and just simple mean-spirited." –A statement from Richard Bensinger, a union organizer and senior advisor to Starbucks Workers United, in an interview with The Buffalo News
A change in power at Starbucks, but no change in tune
A recent turnover in executive leadership doesn't seem to have changed Starbucks' stance toward union organizing.

Last month, Laxman Narasimhan became CEO, succeeding Schultz two weeks ahead of schedule. Workers and investors alike have been curious to see how he will handle the company's contentious labor track record.
Narasimhan made his debut as Starbucks chief at the company's annual meeting on March 23, while workers in 100 stores across the country staged a strike. In a letter to partners published the same day, he wrote: "We must care for the artists and the theater in the front of our stores, and the factory in the back," appearing to acknowledge employee grievances.
Whether that sentiment translates into action remains to be seen, but the recent firings suggest that Starbucks is sticking with its anti-union stance.
Related stories
👀 Why does Starbucks want to negotiate with unionized workers in person and not on Zoom?

🪧 Starbucks workers welcomed their new CEO with a strike ahead of the company's annual meeting