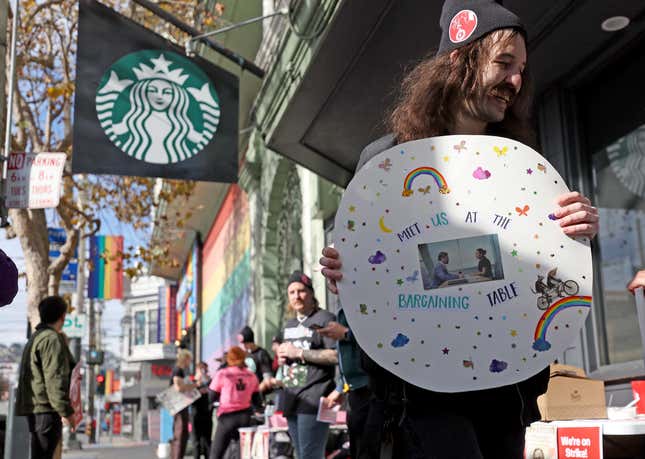 After strongly opposing its employees unionization drive, Starbucks finally had to give its employees a seat at the table and begin contract negotiations.

Marcus Samuelsson on the New York City restaurant scene
So long as it's not a metaphorical table, however: The company is insisting that all bargaining happen in person, and has refused to let employees participate via video-call.
Employees report that management representatives have left bargaining sessions after only a few minutes, rather than continue participating in negotiations, when some of the workforce representatives joined remotely.
According to the company, this isn't unfair: before the pandemic, negotiations happened in person. But it's no longer a pre-covid world, and the National Labor Relations Board (NLRB) thinks the coffee chain's management has no right to demand in-person sessions.
Negotiations, meanwhile, have stalled.
Starbucks workers can have a seat, but only at an actual table
Kayla Blado, the spokesperson for the NLRB, said on Mar. 28 that the company's refusal to sit at the bargaining table with workers joining remotely breaks labor laws.

Starbucks unionized coffee shop employees work in the stores, but the Starbucks Workers United union argues the request of hybrid sessions are justified, including for covid reasons. The union, which represents 300 of the 9,000 corporate-owned stores, thinks the opposition to hybrid bargain is yet another union busting tactic that aims to delay proceedings.
On average, it takes 465 days from the organizing vote to reach a contract agreement between a union and an employer. But a year and a half since the first Starbucks stores voted to unionize in Buffalo, New York, the company hasn't even begun negotiations. Stalling is often a way to deflate morale among union members, in hopes the union's support loses momentum.
Former Starbucks CEO Howard Shultz, who stepped down last week from his third stint at the company's helm, is testifying before the Senate Health, Education, Labor, and Pensions (HELP) Committee today (Mar. 29), to discuss the company's anti-union behavior.

Starbucks management claims protecting hybrid negotiations is just a tactic to change precedents that have been in place for a long time. "Workers United is asking for a seat at the table, we're simply encouraging them take their seat in-person at the negotiating table, as required, to move the bargaining process forward," the company said in a statement to Reuters.
The company didn't further elaborate on what it thinks are the downsides of hybrid negotiations, or why meeting in person would benefit the bargaining process. At the Senate hearing, Schultz linked the preference for face-to-face meetings with a need to be aware of who is participating in the negotiations.
"We have said we do not want these meetings to be anything but face-to-face so we know who's in the room. We don't know, if there's a Zoom meeting, of who is taping the meeting, who is in the background and who is looking in on the meeting, and whether they are part of the company, part of the union, or whatever." He added: "We should not be held accountable for not showing up when all we're asking for is face-to-face bargaining."
Andrew Trull, a spokesperson for Starbucks, told Quartz in an email that "[i]ndividuals joining bargaining sessions virtually have not been consistently identified, and in many instances have included observers not in the single-store's bargaining unit," Andrew Trull, a spokesperson for Starbucks, told Quartz in an email.
 If Starbucks doesn't allow workers to join negotiations remotely it can face NLRB complaints from regional directors, which can eventually escalate to the federal level and reach a court of appeal.
This story was updated with a quote from Howard Schultz delivered during the Senate Committee hearing on Mar. 29, 2023, and with comments received from Starbucks on Mar. 30, 2023.