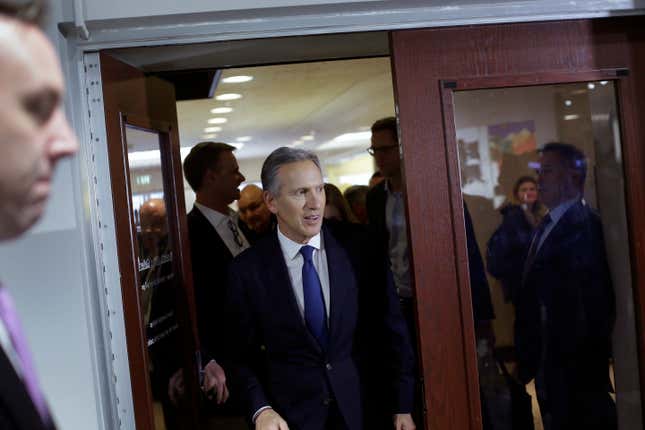 Starbucks leadership is getting an earlier-than-expected shake-up.

Laxman Narasimhan, who was tapped in October to succeed Howard Schultz, officially took the helm of the world's largest coffeehouse chain two weeks earlier than his expected April 1 start date. The new CEO will lead the company's annual shareholder meeting on Thursday (March 23) in his first public appearance in the role.
Marcus Samuelsson on the New York City restaurant scene
According to an official statement from Starbucks, Narasimhan spent the past five months preparing to lead the company, visiting stores and manufacturing plants around the globe, and even earning a barista certificate. Previously, Narasimhan worked at Reckitt Benckiser, a British consumer goods company, as well as PepsiCo and McKinsey.
Howard Schultz, who is credited with building the company into an international chain, stepped down from a third round as CEO of Starbucks. He took up the interim mantle in April after former CEO Kevin Johnson made a surprise retirement announcement, bridging the gap until a successor could be selected. Schultz's early departure come as he faces criticism for opposing labor organizing at the company.
Quotable
"You all are the future of Starbucks. The world needs Starbucks – and Starbucks needs all of you. The privilege and honor of being part of Starbucks has been the gift of my lifetime. I know it will be yours as well." –A statement from outgoing CEO Howard Schultz to Starbucks leadership
Timeline of Howard Schultz's career at Starbucks
1982: Schultz joins Starbucks as the director of marketing at age 29
1985: He leaves the company to start his own enterprise called "Il Giornale," inspired by his experience of coffee culture in Milan
1987: Schultz gathers enough investors to buy Starbucks for $3.8 million, and begins his first stint as CEO
2000: Schultz steps down as CEO to become Starbucks' chief global strategist
2008: During the height of the financial crisis, Schultz reassumes the role of CEO
2017: Schultz once again steps down as CEO
2018: Schultz announces he's leaving the role of executive chairman of Starbucks
2022: Former CEO Kevin Johnson retires, and Schultz becomes interim CEO. Narasimhan is brought on in October 2022 to succeed Schultz.
2023: Schultz sketches another bow at Starbucks
What legacy does Howard Schultz leave?
In his 41-year career at Starbucks, Schultz oversaw the company's rapid expansion from a local Seattle chain to a global coffee empire. In the last year, however, Schultz's image as a leader was somewhat tarnished by his strong stance against unionization at Starbucks.
Last year, over 260 Starbucks stores in the US voted to form unions, a trend that Schultz vocally opposed despite his longtime image as a boss who cares about employees. Starbucks has since been accused of employing "an array of illegal tactics" to stymie worker organizing, according to the National Labor Relations Board, including firing union leaders and closing down stores.
Schultz is expected to testify at a Senate hearing on March 29 regarding his alleged use of union-busting tactics while heading Starbucks.
Related stories
🔮 The new CEOs on the block in 2023
🔥 Starbucks' union-busting tactics are facing the heat
🥤 Starbucks sued an Indian coffee shop for serving Frappuccinos