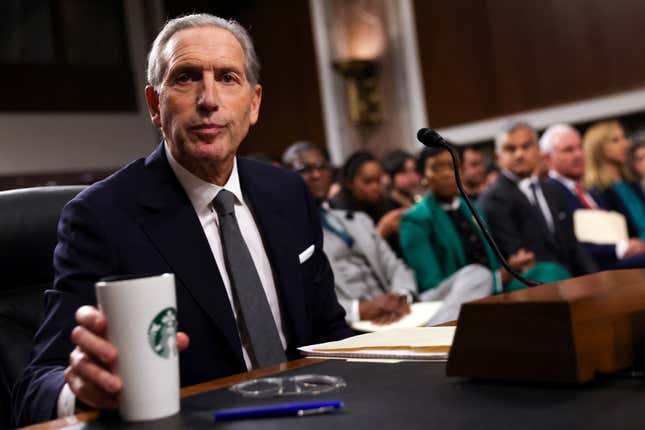 Starbucks founder and former CEO Howard Schultz repeated the coffee chain's union-busting talking points in an often contentious Senate labor committee hearing on March 29, as lawmakers asked him about the roughly 130 violations of labor laws submitted by the National Labor Relations Board (NLRB) in the last 18 months.
Schultz "unequivocally" denied breaking any labor laws, despite documented examples of union busting compiled by the NLRB, which included the closing of unionized Starbucks locations and the firing of some workers involved in organizing, who were accused of unrelated misconduct.

Senator Chris Murphy, a Democrat from Connecticut, said Schultz's refusal to admit any wrongdoing was akin to a motorist who had been pulled over for speeding 100 separate times, and then claimed that the officer had gotten it wrong every time.

Unionized Starbucks workers at 300 stores still don't have a contract
Schultz, who explored a bid for the White House in 2019, maintained that his anti-union stance was about prioritizing personal relationships with employees.
"We want to treat everyone with respect and dignity," Schultz said. "However, I have the right, and the company has the right, to have a preference. And our preference is to maintain the direct relationship we've had with our employees, who we call partners."

The Seattle-based company has failed to reach a contract with the nearly 300 unionized Starbucks stores, with some waiting well over a year to negotiate a first contract.

Schultz cited the company's desire to conduct bargaining sessions in person (as opposed to remotely or in a hybrid setting, as the union had proposed) as the main obstacle to meeting with unionized employees, something the NLRB has said is an unlawful requirement for negotiations. Senator Bernie Sanders, the progressive independent who chairs the committee, gave Starbucks a deadline of 14 days to exchange initial proposals with the union.

Sanders also pressed Schultz on reports that the executive told a Starbucks employee in favor of unionizing to go work someplace else. Schultz denied the account, saying he told the employee that, if they didn't like the company, they "could" go work someplace else.
Even a republican senator said Starbucks' average wage is nothing to brag about
In his opening comments, Schultz touted the $17.50 average hourly wage for Starbucks employees noting it was more than $4 above the $13.18 minimum wage in Sanders' home state of Vermont. (The minimum wage at Starbucks, meanwhile is $15 an hour.)

Republican senator Mike Braun of Indiana wasn't impressed with Schultz's statistics.

"Even $17 an hour, that's not a living wage in this day and age," Braun said during his questioning of Schultz. "A large corporation shouldn't necessarily be bragging about $15 to $20 wages. When you look at the typical structure of a large company, that should probably be $20-plus."

Senator Ed Markey, a Massachusetts Democrat, expressed disappointment that Schultz only agreed to testify under threat of a subpoena, calling him out of touch with the needs of his employees.

"All across America, workers are saying they've had enough. Rising inequality and outlandish CEO pay for those at the top–like you–and a paycheck-to-paycheck subsistence for everyone else," Markey said, citing rising public support for union organizing. "So, as you sit here denigrating your workers, you're not just morally and legally wrong, you're in the minority."

Unionizing at Starbucks, by the numbers
$15: The starting wage for Starbucks employees. According to the company, the average wage is $17.50.

$3.7 billion: Schultz's net worth.

$8.8 million: The signing bonus and stock awards for Laxman Narasimhan, Starbucks's new CEO, in his contract to succeed Schultz.
504: The number of individual unfair labor practice charges the NLRB general counsel has filed against Starbucks.

282: The number of unionized Starbucks locations certified by the NLRB as of mid-February. The board also certified 56 votes against forming a union, giving unionization efforts at Starbucks a success rate of over 90%.

Is it legal for union organizers to apply for jobs at non-unionized companies?
During his testimony, Schultz accused an employee who was partly responsible for the first unionization drive at Starbucks—at a store in Buffalo, New York—of being associated with union organizers before accepting a position with Starbucks. This is an example of "salting," the common practice of a union organizer taking a job at a non-unionized workplace to directly inform employees about the benefits of joining a labor union.
While Schultz admitted the employee was hired on their own merit, he used the tactic as evidence of unsavory behavior by union organizers. Senator Bill Cassidy, a Louisiana Republican, agreed, saying it was evidence of bad practice by Workers United, the union that has been organizing Starbucks employees.
But the practice of salting was declared perfectly legal by the US Supreme Court in NLRB v. Town & Country Electric, Inc, and any attempt to fire or refuse to hire a "salt" is illegal under federal labor law.

Related stories
🖥️ Why does Starbucks want to negotiate with unionized workers in person and not on Zoom?
☕ Starbucks' union-busting tactics are facing the heat
⚖️ Bernie Sanders will finally get a chance to grill Starbucks' Howard Schultz on union-busting