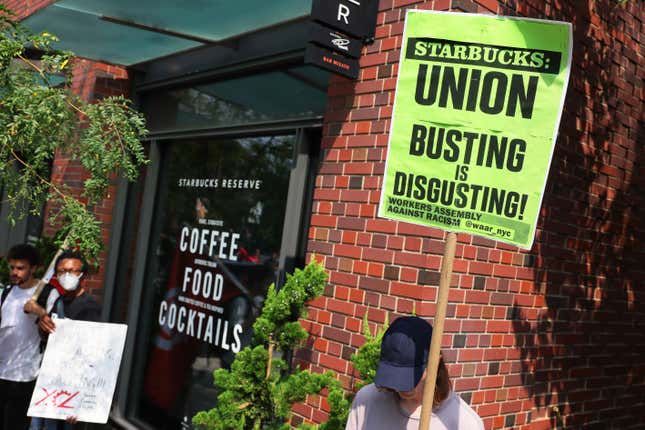 A Starbucks location in downtown Buffalo—one of the first locations to join a nationwide labor organizing effort—has filed a petition to dissolve its union, submitting a decertification petition to the National Labor Relations Board (NLRB) last week, according to Bloomberg.
The decision by employees comes two years after the location voted 18-1 in favor of union representation. It was the sixth Starbucks in Buffalo to officially form a union.
The news comes about a month after former CEO Howard Schultz's testified at the Senate labor committee, where he repeated the coffee chain's union-busting talking points during an often contentious hearing.
It was not immediately clear why the store had petitioned to decertify its union, as it is not necessary to provide a reason to the NLRB.
A spokesperson for Workers United told NBC's local Buffalo affiliate that most employees at the store involved in the union process had been fired or forced out, saying, "The ... decertification was caused by Starbucks' illegal union-busting campaign, plain and simple."
Starbucks spokesperson Andrew Trull disputed the union's accusation.
"The allegations are false. Starbucks policy strictly prohibits any retaliatory behavior directed toward partners who are interested in a union. Where partners have been subject to corrective action it is because they violated established policies and procedures," Trull said in an email to Quartz.

Starbucks did fire three employees in the Buffalo area involved in union organizing just days after Schultz's testimony, in what the union dubbed a retaliatory action. Starbucks blamed at least one of the terminations on tardiness.

Despite more than 280 Starbucks locations nationwide successfully voting to form a union, not a single store has been able to reach a first contract with the company. The NLRB has filed 504 unfair labor practice complaints against Starbucks during the two-year unionization process, according to a report by the New York Times.

Recent labor updates at Starbucks: a timeline
August 23, 2021: Despite initial unionization efforts starting as early as 2019, the first official notice comes in the form of a tweet directed at Starbucks' then-CEO Kevin Johnson declaring that labor was organizing at three stores in the Buffalo area.

December 9, 2021: After a 19-8 vote among employees, the Elmwood Starbucks in Buffalo becomes the first location to officially form a union.

January 31, 2022: Unionization spreads quickly across domestic Starbucks stores, with employees at 54 locations pursuing union elections within a month of the first one.
February 8, 2023: Senator Bernie Sanders of Vermont invites Schultz to testify before Congress about Starbucks' attempts to prevent labor organizing.

February 14, 2023: Schultz declines the invitation, saying his impending exit from the company prevents him from speaking on the subject.
February 22, 2023: Schultz blames unionization efforts on adverse economic conditions for young people in a wide-ranging CNN interview.
March 8, 2023: Sanders calls off a vote to subpoena Schultz after the executive agreed to appear at a March 29 hearing about efforts to prevent labor organizing at his stores.
March 23, 2023: Starbucks holds its general annual meeting, where the New York City Comptroller and other investors urge shareholders to vote for an independent assessment of the company's labor practices.
March 29, 2023: Schultz testifies at a contentious Senate labor committee hearing, largely repeating the coffee chain's union-busting talking points.
April 3, 2023: A shift supervisor at one of the first stores to unionize, Lexi Rizzo, is fired for tardiness. The union claims it was a retaliatory firing.
May 4, 2023: One of the first Starbucks locations in Buffalo to organize votes to dissolve its union.
Unionizing at Starbucks, by the numbers
$15: The starting wage for Starbucks employees. According to the company, the average wage is $17.50.

$3.7 billion: Schultz's net worth.

$8.8 million: The signing bonus and stock awards for Laxman Narasimhan, Starbucks's new CEO, in his contract to succeed Schultz earlier this year.
504: The number of individual unfair labor practice charges the NLRB general counsel has filed against Starbucks.

282: The number of unionized Starbucks locations certified by the NLRB as of mid-February 2023. The board also certified 56 votes against forming a union.
Editors Note: An earlier version of this story incorrectly stated a vote to decertify had already occurred. No such vote has occurred.
Related stories
⚖️ Schultz doubled down on Starbucks' anti-union talking points in his Senate hearing
☕ Starbucks' union-busting tactics are facing the heat
⚖️ Bernie Sanders will finally get a chance to grill Starbucks' Howard Schultz on union-busting