You know it's 2017 when a US Senate Intelligence Committee hearing is being treated like the Super Bowl.
Former FBI director James Comey will go before Congress on June 8 to answer questions about Russian interference in the 2016 US presidential election. In the wake of Comey's firing by US president Donald Trump, the media frenzy surrounding the event rivals the spectacle that Trump created when he parlayed his own reality-TV fame into a successful bid for the White House.
Bars are hosting watch parties for what some are calling "The James Comey Show," TV networks are promising wall-to-wall coverage—CNN is even running a countdown clock with the hours, minutes, and seconds until the testimony begins—and America is eating it up.
Comey, uninterrupted
The hearing begins Thursday at 10am ET. Several TV networks, including CNN and Fox News Channel, will start their coverage an hour earlier—not unlike a pre-game show for a major sporting event.
Some TV channels even plan to air the hearing without commercial interruptions. Fox News Channel said in a statement that it will go commercial-free when the hearing begins. CNN will run Comey's testimony without ads, but plans to switch to commercial break during natural lulls in the proceedings. CBS confirmed to Quartz that it, too, will broadcast the event without commercials.
The move means sacrificing tens of thousands of dollars of potential advertising, depending on how long the hearing runs, Variety reported. It speaks to how much weight TV networks are giving the hearing. Commercial-free coverage is usually reserved for major events like the State of the Union, the US presidential debates, and coverage of major breaking news like that of the 9/11 attacks.
The hearing is expected to take up most of the late morning on the US east coast, and will be broadcast far and wide on TV and streaming video. (Here's Quartz's guide on how to tune in.)
Comey hour
Several bars around the country will open early on Thursday for viewing parties. One such establishment, Duffy's Irish Pub in Washington DC, is promoting the hearing as the "James Comey Show" and, in a nod to a recent Trump gaffe on Twitter, is offering a "covfefe cocktail," which it described on its Facebook page as "like drinking the Kool Aid but only a small group of people know what's in it."
Others are boasting drink and meal specials like the "FBI" sandwich.
One DC-area bar, Union Pub, plans to give away free drinks each time Trump tweets about the Comey hearing once it gets going, as the US president is reportedly considering taking to Twitter (paywall), as per usual, to air his grievances.
If you're looking for a morning pick-me-up, Business Insider has a list of spots in Washington, along with places in Houston, San Francisco, Cleveland, and Brooklyn that will screen the event.
Comey mania
Ahead of the showdown, Comey mania has erupted on social media. The former FBI director was the top Twitter trending topic in the US on Wednesday evening.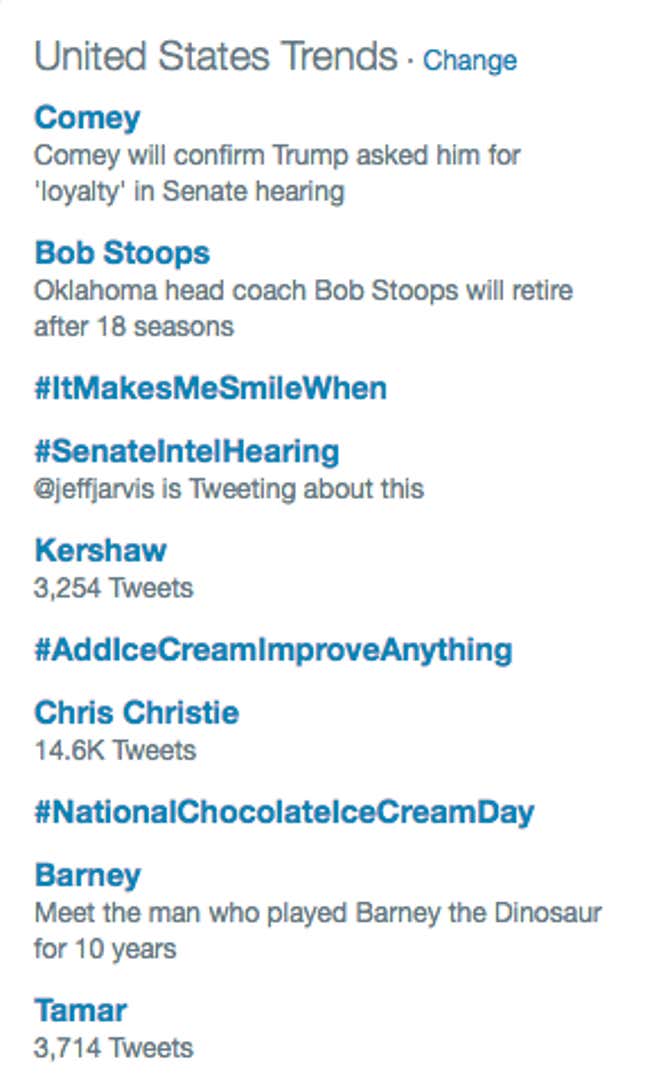 Some are commenting on Comey's prepared remarks, which were released Wednesday. Others are placing their bets on a Comey vs. Trump showdown. And some are just very amped up to see how it all unfolds.