Pornography is strictly forbidden in China. Those who produce, disseminate, or sell "obscene materials" could be jailed for life, according to the country's criminal law.
But while forbidding porn is one thing, actually getting rid of it is quite another, especially when users have social media, cloud-based services, and new payment methods at their disposal. Despite an ongoing crackdown against "spiritual pollution," as the Communist party once called it, porn is alive and well on China's internet. 
Censors have closed down many services in recent years, but in a constant game of cat and mouse, providers and users have found other ways to share adult content, whether it's self-made or pirated from the likes of Japan's 1pondo Studio. Indeed the development of the nation's online porn industry mirrors the overall development of China's "intranet," as its tightly controlled internet is often jokingly called.
Porn portals: 2004-2006
Porn portals flourished in China even before sites like YouPorn and Pornhub cropped up in the West. The year 2004 saw the birth of a few big (albeit ill-fated) services in the country, including 99 Erotica Forum and Erotica Juneday. Some such sites are still hanging on, but many have disappeared.
The business model for these services in China is quite simple. Before visitors can watch or download the porn they want, they must navigate through pay-per-click ads hawking sex toys, Viagra-esque pills, and online casinos. The sites typically offer a mix of domestic amateur videos and pirated content from Japan and the US. They typically set up their servers overseas and frequently change their URLs to avoid being spotted by authorities.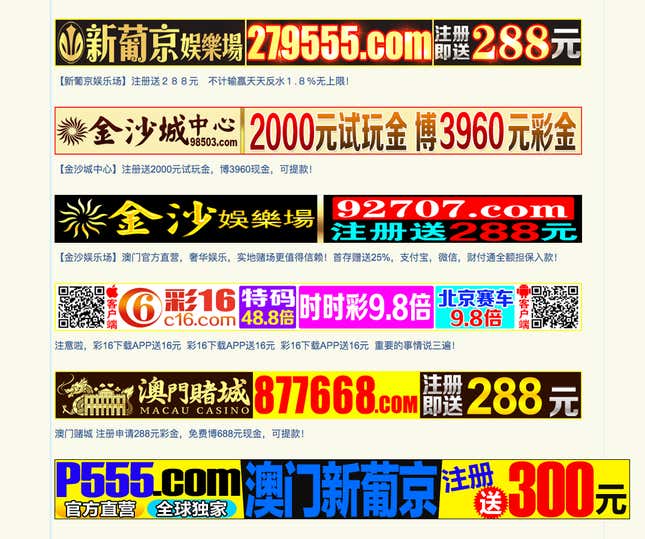 For users, these ad-supported services can be frustrating. Sometimes no content awaits them after they navigate through ads, and regardless the odds of picking up malware along the way are high.
Reputable services in China tend to charge a membership fee and in return offer greater reliability and fewer or no ads. But in China, the use of domestic bank accounts makes such sites vulnerable to crackdowns. 99 Erotica was among the first to fall after having garnered more than 300,000 registered users within a year of its launch. In 2005 authorities sentenced its 11 workers, among them teachers and civil servants, to jail time ranging from three to 12 years (link in Chinese) for disseminating obscene material.
A police officer in charge of the case surmised that, given their decent day jobs, the workers were motivated not primarily by making money but by "filling the emptiness of their lives."
In October 2006 authorities shut down Erotica Juneday, which charged its VIP members 3,999 yuan (then around $490) a year, and sentenced founder Chen Hui to life in prison (link in Chinese). Outspoken sociologist Li Yinhe was among those who lashed out against the harsh sentence. "There are 100 people doing the same thing, but only one was sentenced," she wrote on her Sina blog (link in Chinese), calling on authorities to either repeal the pornography laws in China or stop pretending the nation enjoys freedom of expression.
Caoliu: 2006-present 
The online forum Caoliu is an outlier. Founded in 2006, the Colorado-based site is a robust Chinese-language BBS for sharing erotic pictures, literature, and videos. It's only known revenue is advertising. Authorities have blocked access to it in China, but users can employ a VPN service to get around that. (China is also cracking down on VPNs, making it harder to find a reliable one, but many users find a way.)
With no staff based in China and no fees charged to users, the service is otherwise beyond the reach of Chinese authorities.
As one of the few steady survivors amid the ongoing crackdowns, Caoliu has become a symbol of hope for China's porn community. The site famously set a 1,024-second limit for non-members to write posts or share pics or videos. "1024" has since become an online meme meaning "thumbs-up" or "thanks for sharing" under posts containing sexual content.
Kuaibo: 2007-2014
Kuaibo, also known as QVOD, was once a go-to spot for porn, as well as for Hollywood movies. Launched in 2007, the video player offered streaming and torrent downloads of (usually pirated) content provided by third-party servers. According to state media (link in Chinese), Kuaibo had been downloaded more than 300 million times by 2012, when China had only 540 million internet users.
In March 2014, police raided Kuaibo's offices in Shenzhen and shut down the service. In 2016, authorities sentenced founder and CEO Wang Xin to three and a half years in prison and fined him $150,000. In his trial, prosecutors said porn videos made up 70% of the 30,000 files police pulled from Kuaibo-related servers. Wang contended that his platform was not responsible for policing what people watched. "We believe there's nothing shameful about technology," he famously told the court.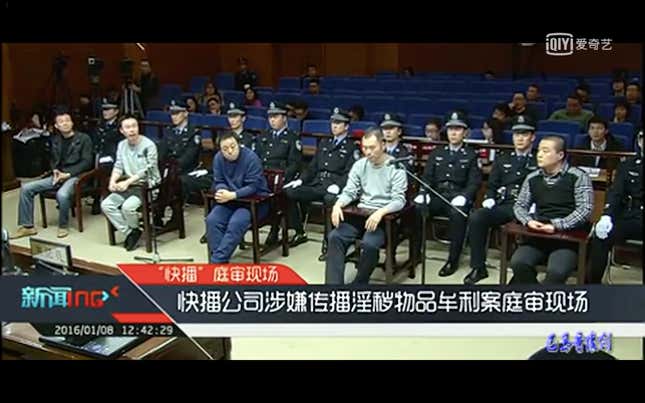 Although Wang pleaded guilty, his passionate defense of freedom of information won an outpouring of support on the Chinese internet. "We all owe a membership to Kuaibo," many bloggers wrote on Weibo (link in Chinese), lamenting Wang's fall.
Cloud services: 2012-present 
Homemade sex videos, such as one shot in a Uniqlo changing room in Beijing in 2015, have made the rounds in China's social media in recent years. That's due in part to the rise of domestic tech firms providing online data storage, among them Alibaba and Huawei.
Last year, amid another round of "cleaning up" the internet, authorities closed some such services to individual users, contending they had become havens for porn. (Offerings from Google Drive and Dropbox had already long been blocked, and still are.)
Cloud services from Baidu and Xunlei (a Shenzhen-based torrent downloader) are now among the few remaining options for Chinese users. Both companies have vowed to crack down on porn.
To avoid censors, the porn community has developed a set of slang words (link in Chinese) of their own while cutting deals on social media apps like Weibo, QQ, and WeChat. Resourceful porn collectors are known as "old drivers," sharing porn videos is "getting a ride," and erotic content is "welfare."
Livestreaming apps: 2015-present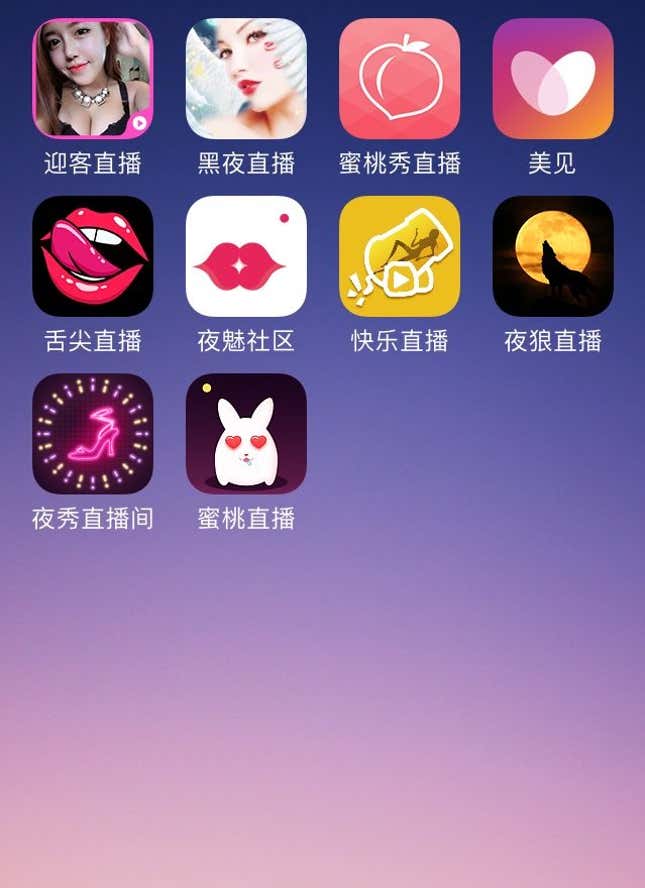 In a little over two years, livestreaming apps have grown into a $4.3 billion industry in China, thanks in no small part to erotically charged content. Every day and night, thousands of young Chinese women appear on-camera to sing, dance, slurp soup, and flirt with a predominantly male audience. Viewers pay to give these "anchors" virtual gifts, with the platforms getting a share of the revenue. The gifts can be as little as a cucumber, which costs less than one cent, or as fancy as a yacht or sports car, selling for several hundred dollars.
It's gone beyond video flirting, though. Early last year a couple had live sex (link in Chinese) on Douyu TV. And last June, authorities banned 40 female anchors from livestreaming due to their suggestive performances (link in Chinese). 
Livestreaming services are required by law to monitor content around the clock, and many have imposed stricter rules on their anchors, including banning them from wearing stockings and eating bananas "erotically." So far this year, the Chinese government has punished more than 30,000 anchors and opened criminal investigations (link in Chinese) into over 10 livestreaming platforms.
That's not to say erotic content has completely died down on the apps. Daring female anchors are known to flash their nipples (link in Chinese) and ask viewers to friend them on WeChat and QQ, where they can offer one-on-one video calls—for a small fee, of course, paid through WeChat Wallet.