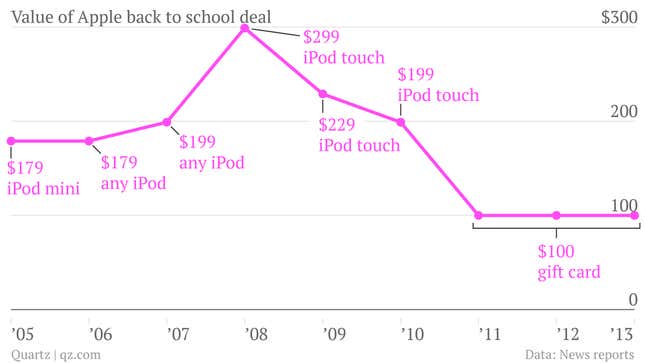 Apple's new back-to-school deal for students and teachers in the US is one of the stingiest it has ever offered.
For the last three summers, Apple has offered a $100 gift card to educational customers who purchased a new Mac computer. That stands in contrast to previous years, dating back to at least 2005, when the deal was worth two and three times as much.
In 2005, Apple offered a free iPod Mini music player with the purchase of a qualifying computer after a mail-in-rebate, a $179 value. In 2008, the free item was an iPod Touch, then worth $299, a high point for the back-to-school special.
The $100 gift card was first offered in 2011. Compared to the peak in 2008, this year's deal is only worth $92.43 after adjusting for inflation.