Fredrik Thomassen, the founder of a newly launched startup called Konsus, calls his site "a full e-commerce experience."
Konsus, based in Palo Alto, California, doesn't sell t-shirts, or cars, or the latest tech gadgets—it sells work.
Through its website, clients can buy web design or research work for $35 per hour. Powerpoint work costs $29 per hour, and LinkedIn lead generation costs $19. To purchase, clients select an item from the menu, drop in the relevant information, and click "get started now." Konsus finds a freelancer to complete the project. There's no negotiation, no sorting through resumes, and no requesting quotes. The goal of Konsus—and increasingly, online work marketplaces in general—is to make hiring freelancer workers as easy as placing products into an online shopping cart.

Websites for hiring freelance workers, such as Upwork, Fiverr, Envato, and TaskRabbit, emphasize tools for searching though workers by category, much like browsing through a catalog of products. In some cases, they automatically surface specific workers to fill projects who can be hired on the spot—no application necessary.  At others, such as Cloudfactory, routine, back office work such as transcription or data management gets farmed out to thousands of freelancers, but the client only needs to deal with a simple subscription purchase. A new crop of startups, like Konsus, have structured more highly skilled online freelancing as a one-click product.
As hiring migrates from a process in which workers apply for jobs to one in which employers, aided by algorithms that surface appropriate workers, go shopping for work products, the very paradigm of how we think about work stands to change. "We call it Service as a Product, or SaaP, for short," says Micha Kaufman, the founder and CEO of  Fiverr. "It's the productization of services."
The evolution of finding jobs online
Turning work into an e-commerce product involves more than putting it online. Early job marketplaces simply ported old processes for hiring onto the internet. Job boards like Monster.com and Indeed.com, founded in 1999 and 2004, respectively, mimicked newspaper help wanted ads. Employers posted their open jobs with their requirements and job seekers submitted their resumes and qualifications. After that point, the process moves offline: Employers arrange phone calls, book conference rooms for interviews, etc.
Early work websites that specialized in freelancers similarly borrowed from the analog world the concept of a request for proposal (RFP), a description of the project used to request quotes from freelancers and agencies. Freelance marketplace Elance's website in 2000 instructed clients to post an "RFP" on which freelancers could submit a quote. Odesk, in 2004, was another company that adopted this model (the two merged to form a company now called Upwork in 2013). Even early companies in the gig economy, such as the errands marketplace TaskRabbit, followed this basic model. TaskRabbit helps neighbors hire each other for odd jobs, such as assembling IKEA furniture. In its first version, workers combed through lists of jobs and then applied with a price at which they'd be willing to do a job as well as their qualifications. Clients picked from the applications.
"It didn't provide any tech advantage," says Fiverr's Kaufman. "It still created a situation in which the person-to-person contact, the friction was super high. There was this layer of negotiation between buyers and sellers. To me, the number one challenge was how do we bring a complete action between two people where it's a one-click button?"

Fiverr's original site, created in 2010, asked freelancers to create a task that they would be willing to do for $5. Rather than post jobs, clients searched through proposals to find tasks they needed getting done. Today, Fiverr has around 10 million tasks that clients can buy at a price set up by the freelancers (it no longer needs to be $5). A seller named "Mastervoodoo," for instance, will "do a forbidden voodoo ritual to bring back your lover" for $20 (which, if it works, is really quite a deal). Fiverr sellers more typically offered professional services like design, marketing, writing, video, and programming. Workers define their jobs, which, as Mastervoodoo has demonstrated, could be anything, and also their rates."Labor is not standardized," Kaufman says. "If you're buying services, they're not standardized. They're really different. What we needed to do is help standardize their service, help those freelancers to productize."
In order to do what Konsus does, which involves no sorting through profiles, or resumes, or even specific tasks, companies need to clearly define the scope and definition of the kind of work they want. This is hard to do for a general work. So the new one-click shops have specialized. Konsus sticks with PowerPoint, Design, Data Entry, Writing. Another site, called Gigster, sells work tasks offered by software developers. Both sites test to vet freelancers in advance, and, behind the scenes, monitor to make sure the work gets done in time and is up to snuff. It's a bit like an on-demand agency, staffed only by freelancers. Clients only see a slick interface.
What the labor store means for workers
Even companies that haven't "productized" work, as Fiverr and Konsus have, are refining their systems. Upwork and many open marketplaces like it have reputation gradings that help pinpoint reliable workers. As their databases of workers with different skills grows, they can more accurately surface freelancers appropriate for certain work who can be hired immediately (Fiverr also does this type of matching with tasks). That involves cataloging skills more specifically. When Shane Kinder, Upwork's vice president of product, started at Odesk in 2012, he says that the company classified about 1,000 skills. Now it's around 5,000. "We're trying to move toward an on-demand model," he says. "We'd love to be in the world where we enter information and instantly get back a freelancer who is qualified to do the job and is ready to do it now."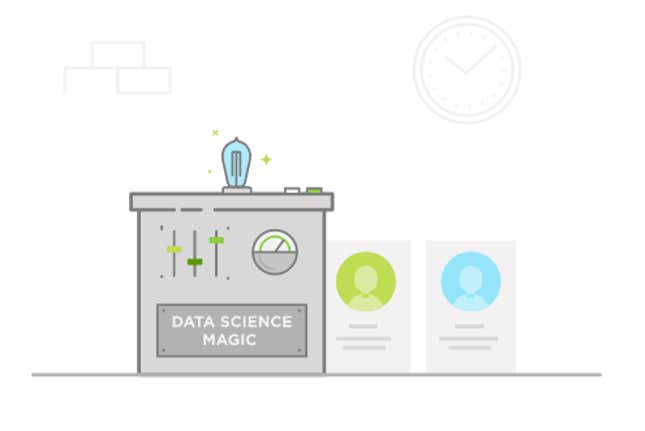 TaskRabbit no longer asks workers to submit quotes for jobs, but rather recommends specific workers for specific jobs. Results for a job inquiry such as "hang mirror" return a list of workers who have listed their hourly rates. Customers click "select and continue." In a "quick assign" option, clients agree to an hourly rate, and TaskRabbit selects the worker for the job.
A job that pays $20 an hour still pays $20 an hour if it's purchased as a unit of work on demand rather than paid to a freelancer who applied for the job. But the structure by which people are hired can make a big difference.
More seamless connections between clients and freelancers could mean less time wasted negotiating, searching for jobs, and sorting through resumes. Freelancers could make more money because they have more time to spend working. Konsus guarantees its best freelancers 40 hours of work every week, and they still get paid whether or not there are enough client projects to complete; they sometimes work on internal projects. (The company so far only has about 150 freelancers total, so it's too early to say whether this model will be sustainable in the long term.)
The evolution of the online work market also risks leaving workers as mere cogs in a machine. Freelancers who effectively outsource their reputations to the new sites lost their ability to develop relationships directly with employers. On Upwork and Fiverr, workers still have profiles, but that isn't the case with all sites.
Hiring workers will likely never quite feel like ordering a roll of paper towels from Amazon—some work has too many variations to completely standardize—but in some places, it's getting close. Companies like Uber and Handy have in some ways turned low-wage work like driving and cleaning into a commoditized product. Clients don't care who shows up when they push the button, just that someone does.
Amazon's Mechanical Turk, a platform where freelance workers sign up to complete small tasks like labeling photos or taking surveys, sometimes for cents per job, has gone further. The website's name comes from a machine that seemed to automate a chess match but actually had a person hidden inside. It's designed to keep the worker hidden. Unlike Uber and Handy, customers don't even know names or see photos of the workers who sign up for their tasks—workers are only known by their user ID numbers.
In 2014, a group of Mechanical Turk workers started a letter writing campaign to Amazon CEO Jeff Bezos. On a website created for the campaign, there's a list labeled "what we want to say." The first item? "Turkers are human beings, not algorithms, and should be marketed accordingly."