To call Uber's leadership a mess would be putting it mildly.
Five executive positions are open; another five were filled by internal promotions after their previous occupants resigned or were fired earlier this year. One of those open positions, the chief operating officer, will serve as a theoretical no. 2 for chief executive Travis Kalanick, who is reportedly weighing a leave of absence from the company.
The scandals that have swept Uber since the start of 2017 are largely to blame for the current management void. Senior vice president of engineering Amit Singhal was dismissed; ridesharing president Jeff Jones resigned; autonomous vehicle head Anthony Levandowski was fired; and, on June 12, chief business officer Emil Michael was forced out.
But Uber's failure to scale its leadership structure alongside the business is also at fault. As of now, every top executive at Uber is still technically a direct report to Kalanick. That includes everyone from chief technology officer Thuan Pham to chief legal officer Salle Yoo. That's a lot of people for even an experienced executive to oversee, which Kalanick is not.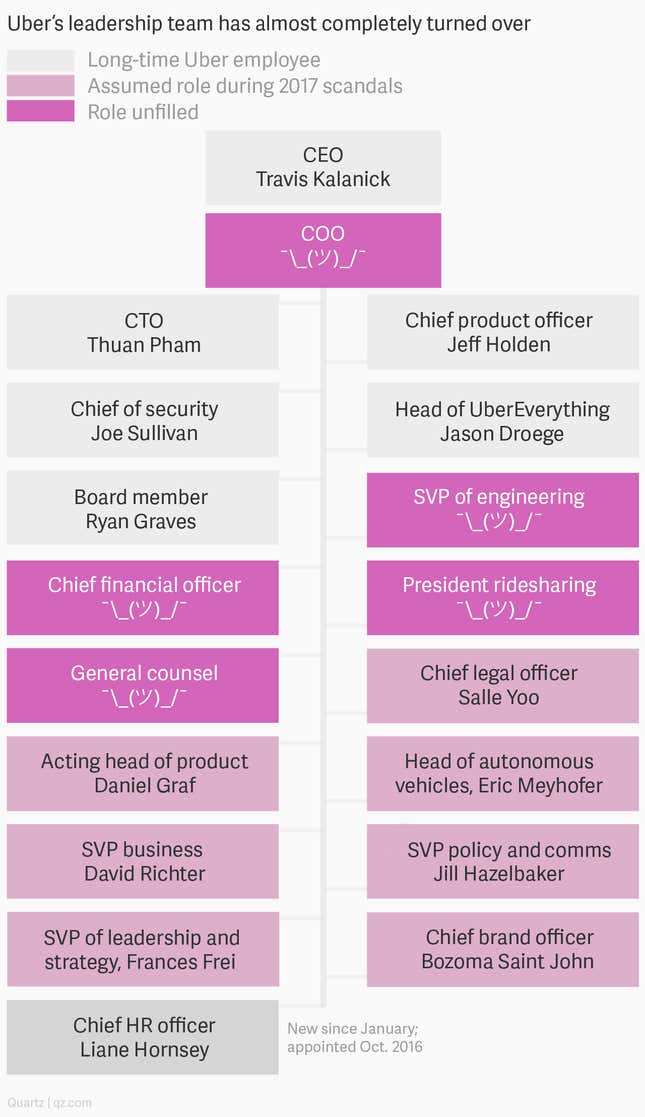 Last week, Uber hired Frances Frei, a Harvard Business School professor, to the newly created position of senior vice president of leadership and strategy. One of Frei's first tasks is figuring out how Uber should structure its executive team.
A source familiar with the matter told Quartz that the current vision is to have the chief operating officer absorb many of Kalanick's direct reports. Those would likely include Pham, chief security officer Joe Sullivan, the chief financial officer, the SVP of engineering, Yoo, newly appointed SVP of business David Richter, SVP of policy and communications Jill Hazelbaker, and chief human resources officer Liane Hornsey.
Uber is also leaning toward eliminating both the SVP of global operations position formerly filled by Uber board member Ryan Graves and the president of ridesharing role, and combining their responsibilities into a chief marketing officer, the source said. It remains to be seen who that executive would report to. Others, such as product heads Jeff Holden and Daniel Graf, and Advanced Technologies Group head Eric Meyhofer, also need to be assigned to a supervisor.
Uber's board met June 11 to discuss the results of an investigation into the company's culture conducted by former US attorney general Eric Holder. The board voted unanimously to adopt all recommendations from the Holder report, which led to Michael's recent ouster. Holder's findings and recommendations are expected to be shared with employees on Tuesday.
Correction: An earlier version of this story misstated Jill Hazelbaker's title. She is senior vice president of policy and communications, not "communications head."