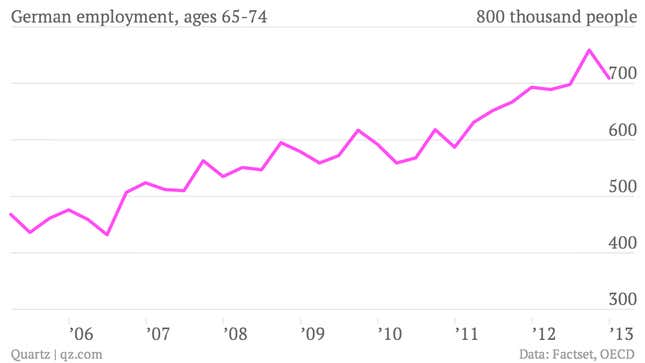 The number of employed Germans aged 65-74 has nearly doubled since 2005, when the OECD began recording those statistics, even as the overall population has slightly declined. In the last quarter of 2012, 709,000 Germans in that age range had jobs, adjusted for seasonal fluctuations in employment.

German companies are smart to make good use of the country's aging population to fill gaps in their organizations. Germany's federal statistics office forecasts that the country will lose a net 2 million workers (paywall) by 2030. And 30% of the population will be aged 65 or older by 2035, nearly double what it is today. This, and an extremely low birth rate (1.36 births per woman in 2011) is part of why German legislators embarked on plans to push back the retirement age from 65 to 74 and create incentives for companies to hire older workers.
For Europe's poorer countries, though, this statistic, coupled with Germany's low overall unemployment and youth unemployment rates, must be pretty galling—not least since Germany has been the one advocating the austerity policies that have led to high unemployment in those countries. It's little wonder, then, that Italians, Spaniards, and Greeks all said that Germans were the least compassionate EU members in a recent study.