The revival of true crime as a cultural genre owes a great deal to podcasts, which deliver tantalizing accounts of controversial and horrific crimes straight to your ear, ready to be consumed during your commute or gym session. Some of them, such as Serial or In the Dark, are feats of investigative reporting, shining a light on big issues in the criminal justice system. Others, like My Favorite Murder, center more around the gruesome details of small town cases of violence and murder, and how those details make the hosts feel. The focus of both types of storytelling is usually on the act itself, or the system's bungling of its aftermath.
A new podcast shows an entirely different aspect of crime: the details of life after conviction, within prison walls. While no crimes will be solved in its episodes, the novel perspective Ear Hustle offers could be enlightening and fascinating to many a true-crime fan. The show discusses the day-to-day realities that inmates in the US—some two million of them—have to cope with: celebrating special occasions, having pets in prison, or spending time in solitary confinement. And there's no soothing, all-knowing voice of an Ira Glass-type to walk the listener through these things. Instead, you spend the 20-30 minutes of each episode with the incarcerated men themselves.
Ear Hustle—named after prison slang for eavesdropping —is co-produced by Earlonne Woods and Antwan Williams, two inmates at San Quentin, a state prison in Marin County, north of San Francisco, and Nigel Poor, a photographer and professor at California State University who lives on the outside. In 2016, it won a contest for new shows by podcast network Radiotopia, beating out more than 1,500 submissions. The platform supports and distributes the podcast, which airs its first episode today (June 14).
The first episode is an exploration of the seemingly mundane, but in prison totally fundamental, problem of cellmates.
In its first few minutes, the podcast goes from frightening and grim—a man describing what it's like to live with a cellmate who keeps threatening to kill you—to darkly funny, when two brothers discuss what happened when one of them refused to use deodorant while they were cellmates. Then, the unsuspecting audience gets some scatological advice on what kind of cellmate to avoid. "In such a small space, Nigel, smells are a big deal," Woods explains.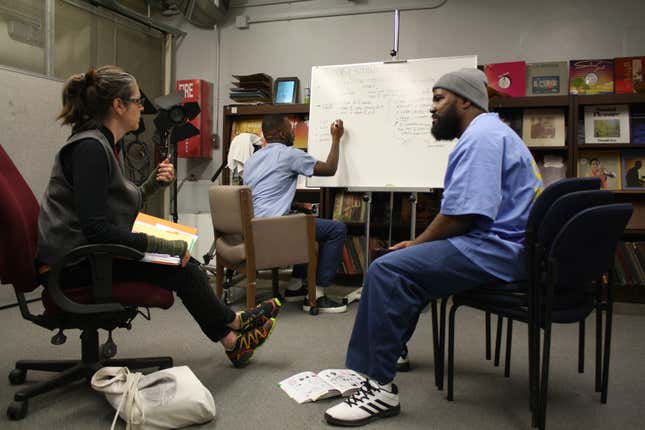 Woods, who was sentenced to 31 years to life for attempted second-degree robbery, thanks to California's "three strike" laws, is looking for a so-called "cellie." Poor asks Woods the purposely naive questions of an outsider, and he patiently obliges, with a healthy dose of banter. It's clear the two hosts are friendly, and that their backgrounds give them very different perspectives. Poor insists that finding a "cellie" seems like dating, and Woods makes fun of her for the somewhat artless comparison.
Poor says the back-and-forth is very much a part of their "cordial" relationship. "By doing that, some of my assumptions and prejudices and ways of seeing the world are revealed. And so, as the podcast goes on, I'm going to evolve in the way I see things," she says. "And I have the ability to push Earlonne to think in different ways about his experience." One of her hopes for the podcast is that it will challenge listeners' views about those who are incarcerated. Another goal is to show the audience that people on the inside and on the outside can work together as equals.
"We all just jumped into it together," she says. "We were all novices when we started, so we had to learn together, tutor each other, push each other."
"It doesn't have to be like this, that the door that just slams and all of the sudden there's this population that is just invisible to people," she adds, underlining that US prisons are troves of wasted creative potential.
Woods was initially interested in film—he asked and received a transfer from another prison, because he knew San Quentin had a media lab—and Williams, who is serving 15 years for armed robbery, has a background in music. Poor recruited them for the San Quentin Prison Report, a news and feature radio project that is aired inside the prison and over KALW, the local public radio station. Ear Hustle was born out of their work together on the program. The idea for the podcast was to create something more artistic, rather than journalistic—which Poor says is more fitting with her training as an artist in the first place. "I'm interested in the overlooked, the humble, the impressionistic views of the human experience. So I don't dive into policy and statistics. I believe we are telling truthful stories, but we are not held to the same standards that journalists are." Woods and Williams were on board.
The impressionistic style of podcasting—Ear Hustle counts NPR's experimental-storytelling show Snap Judgement as one of its main inspirations—is evident throughout the first episode. Musical interludes, produced by Williams, are frequent. At one point we suddenly hear a chaotic, laughter-filled conversation between two men about black actors and sports personalities. We soon find out they are cellies listing their "top-five" celebrities in different categories, a routine they go through every night. Poor says that when the podcast's crew heard the conversation, they just had to pull out the recorder.
But at the core of the show are the inmates' storytelling abilities. Poor says she noticed how good they were at crafting narratives when when she was teaching a class on the history of photography at the prison several years ago. When the students were asked to analyze photographs, the stories flowed out.
She attributes this to a lack of modern stimuli inside the prison walls. "Nobody's walking around on their cell phone or getting on their email, or spending all their time surfing on the web," she says. You have to find ways to fill time, and the human need for storytelling is a way of making sense of the world and people around you.
An upcoming episode of Ear Hustle explores the acute lack of distraction in solitary confinement, where you really have nothing—no TV, no books, and no radio. "The only thing you have is your voice," Poor says. The men pass time by telling their life stories in minute detail to each other through grates in their cells. After that, they start making up fictional stories "to see who can make up the best lies." They even compose screenplays—so it's no wonder they make great podcasts.