Alibaba is selling the Chinese dream this week—in Detroit.
The Chinese e-commerce giant is pulling out all the stops to impress America at Gateway '17, its biggest-ever public event in the United States, which opened Tuesday, June 20. On Wednesday morning (US time), founder Jack Ma is scheduled to take the stage for an address in which he'll lay out the opportunity for US small businesses to tap into China's growing middle-class.
The mayor of Detroit and the lieutenant governor of Michigan will be there. Even Martha Stewart will show up, giving a fireside chat titled "Exporting the Martha Stewart Lifestyle."
The goal of it all? To show how Alibaba can help small- and medium-sized businesses make money and create jobs—1 million, specifically, as Ma committed to in January.
"In the past thirty years, USA domestic consumption was the engine of the global economy. And I told people at that time, if you miss the opportunity of selling your products to the world, to the USA, to Europe, you might miss the chance," said Ma in a chat with acclaimed interviewer Charlie Rose Tuesday. "Today I want to tell people that if you miss the opportunity of selling your products to China, you will miss the future."
It's a noble cause. But people knowledgeable about e-commerce in China suggest the event is also, at heart, about something else: boosting Alibaba's political positioning.
There's business, and there's politics
Alibaba has been courting more international vendors to its e-commerce sites like Taobao, open to vendors of all types, and Tmall, for approved brands, to help keep revenue growing at gasp-inducing levels (paywall). In past years, the focus has been on large brands like Costco and Gerber. Small businesses mark a new target for the company and present an opportunity to reach the "long-tail" of e-commerce: vendors that don't have world-renowned brand names but do have niche loyal followings.
Investors remain as confident in Alibaba as ever—its stock price has skyrocketed this year, jumping more than 50% since the first close in January.
There's business, though, and then there's politics. And the event in Detroit is perfectly timed to send signals both to Beijing and Washington.
Staying in Beijing's good graces is an ongoing challenge for all Chinese companies. Right now, Alibaba is involved in a few businesses that could potentially go awry should the government intervene. The company has launched a money-market fund, a mobile payments app, and a social credit system—all of which are sectors that the government wants to control tightly. (And when business moguls run afoul of the government, their fates can hang in limbo.)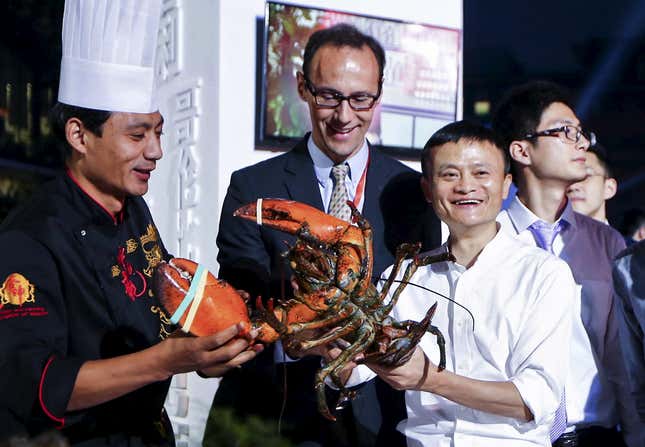 One way to keep Beijing happy is to openly appear to support its vision. As Alibaba's business grows, "inevitably there will be more tensions in areas strongly dominated by state-owned enterprises, like financial services, media, health care, etcetera," says Duncan Clark, author of Alibaba: The House that Jack Ma Built. "If Alibaba can emphasize its utility to the government—in driving consumption, boosting the profile of Chinese companies overseas, et cetera—then that can't hurt."
Meanwhile, in the US, Alibaba is embattled in a regulatory spat with the office of the country's trade representative, which in December placed Taobao on a list of "notorious markets" due to the prevalence of counterfeit goods. Ma has disputed the criticism he doesn't do enough to weed out knockoffs, saying the company has "zero tolerance" (paywall) for counterfeit goods. Alibaba is also facing scrutiny from the SEC regarding accounting methods for its Cainiao logistics arm.
All these factors make it worthwhile for Alibaba to publicly depict itself as a net good for the American economy. The company has spent millions (paywall) lobbying the US government since 2012. At least one person is listening: In January, Jack Ma met in person with Donald Trump, who, fresh off a campaign filled with anti-China rhetoric, called the founder a "great, great entrepreneur, one of the best in the world." The meeting prompted White House spokesman Sean Spicer to tweet about an "Alibaba job boom."
Will the job boom be real?
Spicer's enthusiasm is probably too optimistic.
Alibaba's promise to create a million jobs in the US in five years is a goal that remains "astoundingly implausible," according to Christopher Balding, who teaches economics at Peking University HSBC Business School in Shenzhen. For starters, he calculates it would imply a startling 150% increase in US exports to China, currently at $169 billion, assuming the new  jobs generate Walmart-comparable US revenues per employee.

For reference, Walmart has 1.5 million employees in the United States, against some $368 billion in revenue from the US (pdf, page 59) in its financial year ended January. Alibaba, meanwhile generated nearly $23 billion in total revenue in its fiscal year ended in March, and has yet to hit anywhere near a million employees even in China. At present, it has some 50,000 employees.
And, given the long presence of e-commerce in the US,  listing on Taobao or Tmall "will be additive to the [US vendors'] business and in net there will be some job growth, but it won't be creating jobs the way it has in China, where it is essentially creating a new industry," says Balding.
Alibaba, meanwhile, remains optimistic about boosting jobs in the US.
"Our goal is to help 1 million American businesses and farmers access the China market over the next five years," said Jennifer Kuperman, vice president of international corporate affairs at Alibaba, via email. "We believe this will on average enable each of those businesses to hire one additional person."
Going online won't eliminate hurdles to selling in China
For one thing, the tools Alibaba provides to list products, manage storefronts, and communicate with customers are in Chinese. Marketing and advertising for the brand also has to be in Chinese, done by someone familiar with WeChat, Weibo, or other channels. Alibaba didn't respond to all Quartz's queries regarding translation of its dashboards and other tools.
"With cross-border trade there are language and cultural differences that merchants face, whether online or offline. We work hard to make this as easy as possible," said Alibaba's Kuperman, adding, "Managing a store can require additional support."

Boutique shoe vendor Stadium Goods, for example, hired a handful of Chinese-speaking staff at its headquarters in New York to oversee sales on Tmall. Founder Jed Stiller says his experience selling on Alibaba has been positive, with revenue in China growing 20% monthly. But, he adds, it would not be possible without having staff hired specifically to manage the China business.
"It would definitely be hard to operate if we didn't have a team here interfacing with our team there," he says. "I'd say it's a necessity to have some Mandarin-speaking and -reading staff."
Vendors selling vitamins, cosmetics, or food items also must receive special licenses, which can sometimes take years to obtain. Alibaba says that while it can provide a checklist and "advice" for companies regarding licensing, it can't help with the actual process. "Until Alibaba can address those problems for small businesses, a lot of them are probably just going to walk away," says Balding.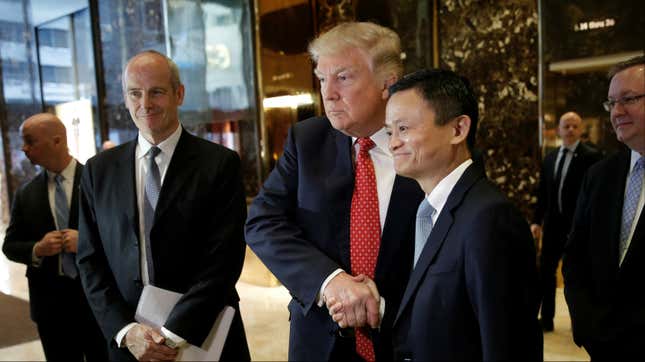 A number of consultancies have emerged to handle store management for foreign brands, including customer service, regulation, and warehousing, via some combination of flat fees and revenue sharing. These include US firms ExportNow and VoyageOne, and China's Web2Asia. Alibaba brands some of these companies as "Taobao Partners," and requires them to go through mandatory training in order to earn the title.
"To maintain and monitor the quality of services provided, we set specific standards that our third-party service providers must meet in order to be eligible to offers services to our sellers and maintain their certification" as partners, said Kuperman.
But an employee at one such company told Quartz that the small businesses Alibaba is courting for the Detroit event are too small to take seriously as clients.
Unless a brand is doing triple-digit millions in annual revenue, "we won't even entertain the opportunity of working with them, just because of the costs involved in setting up an operation, and doing a China-entry strategy right," he says, speaking on condition of anonymity because his company is participating in Gateway '17.
He adds that selling in China is not as simple as showing up and raking in cash simply because you're foreign. Brands must either already have cachet with Chinese consumers or offer something genuinely differentiated that a Chinese company cannot produce—because if they can, it will likely be much cheaper, ship much faster, and be just as high-quality.
"If you come [to China] and you're not a brand that people are waiting for, or going abroad and looking for… when you get here, you're starting a new brand from scratch," he adds.
This story was updated on June 21 with details from the event's opening day. It was also updated June 20 to include an additional quote, on jobs, from an earlier communication with Alibaba.