Public space in the digital age has no shape and no physical place. But the US Supreme Court is now sorting out what that means for free-speech rights. Today (June 19), the justices unanimously held that states can't broadly limit access to social media because cyberspace "is one of the most important places to exchange views."

In Packingham v. North Carolina, the justices were asked to review a North Carolina statute that bars sex offenders from accessing social media altogether and makes it a felony if they post on any platform. The case has implications for all members of American society, however, not just sex offenders, and the court appears to be extremely conscious of the broader effect.
"A fundamental First Amendment principle is that all persons have access to places where they can speak and listen, and then, after reflection, speak and listen once more," Justice Anthony Kennedy wrote. Given the fact that social-media platforms in particular allow for this kind of free communication, and that the constitution protects the right to exchange, the justices recognized this case was widely societally important, with Kennedy writing:
Here, in one of the first cases the Court has taken to address the relationship between the First Amendment and the modern Internet, the Court must exercise extreme caution before suggesting that the First Amendment provides scant protection for access to vast networks in that medium."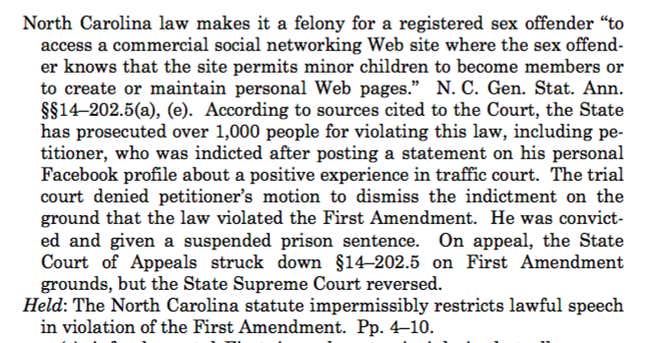 North Carolina convicted over 1,000 sex offenders based on its statute barring access to all social platforms. That, according to the high court, simply isn't acceptable in light of the role Facebook, Twitter, Snapchat and others play in current public communication.
Acknowledging that every advance in technology leads to new abuses by criminals, the notion that states can bar access altogether is anathema to the high court. The opinion noted that convicted criminals, perhaps more than others, would benefit from joining the societal conversation.  The justices write:
Social media allows users to gain access to information and communicate with one another on any subject that might come to mind. With one broad stroke, North Carolina bars access to what for many are the principal sources for knowing current events, checking ads for employment, speaking and listening in the modern public square, and otherwise exploring the vast realms of human thought and knowledge.
The opinion issued today reflects the sentiments justices expressed during oral arguments in March. They noted then, during a comically postmodern session, that social media is where civic life takes place today. As justice Elena Kagan put it then, "Everybody is on Twitter."
Today, they decided that "foreclosing access to social media altogether thus prevents users from engaging in the legitimate exercise of First Amendment rights. Even convicted criminals—and in some instances especially convicted criminals—might receive legitimate benefits from these means for access to the world of ideas, particularly if they seek to reform and to pursue lawful and rewarding lives."