Good, but not good enough.
Samsung Electronics said preliminarily that it will post a record operating profit of 9.5 trillion won (about $8.3 billion) for the three months that just ended in June.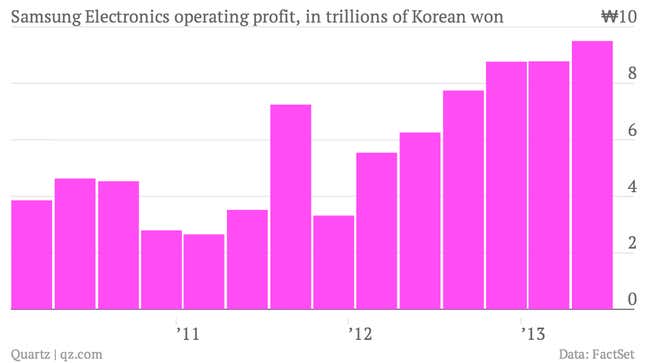 Unfortunately, the market expectations had settled on 10 trillion won as the golden number. The stock dropped nearly 4%. The concern seems centered around the Galaxy S4 smartphone, even though the phone got off to a smoking sales start. Some say the costly marketing push behind the S4 launch is weighing on the handset's profitability.
But at least Samsung isn't suffering alone. Taiwan's largest smartphone maker HTC Corp. also hit the skids today on lackluster earnings. HTC launched its flagship One smartphone back in April, the same month Samsung's Galaxy S4 sallied forth, and it's gotten really positive reviews. But the close proximity of the two new products underscores analyst worry about growing competition in the smartphone market, which could make the business a whole heck of a lot less profitable than it used to be.