Come sunset, thousands of motorbikes spread out across Chinese cities, delivering popular night snacks, including spicy hot pot ingredients, shredded potato and crawfish, part of a boom in home food delivery in recent years. The food delivery business in China has seen a 44% compound annual growth rate since 2013, compared with 27% a year from 2010 to 2013, according to a new report this week from consulting firm Bain & Company and consumer insights company Kantar Worldpanel.
That growth has been driven in large part by apps, with the online food order market increasing to 166 billion yuan ($24 billion) in 2016 from 125 billion yuan ($18 billion) in 2015 , according to an earlier report from internet-focused research firm iiMedia (link in Chinese). After breakneck growth that has slowed, the market is stabilizing, and is expected to reach $35 billion in 2018.
As a result of the growth, food delivery aggregators like Meituan, Ele.me and Baidu Waimai, the three dominant players, can tell you a lot about what people in China eat and when.
Late night orders, between 8pm and 6am, for example, are growing. Their share in overall orders more than tripled between 2015 and 2016, according to data from Ele.me. Spicy hot pot ingredients, shredded potato, preserved egg and pork congee, fried chicken, and hamburgers were among the most popular late-night food orders since January this year.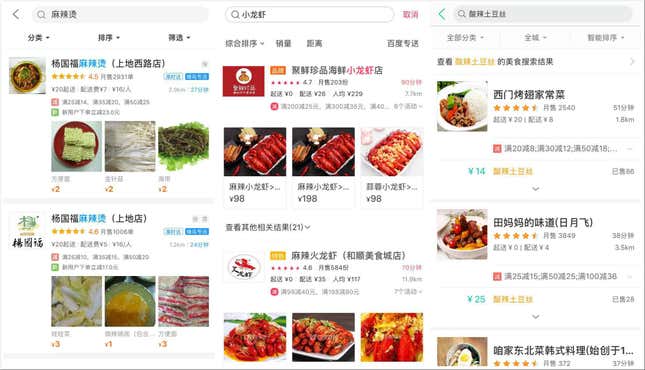 Meanwhile, another food, usually consumed with icy beer on hot summer nights, is gaining popularity as a bedtime snack star, according to Meituan (link in Chinese). Last year alone China consumed 879,300 tons of crawfish, though not only online. There are some 17,670 crawfish restaurants, according to Meituan, or about three times of the number of KFC outlets in China.
Food delivery apps saw particular spikes at two key moments over the past year. During the 2016 Olympic Games, late-night snack orders on Ele.me got a boost. On August 20, when Chen Long met Lee Chong Wei in the badminton final, late-night orders jumped by 22% (link in Chinese)—which conjures up an image of people jumping up, and waving their fried chicken drumsticks to cheer Chen's victory.
Orders also saw a surge (link in Chinese) the night before the annual online shopping extravaganza on Nov. 11, spearheaded by e-commerce giant Alibaba but adopted by other firms now, as people prepared to stay awake through the night and shop obsessively for discounted goods.